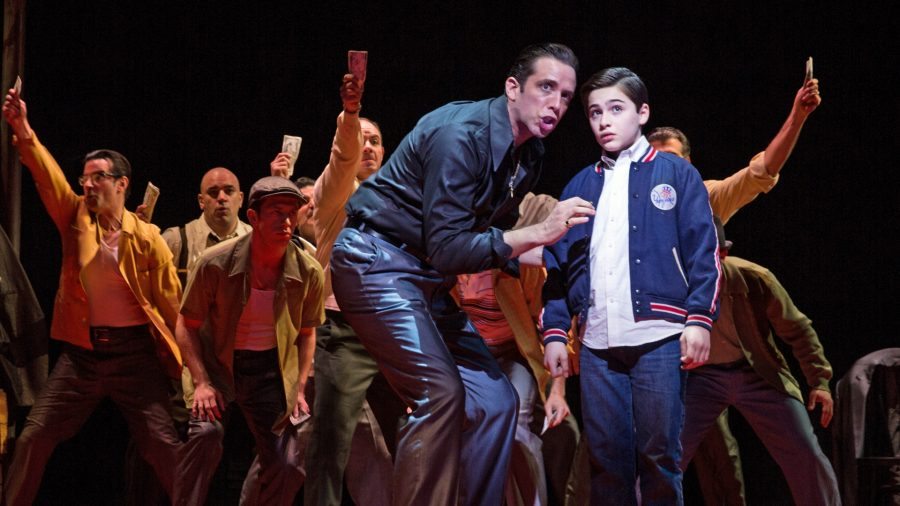 Billed as "a combination of Jersey Boys and West Side Story," the new musical A Bronx Tale follows Calogero, a young man growing up in the Bronx in the 1960s. Early on in his life, the protagonist finds himself conflicted between two men: a mobster who takes Calogero under his wing, and Calogero's father: a humble, hardworking man who only wants the best for his son.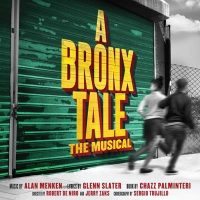 This is the third incarnation of A Bronx Tale: the first being an autobiographical play by Chazz Palminteri, and the second a movie starring Palminteri and Robert De Niro. In fact, the musical is written by Palminteri and directed by De Niro (and Jerry Zaks), with songs by Alan Menken and Glenn Slater.
Befitting the era in which the play takes place, A Bronx Tale's score is full of 1960s style doo-wop, harmonies à la The Marcels, and rhythmic snapping and guitar strumming. With the newly released cast album now available, you can revel in the transportive, swing-worthy soundtrack of this new hit musical. To help you get started, we've put together a list of the top 5 songs from the new album of A Bronx Tale:
1. Belmont Avenue
From that first soaring a cappella vocal, "Belmont Avenue" (the show's opener) sweeps you to the 1960s Bronx. A group of male vocalists soon joins in (snapping along, of course), and the effect is complete. From there, Calogero (Bobby Conte Thornton) comes in and sets the stage for us ("it's 3 am in the Bronx, New York") before the music picks up and the song takes off full swing. The lyrics paint a multi-sensory picture of the scene (Belmont Avenue), with details like "I can hear the church bells and smell the freshly baked bread," "cannolis on tray after tray, salamis strung up on display." (Yes, this song is probably going to make you hungry). It's this mix of perfect little details, Thornton's infectious enthusiasm, and the chorus' strong vocal harmonies that make this number so rousing and full of life. As an opening song, it does its job very well.
2. Out of Your Head
"Out of Your Head" starts off sounding like any '60s era love song, but towards the end it dissolves into a tender piano and string duet as Calogero wonders if he has any kind of chance with Jane: the girl he's falling ever more desperately in love with. Coincidentally enough, Jane is wondering the exact same thing. There's just one problem: Jane is black, Calogero is white. And this is the 1960s Bronx - not exactly a free-thinking neighborhood. (You can see now why A Bronx Tale has been compared to West Side Story.)
While "Out of Your Head" isn't quite as epic as "Maria" or "Tonight," it stands out as one of the musical's best songs. Ariana DeBose (Jane) delivers her part beautifully, and her voice blends well with Thornton's when they sing together towards the end of the song. Lyrics like "She is so fine but it's crossing a line" add to the song's immediacy and the two characters' sense of conflict, as they feel drawn together by forces outside their control.
3. I Like It
Sung by young Calogero (Hudson Loverro), "I Like It" is catchy and fun, and Loverro does a great job with it. Sung shortly after the mob boss Sonny "adopts" him, the song expresses Calogero's pride in his new position and his amazement at how the world seems to have fallen at his feet "since Sonny happened to me." My favorite lyric is "Things are good / Yes, they are / Life's a big cookie jar / And I like it."
4. Hurt Someone
This is the "Rumble" song. It still doesn't quite live up to West Side Story (can anything, though?), but the orchestrations (a strong brass section) and the many parts make it a good song, regardless. It also has an urgent, climactic feel throughout. If nothing else, the song is worth a listen just for Bradley Gibson's amazing (but sadly short) vocals at the beginning of the song.
5. Look to Your Heart (Reprise)
Early on in the play, Calogero's father sings "Look To Your Heart": a song full of heart-felt advice to his son. Among other things, he tells Calogero "the saddest thing in life is wasted talent." Much later, Calogero's mother sings a reprise of "Look to Your Heart", which, to me anyway, feels more arresting than the first version of the song. In the reprise, we find out that Calogero's father gave up his dream of playing saxophone to support his family, a fact which becomes even more poignant when we remember his statement that "the saddest thing in life is wasted talent." The reprise is sung with warmth and beauty by Lucia Giannetta, who plays Rosina, Calogero's mother. And it's a moving tribute to any father (or any parent, for that matter) who has ever given up a dream in order to support a family. A Bronx Tale is brimful of tension, heartache, and excitement; but in my opinion, Rosina's solo is the real heart of the piece.
A Bronx Tale is now available on Ghostlight Records. For more information visit: https://itunes.apple.com/us/album/a-bronx-tale-original-broadway-cast-recording/id1215478702