Interview: Nick Cordero on Finding the Heart in the Tough Sonny of 'A Bronx Tale'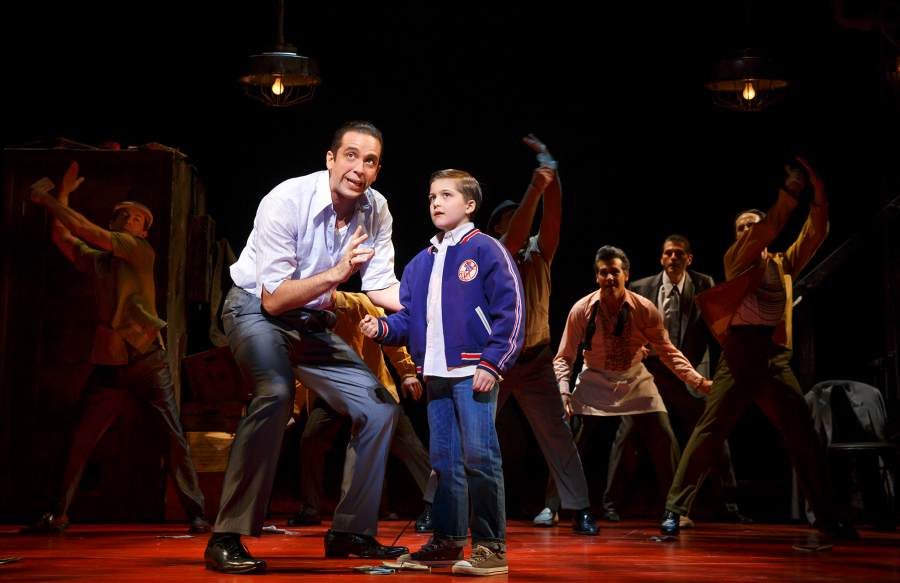 Ever since his breakout role as Cheech in the musical adaptation of Bullets Over Broadway, Nick Cordero has become the go-to-guy for brooding, tough characters who might not instantly win the audience's sympathy. However, through his nuanced, sensitive work, Cordero always proves there's more than meets the eye in all the characters he plays. In A Bronx Tale he plays Sonny, the most respected and feared gangster in the title borough, who shows his mercy and loyalty to the young Calogero (Bobby Conte Thornton) by taking him under his wing when he protects him from the cops. Even though the character was famously played onscreen by Chazz Palminteri (who also originated the role of Cheech in the film of Bullets), Cordero has a way of imprinting his own seal into them, his take on Sonny essentially charms the pants off any audience member, while intimidating them and keeping them on the edge of their seats.
Cordero was nominated by the Drama Desk as Outstanding Actor in a Musical for A Bronx Tale, and with reason, he gives a true star turn, the rare kind of performance you simply can't imagine anyone else giving. I spoke to Cordero about how he becomes Sonny night after night, getting to sing Alan Menken and Glenn Slater's score, and why he keeps playing so many tough guys.
Are we ever gonna see you play someone who's not scary?
(Laughs) I hope so my friend, it's definitely something I'm interested in doing, playing an Atticus Finch or something. I've been watching that movie I love it. These have been great roles, they're the kinds of things that have come to me, they're great parts, they're fun roles and I always try to inject them with a little humanity, which is the best thing about playing scary characters, telling the story of how they got there. I want to make them tridimensional.
In a song like "Nicky Machiavelli" we listen to Sonny sing about how being feared is better than being loved, but then we realize he truly loves Calogero so his tough guy persona is a little bit like a performance within a performance.
In rehearsal Chazz had a very interesting insight and it's that Sonny always looked at Calogero as a chance for redemption in his own life. The interesting thing about Sonny is we meet him at a reflective period in his life, so he wants to impart wisdom on someone who reminds him of himself at that age. He sees this kid at a crossroads and doesn't tell him what to do but shows him the options and lets him make his own choice. That's one of the beautiful things about Sonny, the audience sits down and expects an archetypal gangster character, so we have the opportunity to surprise people with his humanity. Especially in musical form where you have a broader palette, you get to access people in a deeper way, in ways they're not used to. I love when people have an impression coming in and you shock them a little bit.
Did you find during rehearsal that you were developing a mentorship dynamic with Bobby as well?
That's something you might have to ask him, I'd done the show before and he hadn't, so I think any information I had to give him about that was valuable. He's a smart, reliable kid, he did a great job on his own, he had a lot of mentors, all eyes were on Bobby Conte Thornton, when we were beginning Broadway rehearsals, but he's a pro.
Does playing Sonny make you think of your own mentors then?
Yes absolutely. My father especially, he passed away last summer when I was in Waitress, and he was very much looking forward to seeing A Bronx Tale, he didn't get to be there opening night. But our relationship was at the forefront of my mind during the whole process.
I'd seen the movie and also saw Chazz do the show a few years back, it's uncanny how he plays every single character…
...I know!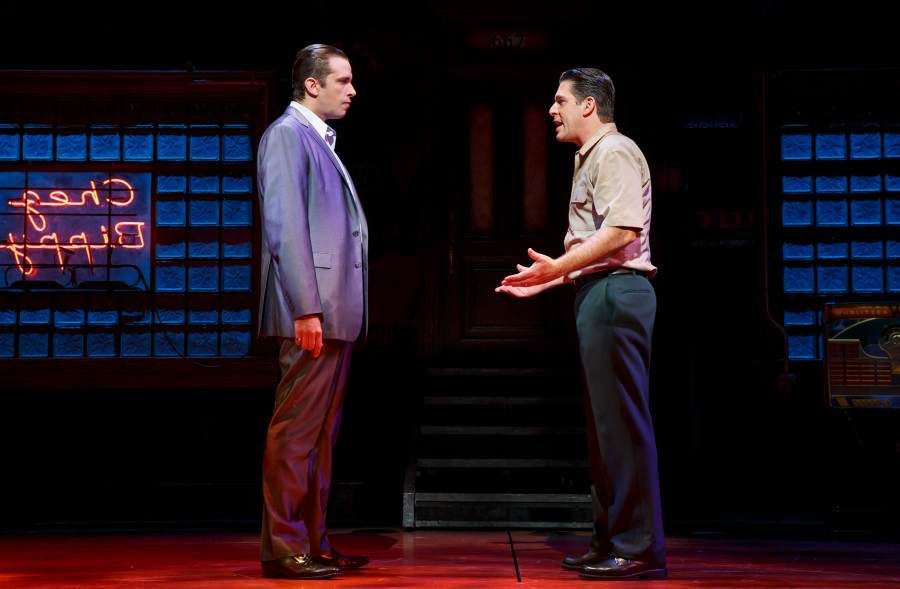 ...So when you get this script, were you worried about being compared to him and or did you just focus on building your interpretation from scratch?
When the job first crossed my path I rewatched the film cause I hadn't seen it since I was a teenager, I enjoyed it as much then as I did before. Then I left it, I let it be, I knew our process would be a little different because it would be theatrical and a musical, but the source material was definitely my starting point. The script is so good that it was fun to hear Sonny come out of my body and allow him to take over, Chazz was very willing to let me find Sonny in me.
How do you keep Sonny fresh after playing him for more than half a year now?
It's a great role, I got great songs to sing, he's not boring. We've had the luxury of running for a while, so I find after a while you can relax into what you're doing and let the performance become a little more visceral. In a way the performance becomes simpler, easier, over time.
"One of the Great Ones" is one of the best songs I've heard on Broadway in a while.
I know, it's such a charming, heartful song, if that's a word, it's sentimental for a gangster to sing, but it's that what makes it great coming from Sonny.
Records are an important part of the musical, and I was wondering what records you grew up listening to, did you have any record memories you treasure which help you create your characters?
My parents were big Motown fans, I grew up with a lot of soul music in the house, but as a young person getting involved with theatre I became exposed to the standards, there were cabaret shows with Hollywood songs, war songs, things like "I'll Be Seeing You", I became exposed to those lyrics which were from early pop songs. One of the reasons I connected to this score is because it reminded me of early pop music, we have the doo-wop sound, and a Bobby Darin sound, but we have something like "One of the Great Ones" which is Sinatra style.
Since there is a cast recording what are your hopes for the lives of these songs beyond the show and even for people who can't come to see it in New York?
Our songs are far from the kind of things you have in the Top 40 today, but within the pantheon of classic songs I would hope that in the tradition of classic musical theatre which once generated the pop songs for the radio, I hope our show is up there one day. I would love to hear other people sing our songs, I'd love to hear someone like Tony Bennett interpret it, it would be great to hear someone with his experience infuse the songs with even more meaning. It would be a dream come true to hear him sing these songs.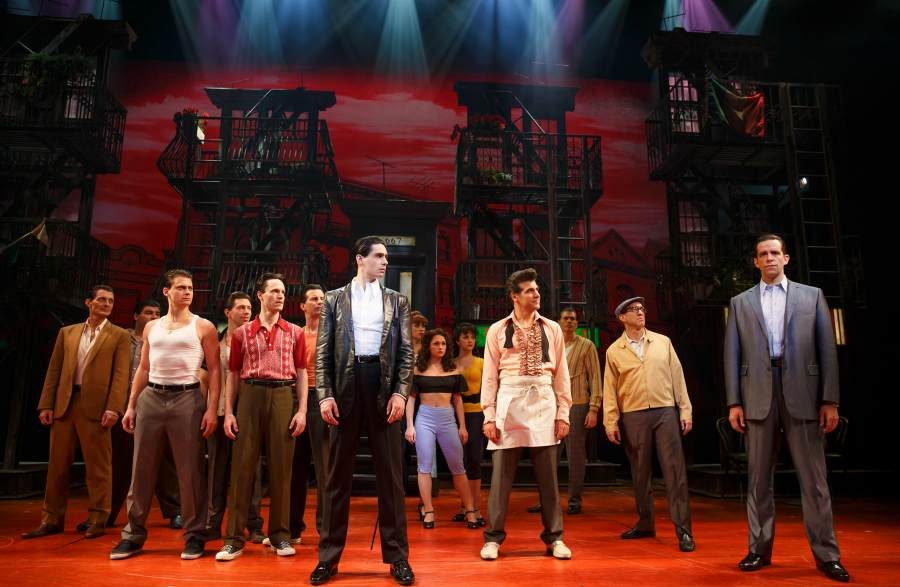 I love seeing you onstage, but considering you've recently worked with Woody Allen and De Niro, and all these people who reinvented cinema in the 70s, would you like to make a movie with any of them?
I mean absolutely (laughs) I would definitely take that call. I've had an extraordinary couple years, I've worked with so many of my heroes, in Waitress I worked with Sara Bareilles and Diane Paulus, I've been pretty fortunate.
Since you play so many tough guys, what's the soft side of you people would be surprised to see?
I hope they don't think I'm a scary guy! When people meet me I hope they think I'm a nice guy! I write and play music, I have a band called Other Courage, I'm not a big gambler (laughs), I'm Canadian which some people don't know. I'm not even Italian!
Are there any characters by Stephen Sondheim on your bucket list? And are there any of his songs you absolutely adore?
Sweeney Todd is something I've always been interested in playing, I grew up studying it. Also Sunday in the Park with George because "Finishing the Hat" is such a beautiful song, it's a great character for an actor to play.
The A Bronx Tale Original Broadway Cast Recording is now available from Ghostlight/Sh-K-Boom Records. Click here to find out more.