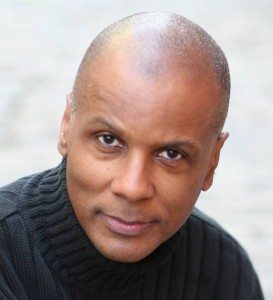 Director/choreographer extraordinaire Keith Lee Grant leads the talented actors of Harlem Repertory Theatre.  We had a chance to talk to the three-time Audelco winner about the origins of Harlem Repertory and the company's production of Langston Hughes' Tambourines to Glory.
StageBuddy: Can you tell us about the Harlem Repertory Theatre?
Keith Grant: We started in 2004, I'm a theater professor at City College and it actually began as a summer stock.  From 2004 to 2007 we would do 2 to 3 musicals and a play every summer and then in 2010 we came back with Dream Girls at the Arts Center, which is the place we are going to be taking over next week.  And now we're doing West Side Story and The Wiz.  It's been going on for about 10 years now.
SB: What kind of play is Tambourines to Glory? 
KG: Tambourines to Glory is a play with music by Langston Hughes; he didn't write many plays so [we're] very pleased to be producing this.  We call ourselves the Harlem Repertory Theatre because we have productions we can do over and over again.  This will be our third time [performing Tambourines] and it's one of Hughes' obscure plays.... It's set in Harlem and also set in in a church; the current space is above a Pentecost church.  And [the play] has powerful roles for women and we have extraordinary women in our acting company. Hughes' work should be seen, his home was in walking distance of our theater.
SB: Why did you choose Tambourines to Glory to produce?
KG: There is a woman in the company, her name is Kyria Geneva, and she's been with us for about 7 or 8 years.  She plays the lead Laura.  Another woman, Jasmine Holloway, is playing the other female lead.  One reason I brought it back out of repertory is to showcase their talents because they're extraordinary.  There is a great role Mario Brown is playing, he plays Buddy the antagonist, and I wouldn't have done this play if we didn't have him, it's hard to find a leading man with the emotional range that Brown has.  It's the right time because the casting is right.  I built the Harlem Rep to do plays that resonate to the community, people who live across the street would want to come see.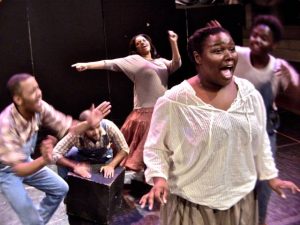 SB: What has your rehearsal process been like?
KG: We started workshop rehearsals in late May.  First we worked West Side Story, we got all the choreography on its feet.  In July we focused on The Wiz and now in August focusing on Tambourines to Glory.  In June and July, four days with West Side story and three days with the Wiz.  We pick up the two musicals again once Tambourines to Glory open.
SB: For actors, how do they get you on their radar?
KG: We don't have casting calls, I find there is very little you can find out about an actor in a five minute audition, we're not so much doing shows but building an ensemble.  There isn't anyone in the core company who hasn't done at least two or three shows with us.  If someone contacts me and they're interested, my first question is are you doing anything? And then I try to go see their work and keep them in the back of my mind.  Right now there aren't that many spaces.  There are no real openings.  The core member of ten continue to come back.  If someone is interested they should call 917-697-3555 and I'll request a picture/resume.