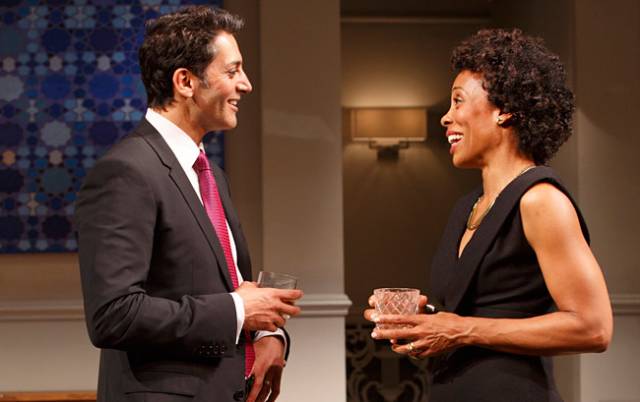 Editor's Note: As we look back at 2014, we are highlighting some of the best shows, performances, theater-related products and experiences the year gave us; for we will surely be talking about them for many years to come.
Jory (Karen Pittman) has just one scene, yet days, weeks even, after you've seen Disgraced, it's she who haunts you. Not to say that the other characters aren't interesting, or that their issues aren't worthy of conversation, or more profound ponderation. It's just that, as played by Pittman, she is the character who transcends the intellectual obtuseness of Ayak Akhthar's Pulitzer-prize winning play to enter the realm of that quality which makes us human: empathy.
Disgraced takes place mostly over a fateful night in which two couples find themselves having dinner, sharing perhaps a little too many drinks and discussing socio-economic issues, as well as racism and art. Amir (Hari Dhillon), a lawyer, and his wife Emily (Gretchen Mol) an artist, are hosting a dinner party at their Upper East Side apartment. Amir has recently been the object of suspicion at his firm, after he reluctantly commented on a controversial case involving a local imam suspected of participating in terrorist activities.
Their guests for the night are Jory, Amir's work colleague, and her husband Isaac (Josh Radnor), a Jewish art-dealer who also happens to be working with Emily. While Akhthar throwing together a Jew, a former Muslim, a WASP and an African American together does little in the name of subtlety, the actors are so committed to the smart dialogues and ideas that one forgives the play for its obvious sins more often than not.
This is mostly owed to Pittman, who also happens to be the only cast member who made the transition from Off-Broadway to Broadway with the play. Pittman turns Jory into a sensual, earthy woman who is alive in a way few characters ever are onstage. She moves across the stage like someone who sweats, cries and breathes even when her scenes are over. It's impossible to keep your eyes off her, she's so involved in her performance that we see her savor the meal served onstage and it makes us drool.
As played by Pittman, Jory seems to be the one character in the play who has chosen to live beyond the limitations imposed by Akhthar. It's a performance that epitomizes scene-stealing and should not be forgotten by the time Tony nominations are announced next year.