Next to actually seeing shows, the memories that come with a great cast recording are the next best thing. We were fortunate to have some excellent recordings of new scores, jukebox musicals and revivals and narrowing it down to ten is indeed, difficult. But, ten must be chosen, and from the wide range - here are the ten I consider most essential.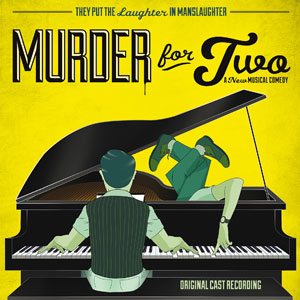 10) Murder for Two (Original Cast Recording)
For clarification, there is a difference between choosing the ten best cast recordings and the ten best scores - and Murder for Two would not fall on a list of the latter, but the 45 minute recording of the two person performance + a piano is one of the most entertaining albums of the year. Like the show itself, the album is a chance for the actors to showcase themselves. Jeff Blumenkrantz and Brett Ryback are comedic powerhouses, throughout, and in the tradition of great performers keep the album chugging along excellently even in the most uninspired musical moments. It's a rewarding, short listen, of a show not many may have caught but it's well worth a second, third, and fourth listen and the epitome of a small should that could (and did) it's worth remembering on a list of the year's best.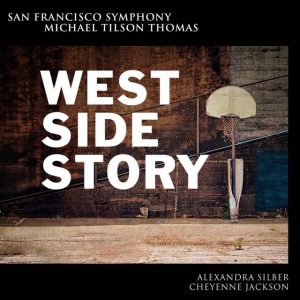 9) West Side Story (San Francisco Symphony and Michael Tilson Thomas)
You might ask, "Does one really need another West Side Story recording"? And, perhaps you may have a point (this album is up for the Grammy for best Musical Theatre Album – three other West Side Story albums have already won). But, when a score is this good there's no harm in a new recording and Michael Tilson Thomas' live concert rendition with the San Francisco Symphony is lovely. Leading the batch of positives is Cheyenne Jackson singing for Tony who has not had the chance to sound as gorgeous on an album since the Finian's Rainbow revival recording. And, his chemistry with Alexandra Silber is lovely. The orchestrations are immaculate. If there's any weakness it's that the album sounds more studied than you'd hope for the street-wise anger of Bernstein's original score and Sondheim's word. But it seems almost curmudgeonly for criticizing an album for being too pristine. This may not be the definitive recording of the score, but it's an excellent one, nonetheless.
8) Lady Day At Emerson's Bar and Grill (Original Broadway Cast)
Ninety minutes of Audra McDonald's Tony winning work as Billie Holiday. Recorded live at Broadway's Circle in the Square Theatre the two disc album gives us the entire one-woman show, dialogue included. The album becomes as essential for the music as it does for the speaking parts. The seven minute conversation piece "I Was Singin' with Artie's Band..." is a highlight, even though it included no singing. The album does its best to capture the essence of the show live, even though this feels like it would have been a prime chance for a live visual recording of the show (to see and hear Audra's transformations), but it's a sight criticism. And, I'll admit, though, like with every musical where a Broadway star plays a real person I kept hoping the cast recording would be less of an actual cast recording and just Audra McDonald singing Billie Holiday songs. But when Audra as Billie sings on the opening of the excellent "Strange Fruit", complaints seem ridiculous. This album is gorgeous.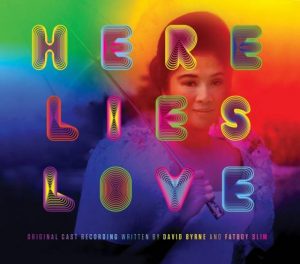 7) Here Lies Love (Original Cast Recording)
Four years ago the two disc Concept Album for Here Lies Love was released and now we get the two disc Original Cast Recording. In the two years the show has gestated and changed. As a musical theatre score there are still some slight oddities in the show lyrically and there's a slight indication the music works better removed from the story. The score might be better musically than lyrically but the entire two disc experience is a gem. Ruthie Ann Miles as Imelda Marcos is a noteworthy center for the piece (receiving excellent assistance from standouts Melody Butiu and Conrad Ricamora). The album comes with an impressive, in depth, digital booklet giving the listener a chance to become immersed in the story being told and proving that Here Lies Love has more to offer than an excellent title number.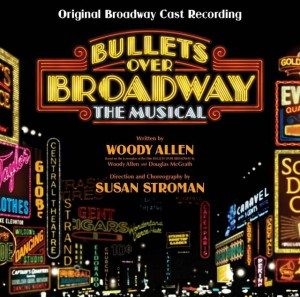 6) Bullets Over Broadway (Original Broadway Cast)
Bullets Over Broadway may have ended up being a disappointment for some on stage, especially considering the high expectations for it coming into the 2013/2014 Broadway season. However, the cast album is a good and positive reminder of the best aspects of the show. Certainly, an original score may have been better, but this collection of well known and some forgotten hits from the 20s is a keeper in its own right. Glen Kelly's musical supervision is impressive and from the opening "Tiger Rag" the album pops. The new orchestrations are a delight to hear and the listening experience is outstanding. Marin Mazzie is in typical fine form belting to excellent results, and even though Zach Braff is not the most dynamic lead (he sings well, but is not as interesting to listen as his colleagues) he does not dampen the album's verve. It may not be an original score but it's an impressive listen and a great collection.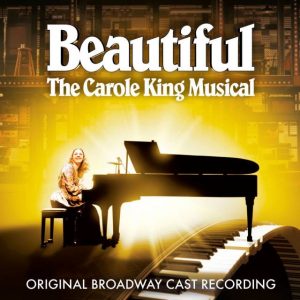 5) Beautiful: The Carole King Story (Original Broadway Cast)
The box-office hit of the year, it's very likely this Carole King jukebox musical will go on to win the Grammy for best recording. We'll see. For now, there's much to appreciate about 56 minutes of Carole King/Gerry Goffin/Barry Mann/Cynthia Weil songs. With jukebox musical recordings one is always looking for sincere and fresh takes on familiar tunes and Beautiful has much of that to offer. Even when the arrangement is familiar, the presentation and strength of the performers makes the album more than just commendable and turns it into something excellent. Of course, though, as a Carole King bio-musical the album will live and die by Jessie Mueller and she's outstanding. We've already trumpeted her work here but she is the reason this album goes from good to great. And that arrangement on The Chiffons/Carole King version of "Chains" is perfect.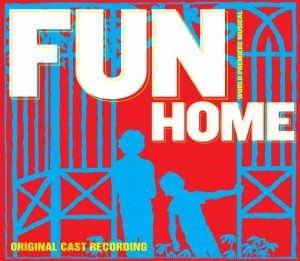 4) Fun Home (Original Cast Recording)
Come for the promise (and delivery) of some excellent singing from veterans Judy Kuhn and Michael Cerveris and stay for the excellent work from Sydney Lucas and Alexandra Socha. Lisa Kron and Jeanine Tesori have crafted a beautiful score and the cast album takes on more poignancy for the inclusion bits of dialogue making for an easily understandable even for persons new to the show. Fun Home
is the kind of score that becomes more and more rewarding upon each listen and this excellently produced and recorded album gives us the chance to do so. It's proof that the well reviewed Off-Broadway (soon to be on Broadway) play could be just as affecting with just the cast recording to listen to.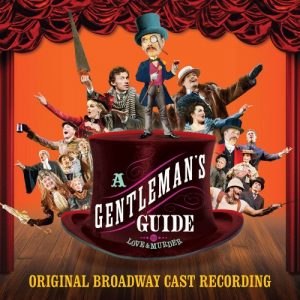 3) A Gentleman's Guide to Love & Murder (Original Broadway Cast)
The Tony winning Best Musical score has, oddly, become something of an underrated asset but this well produced cast album is a reminder that the score is marvelous. Sure, with the cast album we don't have a chance to see Jefferson Mays seven transformations as the D'Ysquith's, but the recording has much more to offer. Like Lisa O'Hare and Lauren Worsham's perfectly melodic singing voices (put to excellent use on the "I've Decided to Marry You" and the secret-weapon duet of "That Horrible Woman"). The ability to pause and replay only brings to the light and the excellent rhythmic, rhyming skills of Freedman's and Lutvak's lyrics (like on "Poison in my Pocket", complete with the screams of the dying D'Ysquith heir) and like the best of cast album when recorded so clearly provide us a chance to think back and realise the excellent melodies, and jokes we may have missed the first time around.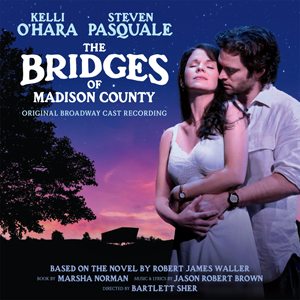 2) The Bridges of Madison County (Original Broadway Cast)
The best original score of 2014, naturally, makes for one of the finest cast recordings of the year. From those opening cello chords in "To Build A Home", becoming the motif to define Francesca, this album hooks and does not let go until those same chords close the album on "Always Better". But it's not just the excellent score (maybe, maybe not Jason Robert Brown's best) which make this an essential cast album of the year. We get a chance to hear Kelli O'Hara sounding the best she has ever sounded and Steven Pasquale making his cast album debut. Even if the score was half as good, the recording would be an essential but the fact that Kelli's head voice and Steven's vibrato are being put to fine use on a perfect score make this indisputably one of the year's finest recordings. It is topped only by my #1 choice.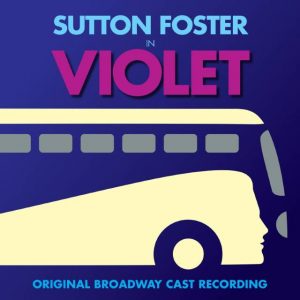 1) Violet (Original Broadway Cast)
Words like "best" and "finest" are all subjective which is why I opt for a more honest "favorites" list. And, still, I'd call the PS Classic recording of the Broadway Revival of Violet the most indispensable cast recording of the year, in addition to being my favorite. First, there's the fact that as a PS Classics release this two disc album gives us all the songs interspersed with dialogue from the libretto making for a comprehensive listening experience. Then there's the fact that even at the beginning of her career Jeanine Tesori gifts as a premier musical composer are still outstanding (Tesori wrote the music in 1997, her first produced score). Then there's Sutton Foster in fine form, Joshua Henry giving the best performance of "Let It Sing" and Colin Donnel's easy charm. The beauty of Violet's score is the way it moves from gospel to pop to country to standard musical theatre fare transcending genre and this recording with its fantastic orchestrations (see "All to Pieces" or "Bring Me To Light" makes for an essential listening experience and my favorite of 2014.
Best Re-released/Remastered Cast Album
The Baker's Wife (Members of the 1976 Original Cast)
Originally released in the mid-nineties, selections from the 1976 production of The Baker's Wife were remastered and rereleased at the beginning of 2014 and in a year of a few excellent remastered cast recordings this tops the list. This difficult to produce musical might probably win for my favourite Schwartz score and even though this recording only features a third of the numbers it is an essential recording of the score. Teri Ralston's "Chanson" is a soothing delight, Paul Sorvino and Kurt Peterson's are excellent suitors to our eponymous lead and Patti Lupone has never sounded better than she does on "Meadowlark". She sounds even more magnificent on the remastered release.