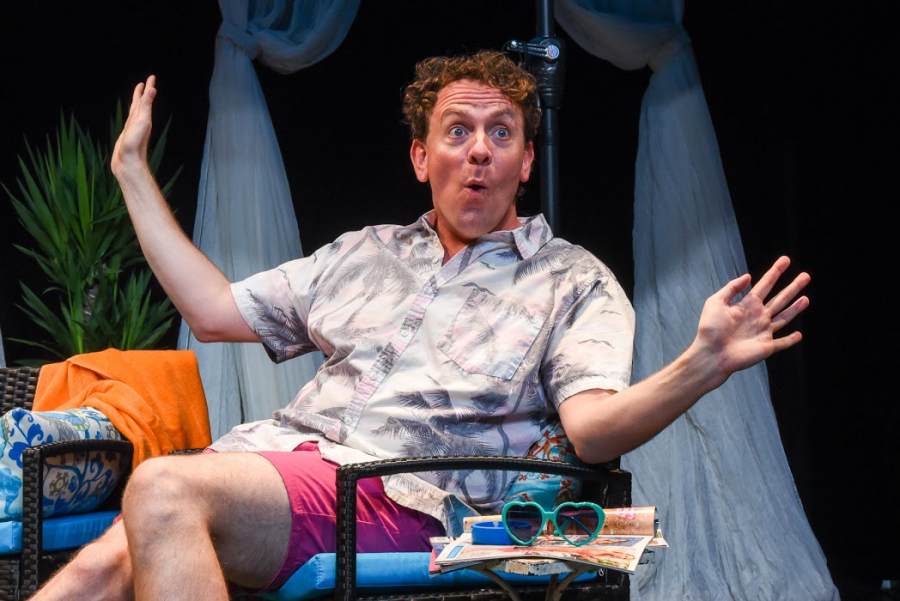 After a critically acclaimed run in New York during the last quarter of 2016, Drew Droege is bringing his one man show Bright Colors And Bold Patterns back for a limited run at the Soho Playhouse. The hilarious play, directed by Michael Urie, centers on the wedding weekend for Josh and Brennan, which sees their friend Gerry (Droege) arrive in a state of inebriation and pent up rage which he plans to unleash as he gulps down margaritas and does drugs. Droege makes Gerry one of the most lovable comedic antiheroes of the last few years, and certainly one of the most complex queer characters we've seen in a very long time. Droege's comedic timing is impeccable, but what astounds is the ease with which he goes from making our bellies hurt from laughter, to stopping us dead on our tracks with insights that haunt us long after the show has ended. We spoke to Droege about bringing the show back to NYC, working with his friend Urie, and why being a queer artists has become more important than ever.
I'm very happy you're bringing the show back to New York. Has anything changed since last time it ran here?
I always wanted to do a longer run, but due to my schedule I had to be in Los Angeles. We loved doing the show so much, Michael had some new ideas and some of my deliveries might have changed, but I would say it's 90% the same.
Who do you imagine you're talking to when your character speaks to all the other characters the audience can't see?
(Laughs) When I was preparing for the show I rehearsed with real people, that really helped. I know it sounds creepy but I never feel like it's just me onstage, also the audience really helps, sometimes people laugh or react in specific ways which helps me, it feels very different from night to night.
Can you talk a bit more about getting to work with Michael Urie?
I did a workshop production in LA and it was imagined as a blackbox, very bare boned production. I did it at Ars Nova, Michael came to see it and he had a vision for it being a bigger production. He'd directed a couple films before but he'd never directed theatre, but he's done so much that he had great ideas. He's really helped flesh out the play and turn it into what it is, he's very collaborative, we laugh a lot, we hang out, we're very close, so it's a great dynamic. He's been indispensable, he's truly the sweetest person on Earth.
What's your favorite character he's played?
I saw him in The Government Inspector this year and he was so great. I love him in everything, but that was just masterful work. How he controlled his body and mastered this character was great. He was brilliant, I wanted to punch him because he was so good. I'm looking forward to seeing him in Torch Song.
In the play you capture the agony of being a gay man looking for love, and you master it through comedy. How did you achieve this balance? Does writing about fears help you exorcise them?
Oh absolutely. People who know me would tell you I put a lot of truth about myself in the shows, but there's also a lot of fiction. My mom's coming to the show and it's going to drive her crazy because there are so many "wrong" details. However this character is not me, but in playing this version of the guy at the party who  you get stuck with and want to escape the conversation. It's the person we're all afraid of being. I don't think we've seen this character often in entertainment, playing him I do feel I exorcise some demons and I do feel different each night playing him. Sometimes I feel hopeful, I like this guy regardless, there's agony but he's very human, I think he changes through the course of the night for good. He's going to have a terrible hangover next morning, but he's going to be OK.
Has playing a gay character and being a queer actor changed for you in the past year given the political situation?
I was doing the show last year in the middle of the election, at first I was scared the play wouldn't be relevant, because the play assumes everyone there will be pro gay marriage and liberal in some way or another. But if you're afraid for human rights all of a sudden, I was afraid no one would care about the play, because we would have to be fighting again for our right to exist. I also felt people needed to laugh and more than that just be in a space together to realize we needed to be more bold than ever. This year has been horrible but because it's been so extreme, it's been unifying. More people than ever accept gay people and gay marriage, regardless of their own orientation, it's really exciting and we have to keep going. We can't let the bad guys win.
What is at the top of your Chloe Sevigny's Christmas wishlist this year?
(Laughs) I feel like I haven't done her in so long that I don't know. I need to bring her back, but I think this year Chloe's going to be very into decorative sweaters and Nantucket.
For more information and tickets to Bright Colors And Bold Patterns click here.