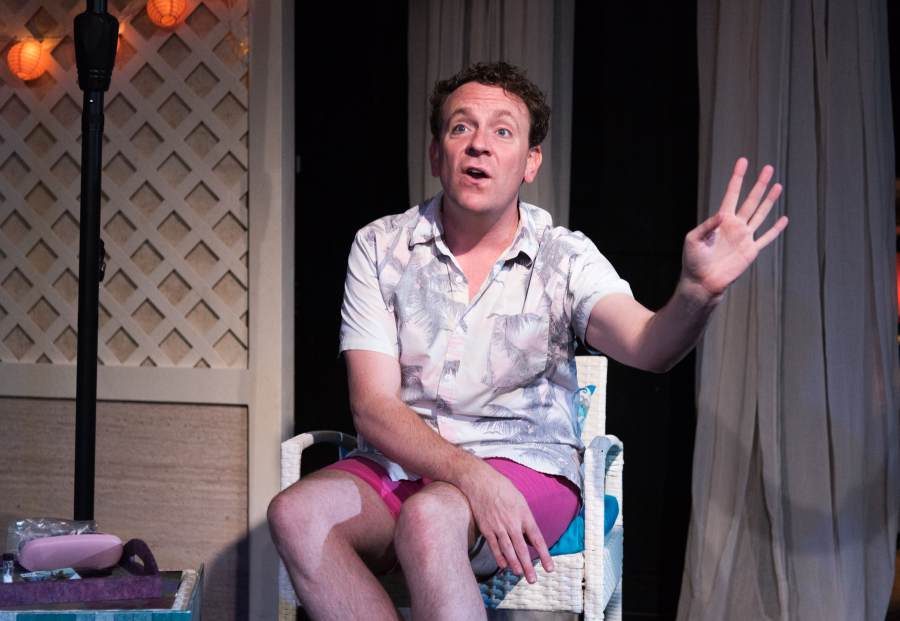 The highs are high and the lows are low, but what else is to be expected on the coke-fueled gay wedding weekend in Palm Springs?
At the risk of being self-deprecating, Bright Colors and Bold Patterns doesn't need my praise. Drew Droege's one man show, directed by Michael Urie, is back on stage at the SoHo Playhouse after its New York City debut at the Barrow Street Theatre in 2016, a near sold-out run which garnered giddy reviews from every major news outlet and spots on Buzzfeed and Time Out's Best Of the Year lists.
Yet there's still plenty to say about a performance that sells itself as a hilariously campy night at the theatre (which it certainly is), only to give way to a fearless solo performance with a hell of a lot of heart — though the main character, Gerry, wouldn't likely admit it — and more depth than the mosaic pool in the backyard of the rental house that, in Gerry's own words, "looks like Trina Turk and Betsey Johnson threw up Bacardi Razz and sold it to Target."
The performance takes place poolside, on the eve of the wedding of Josh and Brennan. The accommodations were arranged by Dwayne, Greg's once-upon-a-time-in-NYC roommate and maybe boyfriend who's now with Mack, a 23-year-old architecture student who looks great in a Speedo but doesn't get Gerry's references to Olympia Dukakis. Add in a fourth guest — another one of Dwayne's exes — and you've got a group primed for drama and unlikely to make it to the rehearsal dinner on time.
The drama flows from Gerry in an effortless, Energizer Bunny-like stream of conscious, as he pivots from the detailed recounting of a Lifetime original movie starring Rita Wilson to the problem with Queen Latifah. The primary focus of his ire — on the surface, at least — is a command on Josh and Brennan's wedding invitation: "No bright colors and bold patterns." To uncover exactly who's behind this insult to the gay community at large ("Someone please show me on the rainbow where I can find khaki?!"), he systematically eviscerates each member of Brennan's family — Brennan, who can be likened to an ottoman, and is far too boring to be marrying their wonderfully weird friend Josh.
I initially cringed when Gerry spoke at the empty spots where Mack and Dwayne should be, but Droege, who not only stars in but also wrote the piece, pulls the choice off with aplomb — in no small part because of the dazzling buffet of facial expressions at his command from moment to moment. And the one-sided-dialogue turns out to be an entirely apropos bit of stagecraft for a character who could actually have a full-length conversation with a wall.
As the evening goes on and even more substances are introduced, Gerry's over-the-top persona begins to slip ever so slightly. He dips into self-reflection, and many of his Wildean quips become packed with pathos: "I don't want to be normal," he cries, later adding, "Can't we overreact? Can't we do something? What are we so scared of?"
One thing Gerry seems to be scared of is his place as a 40-something single gay man in a changing world. Navigating his conflicting feelings of happiness that the gay community can marry while not being so sure that's what he wants for himself.
But if nighttime brings maudlin thoughts, daybreak proves the opportunity for sunnier attitudes — and a few more margaritas. And if anyone is able to not only handle but firmly embody multitudes, it's Gerry. As he says, "honey, we celebrate things and make fun of them at the same time. That's called gay." Leaving the theatre into the non-Palm Springs chill, I had no doubt that Gerry would live to snark another day.