Interview: The Kilbanes on myth, transformation, and radical love in their concert film 'Weightless'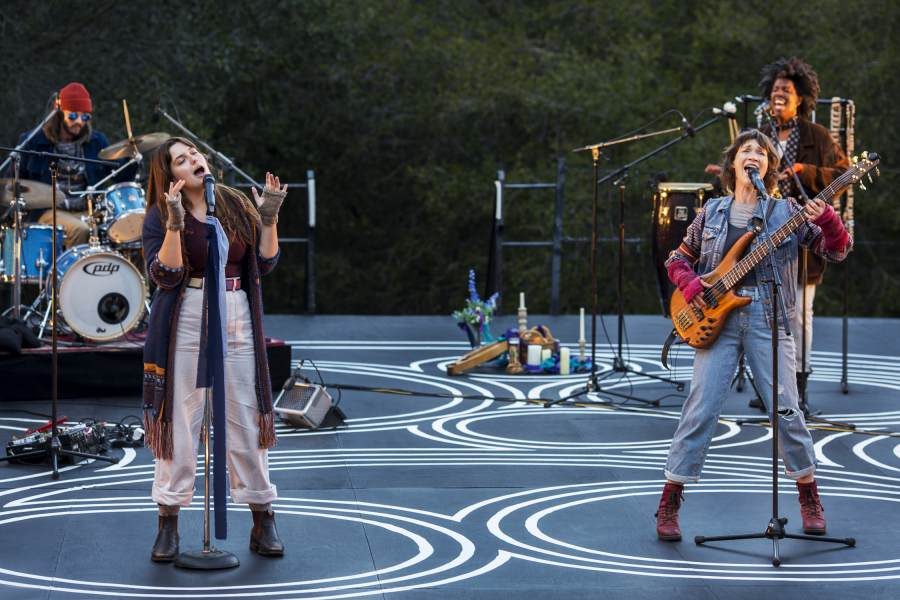 Sisterhood. Love. Betrayal. Flight. Weaving together ancient myth and indie rock, Weightless tells the tale of two deeply devoted sisters, Procne and Philomela, separated by circumstance, who must travel across worlds and make devastating sacrifices in order to reunite, and the god who shapes and is shaped by that journey. As this exciting theatrical concert film begins streaming on April 15, we spoke to married songwriting and performing duo Kate Kilbane and Dan Moses, who co-wrote and perform in the show.
Where did the idea for Weightless come from?
We've always loved Ovid's Metamorphoses, because the stories are magical and familiar at the same time, with characters and emotions we can relate to but circumstances that allow our imagination free reign. When we were looking for material for our next piece and rereading the story of Procne and Philomela, two things seized us: the first was that we were incredibly moved when Philomela, whose tongue has been cut out, weaves her story as a message to her sister. The fact that this young woman will not keep silent, even though the world keeps trying to silence her, felt incredibly vital and powerful to us. The second reason we fell in love with the story was imagining the beautiful impossibility of people turning into birds onstage. We had no idea how we could do that physically, but it seemed totally possible musically. That made us hungry to try it.
What was the show's development process like?
We started writing the songs and playing them with our band in rock clubs -- they mingled on setlists with lots of other material. Then we got a slot at the 2012 SF Fringe Festival, and we thought, let's tell this story in concert form and see what happens. Two wonderful Bay Area theater makers, Lisa Steindler and James Faerron, came to one of the Fringe shows and offered to help us flesh out the piece for theater. So, for the next several years, we did workshops and small showings, building the story and the characters, rewriting songs, repurposing others, and crafting new ones. Then in 2018, we had our world premiere at Z Space, where our first director, Becca Wolff, helped us put Weightless on its feet as a theatrical production.
Weightless has had quite a journey. Has the show changed at all along the way?
We believe that the beating heart of the show -- the sisters' relationship -- has been there from the beginning, but it's certainly gotten deeper, clearer and (we hope!) more profound as we have learned more about these two remarkable women. However, we have continued refining the story, characters, and music every step of the way: in preparing to make this filmed version, we significantly rewrote seven of the fifteen songs, not to mention revising a good portion of the book. And it's the character of Iris, the god, who has undergone the most change. During this process, we worked very hard at fine-tuning who she is, why she's telling this story, and, most importantly, how to manifest Iris's own metamorphosis at the end of the piece.
When the world shut down a year ago, we had just learned that WP Theater was going to produce Weightless. So we called our new director, Tamilla Woodard, and said, "We know the production is a long time from now, but so much of our work got cancelled -- can we start meeting now?" We were thrilled when she said yes. So the three of us began revising Weightless over Zoom; we met nearly weekly throughout the rest of 2020. Tamilla's questions, insights and creative rigor were immeasurably helpful to our process. We cannot believe our incredible luck to have her as a collaborator.
What about Weightless are you most excited to share with audiences?
Honestly? All of it! We are fiercely proud of our incredible, huge-hearted creative team and the work we've accomplished together. The message of Weightless -- that radical love, love that allows us to see and support one another's dreams, is the real magic that's already present in the world -- feels like a very powerful offering to share with humanity at this moment in time.
Kate, how do you relate to your character, Procne? How is she like you and how is she different?
Procne is impulsive -- she jumps out of her window and escapes, she runs off with a strange guy to his island -- while I am much less of a risk-taker. But like Procne, I have a younger sister, and I would do anything for her. I also share Procne's deep hunger for connection and experience, her love of the magic in the world. We're both storytellers by nature. And, of course, we both play the bass. 😉
Weightless is about two sisters who are separated, trying to find their way back to each other. Do you feel like you've gained a new perspective on their journey since the pandemic hit?
We believe that we are all struggling with the effects of physical separation right now, of isolation from so many of the people that root us in who we are. One of the songs we reworked last year, "Mockingbird," is about the sisters' experience when they cannot reach each other. As I [Kate] sing it now, I feel that song much more acutely. We also feel incredibly grateful to be telling a story about sisters never giving up until they find each other. We are saying to audiences, yes! We can find each other on the other side of this pain! Keep moving forward, keep fighting for love!
Weightless is drawn from a Greek myth, and it looks like you've done at least one other project inspired by Greek mythology, The Medea Cycle. With Hadestown on Broadway, it seems like Greek mythology is in the spotlight right now. What draws you to those myths? Why do you think so many artists find inspiration in them?
For us, myths strip the experience of being human to its most essential emotions and experiences. In that way, they are both all the structure you ever need and deliciously blank canvases -- the structures of the stories are already so powerful, but we as artists can provide the color, the specifics, in a thousand different ways. Myths are rich gifts from the humans who came before us.
Do either of you have a favorite song or moment from the show?
Kate: I have two. I love watching our new ending -- the moment when Iris transforms Philomela. We built that moment collectively, first sitting around the table with Tamilla and Kofy Brown (who plays Iris), talking about what the moment needed to be, revising the text and the music. Then we staged it with Kofy and Lila Blue (who plays Philomela), working together to refine it until it felt right. That moment would not exist without the genius and generosity of our amazing collaborators. Every time I watch it, I am flooded with gratitude. And then, after that moment is over, the actors transform back into the band again and play our last song, "Lift Me Up," and I'm always filled with joy and a sense of release.
Dan: My favorite moment is when the goddess Iris appears -- or, rather, the moment that the band's percussionist, Kofy Brown, reveals herself to be Iris. Weightless is all about transformation, and this is the moment when the genre of the show itself begins to transform from a rock concert into something else, something much more theatrical and immersive. (Also, Kofy is an absolutely electric performer.)
As a married songwriting duo, what does your songwriting process look like? How much collaboration is there?
Our process is deeply collaborative. Though we tend to start songs by ourselves -- we find that coaxing the small spark of inspiration into its first form is such quiet, tender work that it's easier done alone -- we finish every song together, revising the melody and lyrics, changing the chords, revising the bridge, maybe finding a new chorus that works better -- over weeks, months, or years. By the time a song is done, we've always forgotten who wrote what.