NYMF Interview: Lorca Peress, Anika Paris, and Dean Landon on 'Temple of the Souls'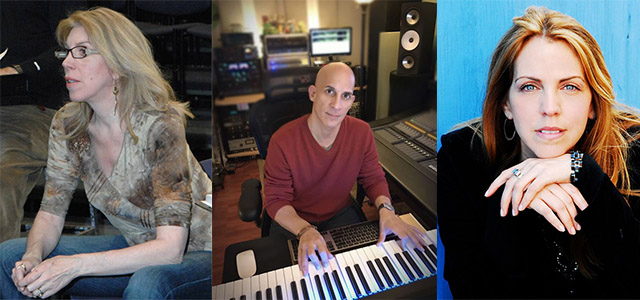 The 2017 New York Musical Festival, which runs July 10 through August 6, will bring audiences four full weeks of new musicals, concerts, readings, and panel discussions. We spoke with Lorca Peress (book), Anika Paris (music, lyrics, book), and Dean Landon (music, lyrics, orchestrations) about their musical Temple of the Souls.
What was the first musical that made you want to make musicals?
Lorca: There are so many, growing up with our music conductor father, Maurice Peress, we saw numerous operas but only a few musicals that he conducted. When I was a little girl, he conducted Camelot in a summer season in Massachusetts. I remember falling in love with the music and the characters, but I think the first production that took me deep into the world of musical performance was Candide that he conducted in Los Angeles and then in NYC at the Metropolitan Opera (featuring Madeline Kahn as Cunegonde). That production was a huge turning point for me. The work was in English, I could relate to it (although I missed many of the salacious jokes), but I really wanted to be onstage with them. I had a performing career as a child and later as a professional in operas, musicals and theatre productions. West Side Story was another poignant show I saw that has great resonance with me, and the Romeo and Juliet story is present in our musical Temple of the Souls.
Anika: I have been surrounded by music my entire life because my father is classical conductor. Growing up, I sang in Leonard Bernstein's Mass, Hansel and Gretel, and performed in many stage productions and operas prior to traditional musicals. As young as five, I remember singing and writing my first songs while swinging on a giant swing from the set of my Dad's production of Cosi Fan Tutte that we hung from the tree in our backyard. He even transcribed one of my first songs, "Little Bird Fly," on staff paper in pen and ink that I've kept all these years. And I am in love still with writing and singing songs at the piano. I've written and recorded hundreds of songs with Dean commercially to date. But I do believe my first musical role as Marta in the The Sound of Music for my sister Lorca's high school sealed the deal for me as a "performer." I got bitten by the stage bug and I'm still itching!
Dean: I was surrounded by music from a very young age, and have childhood impressions and fond memories of enjoying my uncle's accordion playing. I made my first step in music at the early age of three with a chord organ. My passion for playing, composing, songwriting and ultimately producing, grew to the point that now my music can be heard on many major network shows. "I love creating and hearing my music come to fruition." And both a composer and orchestrator, I have to be aware not to overstep or get in the way. Music can make or break a scene, and it is ultimately the synergetic blending of mediums that makes all the difference, even for musical theatre."
Describe the sound of your musical:
Anika: Our music has been described as Andrew Lloyd Weber meets contemporary pop. It's melodic pop, rhythmic with lush orchestrations and an epic feel. As a staff writer for Warner Bros. television and film, Dean composes orchestral music for many of their shows. This was the perfect opportunity for him to score and orchestrate the music for Temple of the Souls. And song wise, we created a lot of variety musically for the show to distinguish between classic/traditional sounding songs for the parents' generation, versus the more contemporary sounding songs for the younger characters representing their desire to break free and pave new ways. So it's a rich tapestry of sound.
I can't think of any musicals featuring Taino characters, was this part of why you created the piece?
Anika: This story is by Anita Velez-Mitchell, and she happens to be my (Anika's) grandmother. She was always clairvoyant, with her finger on the pulse of the world. These Taino characters and their story is a universal theme and represent much of what is going on today. Anita was born in Viequez, and when she went back to revisit Puerto rico, she wrote a poem inside one of the caves of the El Yunque Rain forest. There she told us she felt the cry of the taino souls and heard their tears dripping from the stalactites, with their spirits surrounding her. And this poem was originally intended to be an opera. When we were approached to compose the music, we expressed we are not opera writers, and it eventually ended up becoming a musical. Still, the need to tell this lost history and having the creative team all part of the family was serendipitous.
And this became bigger than all of us having a life of its own. It is incredibly relevant during today's new administration, new immigration reform, voting rights, and possible statehood. So fighting for Puerto rican voices to be heard is imperative. And the synchronicity of this story and collaboration a very special one. The creative team worked together bringing elements to this historic piece to help make it more accessible for today's theatre goers.
Lorca: Our Puerto Rican grandmother and writer, Anita Velez-Mitchell, had always been fascinated by the history of the Taino people. As a Puerto Rican born in NYC, I was not as aware of the culture as I wish I had been. Once I read Anita's story, I knew I needed to become familiar and went on a research mission to learn as much as I could. There have been other plays and musicals that feature Taino characters, and as multicultural director, it is important that we understand the responsibility of stepping into another culture and world. I feel blessed and honored to bring elements of the Taino history to life in our musical.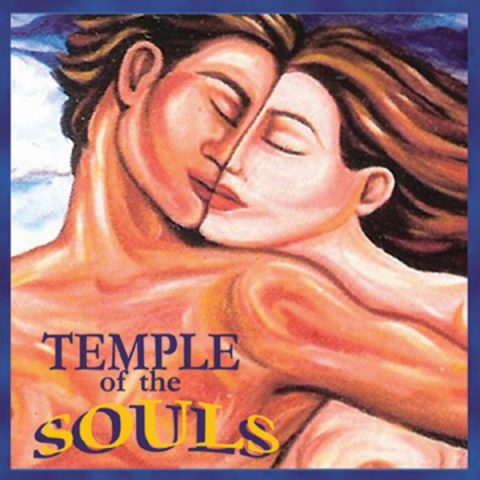 What was the most fascinating thing you learned about these cultures in your research?
Lorca: After reading books and finding information online, I flew to Puerto Rico to meet with Dr. Ricardo Alegria in San Juan. Dr. Alegria is an anthropologist and archaeologist, Wikipedia calls him the "father of modern Puerto Rican archaeology."
I was honored to interview him in his home surrounded by relics, art, and the history of our people. Later, I was given a private tour of the Institute of Puerto Rican Culture, which he founded, and learned even more. My trip to the El Yunque rainforest was eye-opening, knowing that the Tainos had taken refuge in the mountains, and that thousands took their lives by jumping off the cliffs. Back in NYC, I visited the Smithsonian Museum of the American Indian which also has a good collection, but not as extensive as the one at the Institute in Puerto Rico. The other great reference for us in NYC is Museo deo Barrio, which I have been to numerous times. One of the most fascinating things I have learned about the culture is the great debate over how many Tainos existed, and how many were killed, died of disease, or took their lives. We have seen records as large as hundreds of thousands to tens of thousands killed. The Census was limited because so many people hid out in the rainforest and were never counted. Suffice it to say, the Spaniards decimated the majority of Tainos, and the many who live as Tainos today are mostly genetically mixed. However, how one personally identifies and lives is what keeps traditions and culture alive.
Dean: Musically, there are a lot of similar rhythmic elements in Taino music that we discovered we use in ours. We studied, listened and learned about Arreyto's and indigenous instruments the Taino's used. And there is still a lot that remains unknown, because their music was not recorded. So we had some room to be creative.
Historically, most people never learned of the Taino's in school. We learn about the cowboys and Indians and how in 1492 Columbus sailed the ocean blue. So this lost history is one people have the right to know about. The colonization of the Hispanolas massacred the Tainos to near extinction. It was a Holocaust. And Puerto Rico deserves its place in history, especially being part of the USA.
Anika: I found out I am part Taino! Anita took a DNA test and turns out has Taino blood, so I do too. It authenticated something. Even though I am half Puerto Rican, this was even more interesting. As I researched the biology, I found out the remaining Taino DNA is only traced back and found in the blood line of the mothers.
How was it to work with Anita Velez-Mitchell? What was the most valuable piece of advice she gave you?
Lorca: I had worked with Anita on many projects in the past. We had a great working relationship; we analyzed and critiqued each other's work independently and as collaborators. We always advocated for each other. I would say working with my sister Anika has also been amazing. She and I think alike, we often hear the same rhythms, even the same notes or chords. We defer to each other when needed, and collaborate seamlessly. We even come up with the same line at the same time. So, it has been a joy to write with her, and to develop the musical moments within the book. And working with co-composer Dean Landon is fabulous. He's so creative, and his orchestrations are rich and gorgeous. They are such a great duo, and have a 20 year collaboration history. Together we are a tight team. Losing Anita has been tough for all of us personally, but creatively, we know she is with us as we continue to develop and move the show forward.
Anika: She was a force to be reckoned with, lived to be 99 years old, and inspired so many people in so many ways. But, as my grandmother, I'd like to share one of my favorite stories that sums up her philosophy in life. In my twenties, I moved to NYC and lived with her in the Briarcliff across the street from Carnegie Hall. I was heartbroken over a boy and crying, and crying, and crying face down in my bed. She kicked the door open to my room holding a bottle of champagne and two glasses and said, "It is time to celebrate!" I repliedm "Celebrate? What! Miani, what are you talking about, I'm devastated!" She said, "Oh darling don't you see how wonderful this is? You get to fall in love all over again, you get to feel those butterflies in your belly, the joy and elation, and experience that first kiss all over again!" We danced around the room drinking champagne, I, still wiping the tears from my cheeks while laughing all the while, but with new found hope. She took hold of life, she exemplified feminine strength, poetic poise and grace. She's the kind of spirit to give you wings.
Why is it important to bring your show to NYMF?
Lorca: We have been working so hard on the piece for many years, and felt that NYMF offered great opportunities to us. As a featured NYMF Next Link Project, we are given a dramaturg. Mark Eugene Garcia chose the play from 10 he read, and has been instrumental in helping us reshape the book and song placement for this production. We feel that NYMF has already helped us developmentally, and through this opportunity, we are excited to introduce and showcase the musical to more industry professionals. We are inviting producers and developmental theatre companies to attend the NYMF production with an aim to take the musical into a regional theatre for further development.
Dean and Anika: We wanted to work with a dramaturg and turn it into a one-act piece. We had new songs to add and old ones to remove. And we love the piece and believe it has legs. We felt a festival would give us more exposure. It's definitely a challenge to trim down this production because of its epic feel, both in story and music. To recreate it the way we envision, we would need twenty musicians and a large cast to start. But a great song can stand on its own, and a great story touches both the heart and soul regardless of how it's staged.
What's next for the show?
Lorca: We will be applying for translation grants to translate the musical into Spanish to gear it toward an international market. We are also very interested in film and animated feature opportunities for Temple of the Souls. And, of course, the dream of all musicals is to have a life on Broadway and in regional theatre. We'll expand that to include international theatre. It's time for a great indigenous love story to bring intolerance and bigotry to an end. We have big dreams, and we believe it can happen.
Dean and Anika: We hope it tours and comes back to NYC on Broadway! Perhaps a movie one day. They say dream big or go home. The skies the limit if we are embraced by the magic of the world, and in Anita's words:
I will pen our story … our love story … the mestizo history of Boriken will live on forever.