The 2017 New York Musical Festival, which runs July 10 through August 6, will bring audiences four full weeks of new musicals, concerts, readings, and panel discussions. We spoke with Sam Goldstein (book), Craig Clyde (book), and Graham Russell (music/lyrics) about their musical A Wall Apart, a love story set against the backdrop of the Berlin Wall.
What was the first musical that made you want to make musicals?
Craig: When I was 12 years old my mother took me to see the road show of Camelot. I was so entranced I didn't leave until the stage crew starting pulling down the scenery. I decided then I wanted to be part of that.
Sam: Sound of Music. I grew up in NYC. My parents loved the theatre. Zero Mostel was my god uncle. So we went to many musicals each year.
Graham: Being in Jesus Christ Superstar in 1975 in Australia and New Zealand doing 10 shows a week.
Describe the sound of your musical, it's like _______ meets _________.
Graham: A Wall Apart for me is like the edgy sound of Tommy meets the beauty and emotions of South Pacific.
Craig: To me it's Jesus Christ Superstar meets "A Hard Day's Night." Some very rock and roll music with a touch of 60's thrown in. Graham's music is simply amazing and to work with him was a delight. I've had the opportunity to work with many professionals (actors, directors and musicians) but Graham Russell is the "fastest" and most on the nose collaborator I have worked with… and that's made all the difference.
Sam: It's like Beatles meet Air Supply.
How is composing music for theatre different than creating pop or rock music?
Craig: That's a "Graham Russell" question since he's the composer/lyricist. But as the book writer and a film maker I know a little about scoring films and it's not so different. Music not only gives you a story itself it evokes emotion. And that tells the audience (subtly I hope) what to feel and how to feel. As for pop music I've only written a few songs but I know that the stage is much more demanding.
Sam: In the theatre the lyrics of every song needs to not only be enjoyable to listen to but advance the story.
Graham: Pop and rock music songs are all self contained within a 3 or 4 minute time frame. With Theatre each song must carry the story forward and be a part of the whole show which is more of a challenge. Each piece must be complete but yet open the door to another scene yet to come. The parameters are very different in Theatre, the composer must listen very carefully to the book writer and the director, it is a collaboration of vision which strikes the chord!
A musical about a wall seems extremely timely, how do you think the piece will land in 2017?
Craig: Well, obviously I hope well. When we conceived the show originally the "wall" was something we had all lived with by then. It seemed appropriate to focus a light on "walls" and how they both divide and combine. Honestly, we started before this administration had even been elected. But we all felt that the Berlin Wall and it's consequences were a timely and cautionary tale.
Graham: It is correct that a Wall musical is very topical at the moment but that is not by design. However, I do believe that A Wall Apart will resonate strongly with audiences for that reason alone. Separation and division is not the answer to problems as we portray very well. There are always two sides to every story.
Sam: We hope it will be well received.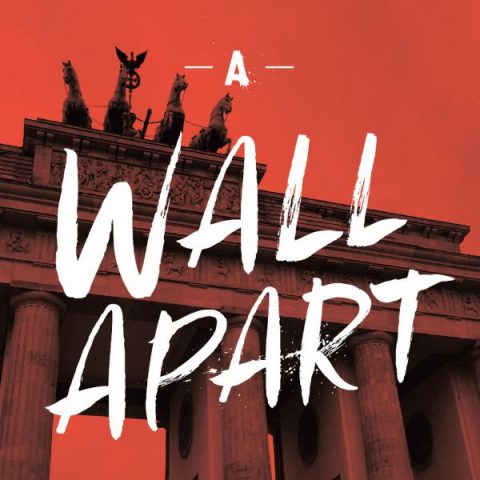 Why is it important to bring your show to NYMF?
Graham: NYMF is a wonderful vehicle to bring a show to audiences in New York, which is the Worlds stage for musicals of any genre. To begin this shows life in New York is to begin it everywhere.
Sam: It offers a great opportunity to debut our work on the stage in the #1 theatre city in the world.
Craig: For me, as a film maker, it's like Sundance for musicals. Getting your film to Sundance greatly enhances your ability to find a distributor. Same with NYMF -- the opportunity for the producers and their assistants to see a show that really could have legs in their world. Not a better opportunity for that with a musical than NYMF. We were very humbled to have been chosen frankly. And it's been an adventure.
What's next for the show?
Craig: Obviously we'd like to have someone who knows the Great White Way say this has good possibilities. But before that, after NYMF it would be equally advantageous to have another LORT theatre in the country invite us to perform the production there. To continue to refine it and shape it. And - from my mouth to God's ear - have Broadway call at some point.
Graham: The next step for AWA will be determined by the success at NYMF. I have no doubt the show will go on, it's message is too important not too.