NYMF Interview: West Hyler on 'Georama: An American Panorama Told on 3 Miles of Canvas'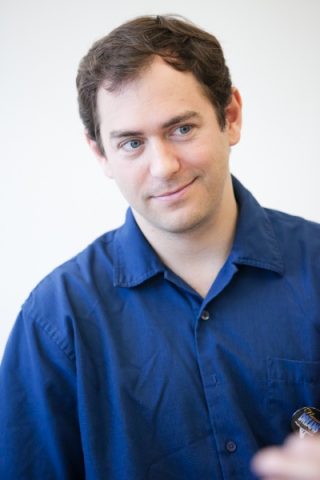 The 2017 New York Musical Festival, which runs July 10 through August 6, will bring audiences four full weeks of new musicals, concerts, readings, and panel discussions. We spoke with West Hyler (book) about his musical Georama, written with Matt Schatz (book/music/lyrics) and Jack Herrick (music/lyrics/arrangements) about the 19th century American artist John Banvard.
What was the first musical that made you want to make musicals?
Tommy. When I saw that, I realized musicals could be cool. They could capture the same energy of the tunes I danced to in my bedroom!
Describe the sound of your musical, it's like _____ meets ______.
Big River meets Sunday in the Park with George.
What spiked your interest in John Banvard?
I read a short story in McSweeney's about him, and thought his life perfectly captured the moment we were living in; he was an artist who was attacked and silenced by an ideologue more interested in alternative facts than the truth. Even though it was 1850 and he was fighting against PT Barnum, it seems ripped from today's headlines.
In your research what was the most fascinating piece of trivia you discovered about him?
That he was the only American of his time who could translate Egyptian hieroglyphics.
What are the challenges of making a musical about an activity as introspective as painting?
It is difficult to capture the "moment of creation" and the thrill of being involved in the creation of an artistic idea, of chasing an idea and being surprised by the discoveries the chase leads you to. We certainly have those songs, like "Moving Scenes", but the real story of the show is his battle against PT Barnum and his effort to promote truth over lies.
How does painting resemble composing music the most?
I am co-writer of the book not a composer, but I can say that when writing a show, like creating a painting, you have to visualize the work in entirety before you begin with any specific brushstroke or keystroke.
Why is it important to bring your show to NYMF?
NYMF is amazing at getting the right eyes on the piece to make sure a show can have a long life after the festival. It's been an honor and privilege to be working with the festival staff and making the connections to commercial producers to whom NYMF has introduced us.
What's next for the show?
Right now I'm focused on the NYMF production and making it the best possible, but there's a lot of buzz about the show and we've already had interest from leading Broadway producers in Georama.