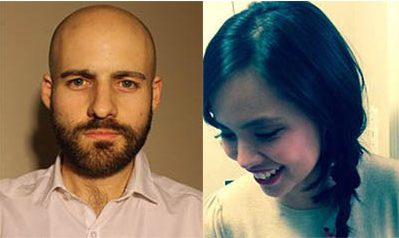 The 2017 New York Musical Festival, which runs July 10 through August 6, will bring audiences four full weeks of new musicals, concerts, readings, and panel discussions. We spoke with Taylor Tash (book/lyrics) and Nathania Wibowo (music) about their musical Night Tide.
What was the first musical that made you want to make musicals?
Nia's was Beauty and the Beast and Taylor's was Sweeney Todd. Night Tide is about a mysterious young woman who might be a mermaid but also might be a total sociopath, so we were lucky to find source material that lent itself well to our combined aesthetic of technicolor whimsy through a sort of Grand Guignol lens.
Describe the sound of your musical, it's like _______ meets _________
The B-52s meets Tchaikovsky's Eugene Onegin: candy-colored and a little trashy on the surface but with moments of sweeping complexity and pathos.
What about the movie made you want to turn it into a musical?
Initially, we knew we wanted to do something kitschy with some kind of spooky, dramatic edge to it. We thought there was some fun potential in the story's settings of beach parties, boardwalks, and tiki bars, and in spite of the ridiculousness of the situation the characters have found themselves in, the ultimate psychological implications of it are totally compelling.
The movie begins in a jazz club, how did the music in the movie influence the sound of the show?
The rest of the film's score outside of that scene is actually pretty sparse, so we were more inspired by the scores of other B-horror films from the era, such as Carnival of Souls, as well as Morricone's spaghetti western scores, and a spattering of various early 60s pop subgenres such as surf rock, blue-eyed soul, and exotica.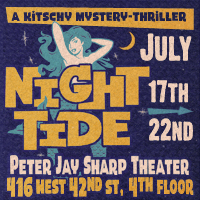 Who are your favorite mermaids in fiction?
Daryl Hannah in Splash and the fake mermaid corpse we saw in a display case at the Coney Island sideshow a few weeks ago.
What musical would you have liked to see Dennis Hopper star in?
Blue Velvet: The Musical since Angelo Badalamenti should write a theatrical score but nobody else could deliver that completely insane dialogue the way Hopper did.
Why is it important to bring your show to NYMF?
We're so honored and excited to get the chance to bring Night Tide to an Off-Broadway stage and no other festival has the same prestige as NYMF.
What's next for the show?
Lots of fun stuff coming down the pike, but most immediately, we're working towards bringing greater awareness of the show to the cult film and mermaid communities.