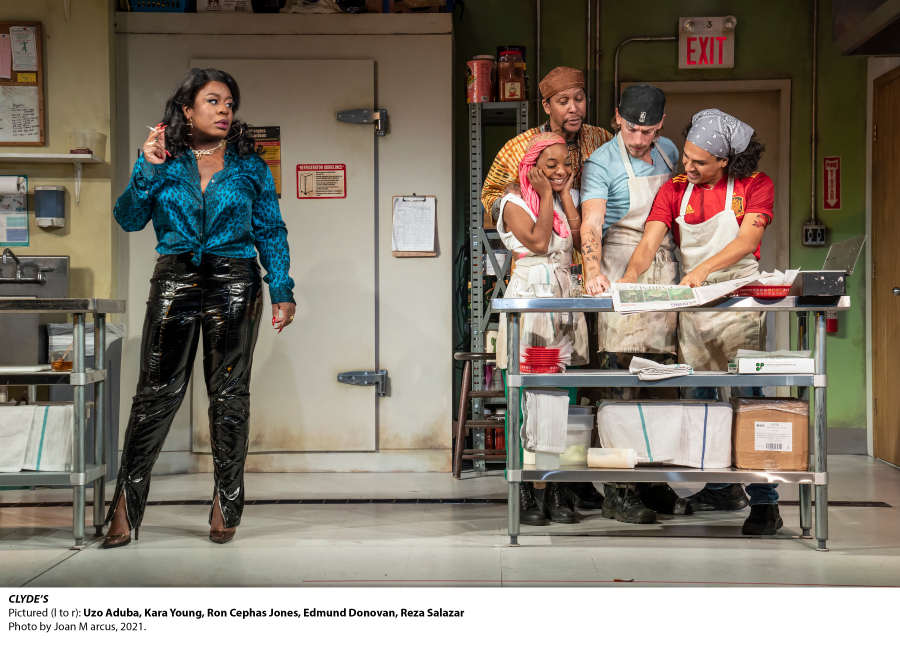 For some, food is merely sustenance; for others, it is an art form. And for the former convicts who work at Clyde's, a truck stop in Berks County, Pennsylvania, the perfect sandwich may offer a way out. "Clyde," the exciting new dramedy by Lynn Nottage at the Helen Hayes Theatre, is hysterically funny while providing 'food for thought."
Each of the four cooks in the back of the restaurant has served jail time. The owner, Clyde ( the incredible Uzo Aduba) is unique in that she will hire ex-cons. One might think she is understanding because she, too, has been in jail, yet she shows no compassion or empathy. When Letitia (effervescent Kara Young) is late because she is having babysitter problems, Clyde shows no leniency
Despite the characters having served jail time, the audience feels very sympathetic towards them. Letitia broke into a pharmacy because she needed medicine for her sick child and Rafael (Reza Salazar) was high when he tried to rob a bank with a BB gun. Jason, in a drunken depression at business gone bad, assaulted someone. Yet we feel for them. We don't learn about Montrellous, the fourth cook, until midway in the play and then his tale adds to his mystique.
When Jason, the only white character in the play, shows up, Letitia immediately reads him the riot act, noting his white supremacy tats. Although he explains that he got them for protection, she immediately puts him in his place. He's a big, strapping white guy but listens obediently to the tiny bouncy young black woman. Even Jason's sandwiches lack flair but ultimately he, too, is captivated by Montrellous' spirituality and joins in the quest to make the perfect sandwich. Their sandwiches are as varied as they are.
Despite her seeming-generosity, Clyde is a tyrant and her workers quake at the mention of her name. Brassy, buxom and bold, Aduba is pure electricity. Each outfit she wears is more eye-popping and flamboyant than the one before (costume designer by Jennifer Moeller.) So not only is she a strong personality but she's a visual force. Her costumes are skin tight and low cut. This lady has "it" and flaunts it. Aduba commands our attention with her attitude and authority. No wonder, Rafael calls her "the devil" and freezes in an attempt to remain invisible whenever she enters the back.
Although Clyde is not a musical, Nottage's writing is sharp and snappy and each character has his own rhythm. When Rafael speaks, he moves to a salsa-like beat. Jason is spare, slower and more lumbering in speech as well as movement. There is also the physical choreography as the characters move about the kitchen.
Despite their wrongdoings, we root for the characters in the play. We even admire Clyde, who rules with an iron hand and a razor sharp tongue. She's mean, she's cruel, she's painfully realistic, but she's giving them a chance when few would. When a local newspaper praises the food at the truck stop, the cooks react joyously and later Jason even frames the review. However, Clyde abruptly brings everyone back to reality.
As Montrellous, Ron Cephas Jones is a Buddha-like figure. He speaks in measured quiet tones, offering wisdom and hope. If you look really carefully, you could almost imagine a halo atop his head. So if Clyde is the Devil-he balances her out. Even the lighting changes add to the sense of spirituality when characters listen to Montrellous and taste his food. (Lighting Design by Christopher Akerlind.)
Deftly directed by Kate Whoriskey, "Clyde" touches you as it entertains you. At the end in the last few upbeat moments, we all feel hopeful and optimistic and perhaps a little hungry.