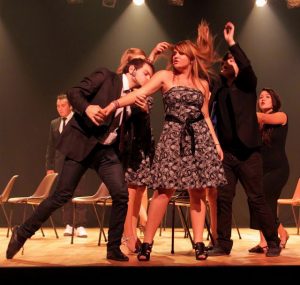 Tomorrow's Dawn is a sweet and funny musical about being a teenager. The play explores love, friendship, family, and the gamut of emotions that plagues all young adults who are on the verge of discovering themselves. While the performance delves into deeper issues such as anxiety and loss, it manages to keep an upbeat tone thanks to a generous serving of songs, choreography, and comedy.
The musical was written in 2007 by Jeff Gallon with music by Fred Larrieu and was first performed as a middle school play. It received such rave reviews that the students and creators formed an acting company, La Petite Famille (The Little Family), a fitting name considering that many of the original cast have remained part of the company and the production over the last seven years. Since its debut, the musical has been performed hundreds of times in several different countries, including its NYC debut recently at the Dream Up Festival.
Tomorrow's Dawn is an honest and fun look into the mindset of any teenager, one that is utterly relatable and surprisingly nostalgic. The cast brought great energy to their performance and despite their young age, I was utterly charmed by their confidence and skill.
For more on the Dream Up Festival, head to their website here.