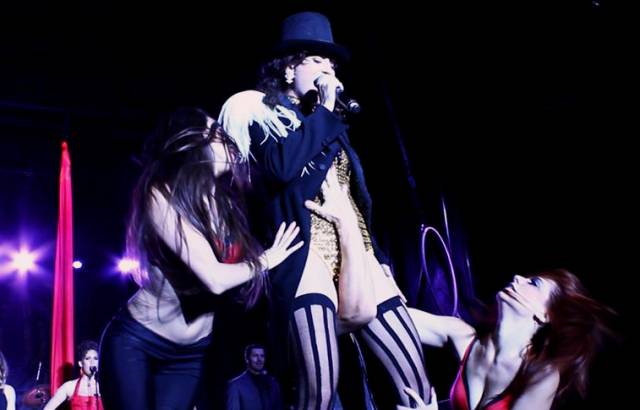 Welcome to the secret underground cabaret of Behind Closed Doors, hiding all the illegals of a dystopian city where alcohol, homosexuality and divorce is strictly against the rules made by the Coalition of the Sacred. And if you're lucky enough to be straight, unmarried and sober, all your actions must be approved by government.
The burlesque gang working for earnest and sarcastic Noah (played by John E. Elliott) live their days according to the rules, but at night, they wear sequins, drink whiskey, express their love and friendship until the sun comes up. But when the Coalition starts to crack down, it is no longer enough to resist by song, and Noah's bedazzled performers must fight back.
The play, written and directed by Peter Berube with music by Aaron Beaumont and choreography by Joey Bothwell, crafts an interactive burlesque show which criticizes a regime, which although the audience does not live under, makes you feel as though you are in on the joke, in on the parody. The drama does not stop backstage either. Miles (Luis Selga) is almost aggressively homosexual, bullying new kid and goody-two-shoes Andrew (Sam Heldt) into thinking outside the box of the oppressive government. Noah is falling for his main star Justine (Aly French) despite the fact that his marriage to Sivan (Courtney Bassett) is ironclad.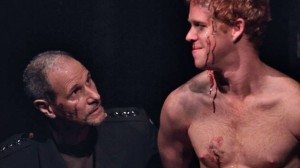 The real star of the show is the music. Sometimes it's so boozy and jazzy it transports you to a smoke filled speakeasy, like the opening song, "The Devil's Music". Sometimes it's a jaunty show tune like "Sex Ed". The clever lyrics of "Is That Bad?" are reason enough to see the show. The choreography is marvelously sensual as well.
The Traveling Muse Productions play was conceived as a reaction to the Prop 8 controversy in California -- taking the issue of gay marriage and turning it into a full-blown society where gays or 'polyps' are forced to be rehabilitated or killed. The show's message a little heavy-handed but for gay Americans, the abuse in the show can ring too true.
Behind Closed Doors, as part of the New York International Fringe Festival , takes a dark reality and turns it into an uplifting story about friendship, love and freedom.
Behind Closed Doors: The Musical is currently playing at Theatre 80 through August 23 as part of the New York International Fringe Festival. For more on FringeNYC productions, click here.