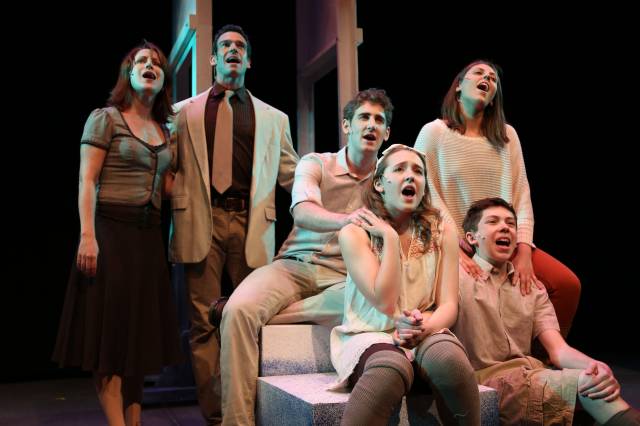 If it has ever seemed to you that the typical "coming of age" trope is getting a bit stale, then Jon Provan's two hour anthology of adolescent growth and development will revive your interest in the genre. In Coming of Age, simplistic, yet powerful dialogue will prevent you from eye-rolling through another tale of self-discovery, while the rock and roll-inspired soundtrack will remind you of your own hilariously awkward adolescence.
Coming of Age, part of the New York Musical Theatre Festival, is the story about a Girl (Maya Brettell) and a Boy (Ethan Haberfield), a Young Man (Ryan Jesse) and Young Woman (Susanna Rizzo), and finally, an adult Man (Joe Paparella) and Woman (Katy Blake). Each character represents a different story, especially Maya Brettel who portrays the "Innocent". Her vocal talent pleasantly surprised audiences in "Crimson Primrose", and watching the young actress journey towards womanhood on stage resonated long after she left the stage.
Brettell was not the only cast member to impress attendees on Friday.  Provan makes especially good on the title and truly represents each stage of life with an accuracy to connect with all viewers regardless of age or gender. Some millennials may connect with the Young Woman's idealistic phase, as she works on finding herself and purpose. Others may identify with Paparella's Young Man, as he settles into mid-life more comfortable with and secure in his younger failings. The band, which includes writer Jon Provan himself, only enhances the weight of the story arc.
The Essex, NJ native and his brilliant cast and team have succeeded in the very thing Hollywood has been failing at for years; revamping an old concept, and actually making it good.
For more on the New York Musical Theatre Festival, click here.