How one man and three chairs make for a better Christmas Carol than most big budget productions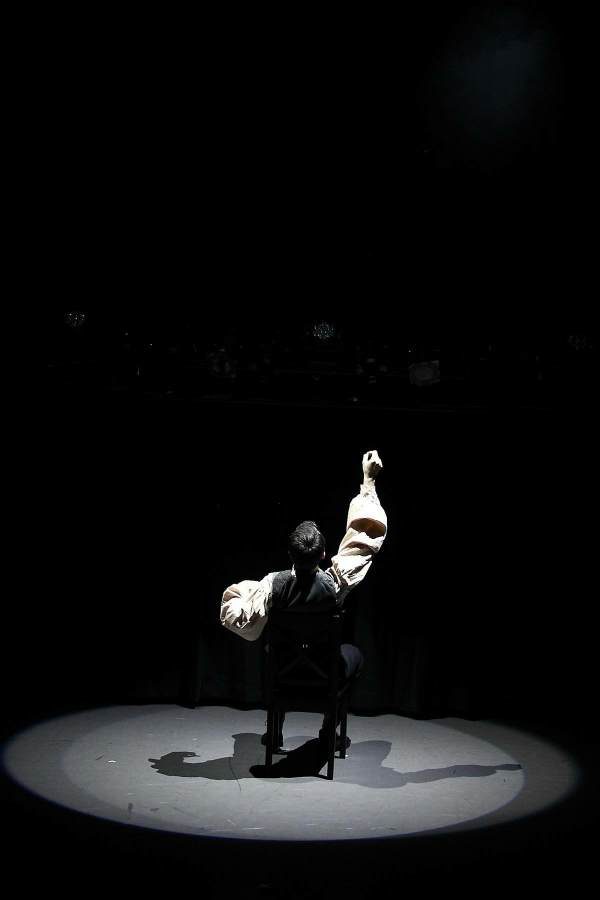 Sometimes less is more, and in One Christmas Carol at The Chain Theatre, less is much more. Adapted from Charles Dickens' classic by Douglas H. Baker, and performed by him in multiple states for 14 years, this truly stripped down production forgoes the flair and fluff of most Christmas Carol adaptations in favor of a tight focus on, you know, the actual story. And that's exactly why it works.
In the year 2021, Baker's tradition is carried on by his son, J. Max Baker: a supremely talented character actor who improbably manages to inhabit every single character in Dickens' holiday pantheon. Using a set of three wooden chairs--and nothing more--he conjures up Scrooge and Marley's frozen counting house, cheery London streets covered in snow, and Scrooge's dark, dismal lodgings. In fact, I found Baker's portrayal of the scene with Jacob Marley creepier and more effective than many big-budget adaptations I've seen.
A quick note on that. As something of a Christmas Carol connoisseur, I've seen more adaptations than I care to count, most of them bad. Where many productions fail is in trying to make of Dickens' ghostly, odd little tale something more than it is. But in aiming to make A Christmas Carol darker, scarier, sillier, more timely, or just more impressive, they inevitably end up missing the whole point. For example, while the latest Broadway production of A Christmas Carol was absolutely wonderful as a piece of immersive, holiday theatre, the script was a complete mess.
That's what makes One Christmas Carol so great. In Baker's version, all the extraneous detail gets stripped away, leaving us with the intimate story of one man's psychological transformation from lonely miser to friendly philanthropist. We're left to fill in the details ourselves, and somehow, our imagination paints a more impressive, more tantalizing picture than the biggest budget production ever could.
Of course, not just anyone could pull off such a feat of story engineering. Helped by a discerning script, which sticks close to the original text but also makes big cuts where needed, Baker portrays a wide cast of characters with the exact combination of passion and skill Dickens requires. Whether hunched and sniveling as Scrooge, overenthusiastic and off-pitch as a young street singer, or holding his sides and booming as the giant Ghost of Christmas Present, he's always convincing, never cringey. To watch him build a set simply by moving chairs around and inhabit a new character simply by dragging his feet or screwing up his face is a masterclass in the art of solo performance. With a little lighting and a few well-timed sound effects, the stage is set for a highly successful adaptation of Dickens' timeless masterpiece.
In fact, I'll just come out and say it: this is the best stage adaptation of A Christmas Carol I've ever seen--and it puts many film versions to shame as well. Turns out we don't need any of the top hats, bell choirs, fog machines, or even, though I hate to say it, a cast of Muppets, to discover the true meaning of Christmas. All we need is a stage, three chairs, and one scary good actor.