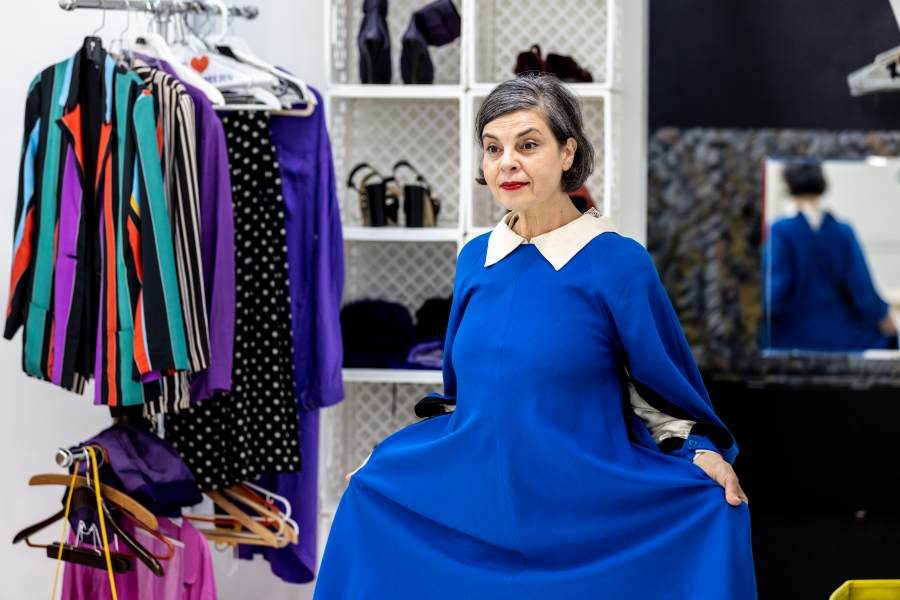 Storytelling, on perhaps its most basic level, is a means of transmitting memories and messages from one generation to the next. As such, it becomes a sort of ritual. By sharing our stories with others, we're released from the burden of carrying them alone. We achieve catharsis, release, peace. But historically, much of the "important" storytelling has been shaped, defined, and performed by men. Are women allowed peace?
In her three-part solo show Let Me Cook For You, Italian-born Orietta Crispino reclaims traditional "women's work" as a powerful form of storytelling and, thus, ritual. In part 1 ("Let Me Cook For You"), she cooks a meal for the audience, using the exercise to talk about her grandmother, her mother, and her own childhood. In part 2 ("This Would Look Good On You"), she sorts through her collection of vintage clothing as a means of ordering the many conglomerate pieces of herself. It's as if she's saying, "if women are only allowed these two roles (to cook food for people and to make themselves look pretty), then I'll turn these two roles into something much greater." And she does. In Crispino's capable hands (directed by Liza Cassidy), cooking and dressing become powerful rituals of woman- and person-hood.
But despite being masterful feminist theatre, the piece feels emphatically non-disruptive while you're inside it. In fact, it's probably one of the most peaceful experiences I've had in a theatre. The first half felt like a relaxed dinner party, and by part 2 I'd come to think of Crispino as a friend, so when she generously showed me her collection of designer vintage clothing (and even had me personally do up some clasps for her), nothing could have felt more natural.
I'm inclined to put part of this down to the nature of the venue (Theaterlab's beautiful white gallery space); but most is simply due to who Crispino is. In addition to being a dynamic actor, she exudes a warmth and generosity of spirit that quickly admits the audience into both her confidence and her heart (or it feels that way, at least). I found myself deeply interested in her stories and enjoying every second I spent in her company. She's simply a delight to watch.
But I didn't realize what the show had given me (aside from an excellent dinner), until I stepped out of the theatre into the New York City night. The air was cool, the Empire State Building was gleaming, and everything just felt right. Unbeknownst to me, I'd caught some of Crispino's confident peace and carried it out with me.
At the end of part 2, Crispino recalls a production of The Tempest at La Scala Opera House in Milan, where she lived for a time. The stage was covered in blue silk, and at the end of the show, the cast stood in the audience as the entire set came crashing down. But not before Prospero's closing monologue, which, in Italian, now becomes Crispino's. It's a perfect way to end the piece: with a monologue that's really a farewell and that is, in itself, a kind of ritual. In a bid for inner peace, Prospero releases his story into the world. So does Crispino. We take it up, and in doing so, set ourselves free.