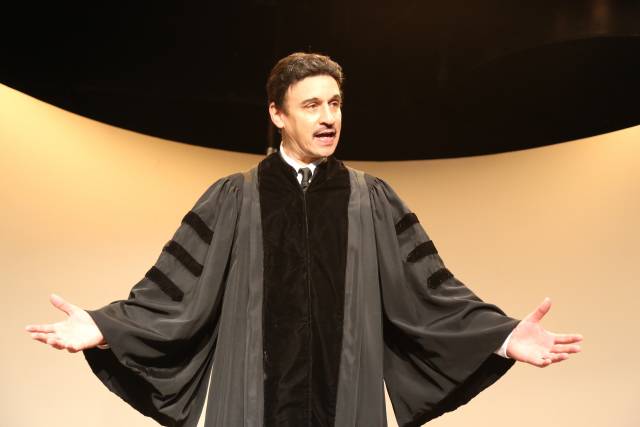 A new biographical drama, Adam, now playing at Castillo Theatre, tells the true story of African-American civil rights leader Adam Clayton Powell Jr., a United States congressman from 1945 to 1971. He was a man who knew that mass action was the most powerful force and said that "as long as it is within the law, it's not wrong; if the law is wrong, change the law" -- a strong message that still resonates today.
It's the delivery of this one-man show that makes it unique and downright captivating, stretching from casual storytelling to moments of fire-and-brimstone sermon-like speeches that fill the auditorium with pride and hope. The play tells the history of this mixed-race man with movie-star good looks and a background as a pastor, a leader who worked from the ground up, fought for political, economic, and civil rights for the African American people, and never faltered in his unwavering commitment to the Harlem community in particular. It also offers up the man behind the public face, complete with vulnerability, faults, and a poignant yet sometimes reluctant acceptance of his past.
Timothy Simonson channels the passion of Adam Clayton Powell Jr., complete with speech patterns and tone, down to the signature way he swung his suit jacket over his shoulder. Simonson is at ease both with the shoes he fills and with being onstage. He gently entices his audience with the same charm and charisma that Congressman Powell did during his life.
Director Ajene D Washington provides us with waves of emotion through an excellent sense of timing, and skillfully pulls out the little things to make you laugh just when you're fighting back tears. Peter DeAnda's script isn't just a telling of facts, it's very much an intimate and personal relationship with the audience. He exposes the real man and his reasons behind the decisions he made, as well as what he really felt during some of his momentous achievements, which were often underlined with a roller coaster of emotion. The history of Powell's childhood and that of his father was particularly interesting and served the play well by adding a richness to both the character and the production as a whole.
As a standalone play, this is incredibly interesting theater. The fact that it is all true and had such a positive and progressive impact on America, and New York City in particular, makes it a must-see and compelling work.