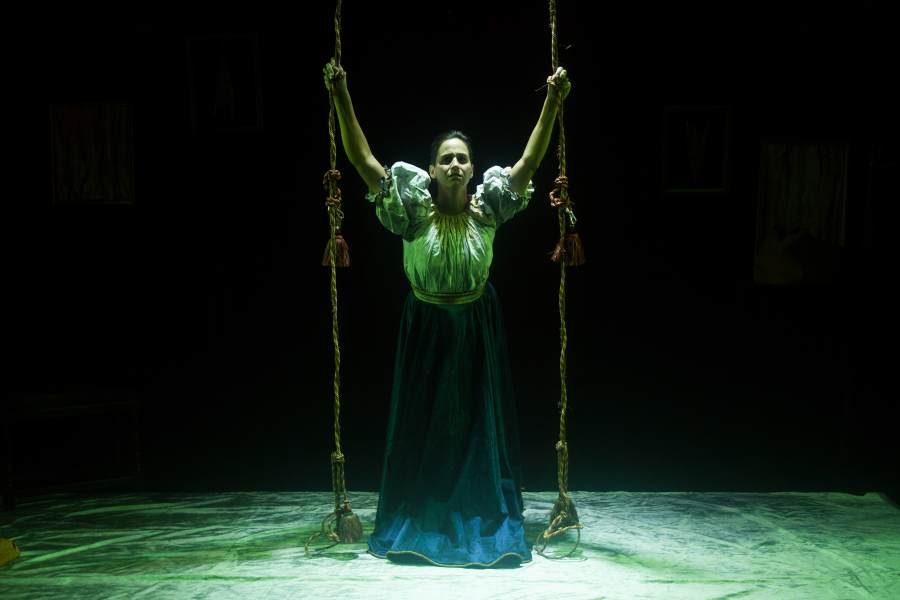 In The Anthropologists' Artemisia's Intent, written and directed by Melissa Moschitto, 17th-century Italian painter Artemisia, played by Mariah Freda, returns to share her insights and experiences with a 21st-century audience. In addition to explaining how she succeeded in a competitive, male-dominated industry, she intends to claim ownership of her various works attributed to other artists and set the record straight once and for all on just what her paintings meant. With a sweet run time of just under an hour, it's a fast-paced, thought-provoking look at what it means to be a female artist, both then and now.
Artemisia, dressed in an ensemble that looks like something plucked right off a baroque canvas, takes the stage with a vengeance. She is certainly no meek daughter or housewife, but she does at one point cradle a child as she attempts to explain her professional process: a wonderful touch that hints at the many obstacles a woman faces in pursuing a career. In a dynamic, often incendiary tone, Artemisia doles out the lessons she's learned about painting what sells, negotiating a fair price, and using gender stereotypes subversively. She explains how she panders to patrons by balancing two personas: that of a humble woman in need of protection and that of a prestigious artist who knows her own worth. She also shows off her paintings, positioning herself as each figure to explain how she depicted events like Judith slaying Holofernes, David spying on Bathsheba, and Susanna being surprised at her bath by lustful, powerful men.
But as she instructs us on how to be a female Baroque painter, her lived trauma keeps breaking through. Surrounded by frames and blank canvases, Artemisia may have chosen the life of a painter, but to the men around her, she's an object. Unfortunately, that means that like many of the women she paints, she's been a victim of sexual assault. Toward the end of the show, she reenacts for us scattered moments of her trial: in which everyone seems eager to blame her for what happened. Never mind that an older man forcibly held her thighs apart; had she had anything to drink that night? It's enough to drive a person mad. But under pain of torture (yes, she was tortured at her own trial!!!), Artemisia sticks to her story.
If you're not familiar with Artemisia Gentileschi, this piece is a powerful introduction (though you may have to go elsewhere to get the details of her life). If you've already met the indomitable Italian painter, you'll likely love Artemisia's Intent. With text drawn from her actual trial and letters, the show does justice to both her and her story. It calls attention to the irony of her life--a rape victim painting naked women for wealthy male patrons--but more than anything else, it paints her as a bold, determined woman who refused to be cowed by sexism. In Moschitto's dialogue and Freda's exhilarating performance, Artemisia Gentileschi lives again, if only for an hour.