Review: Bedlam's 'Sense and Sensibility' at the A.R.T.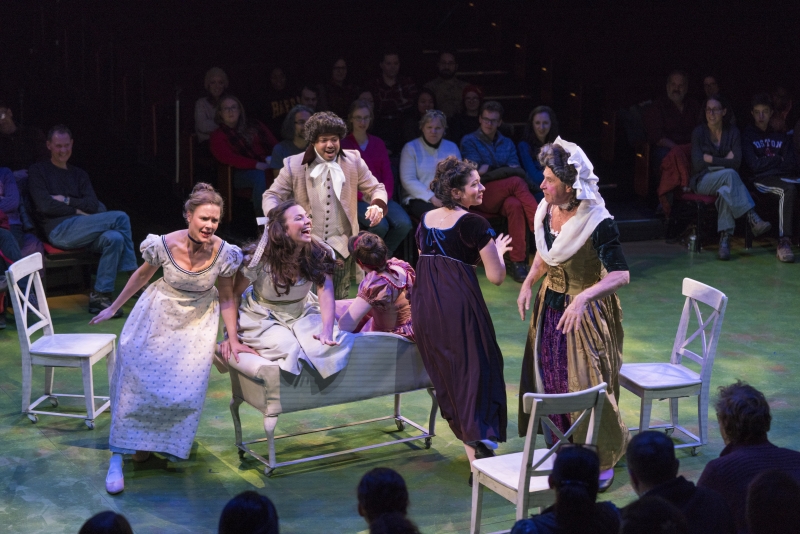 Every director puts a unique spin on whichever play they produce, but not every director does so by literally incorporating spinning. This is how Eric Tucker chose to direct Bedlam's Sense and Sensibility, Kate Hamill's adaptation of Jane Austen's novel. Presented by Harvard College's American Repertory Theatre (A.R.T.) at the Loeb Drama Center, probably the greatest factor that makes this production unique is the unorthodox use of movement and scenery in Tucker's direction and John McDermott's scenic design. The set pieces—window panes, door frames, couches, and chairs—are all mounted on wheels. The actors roll the furniture around to create different settings and convey relationship dynamics, most notably the reversals of expectations that are the mark of Austen's works.
Sense and Sensibility tells of two sisters who embody opposite emotional extremes: Elinor (Maggie Adams McDowell) is rational and reserved, whereas Marianne (Jessica Frey) is sentimental and exuberant. They both come to realize that they do not know each other or their acquaintances as well as they think, and that people's outward expressions (or lack thereof) do not always reflect their true thoughts and emotions.
The immersive experience begins in the Loeb Drama Center lobby, where several tables, including some period furniture pieces, bear paper, quills, ink, and signs inviting visitors to write letters to their first loves. This helps the audience transition to early eighteenth-century England. Though Austen's story is amusing in its own right, the actors add another layer of humor by interacting with the audience. Sometimes characters take seats and call out to the ones onstage; at dinner they chat with the front row occupants as though they are at the same table.
The cast of ten employs doubling in order to portray the great number of characters. All but the two lead actors play multiple roles over the course of the story. While the performances are delightful, the transitions between characters can be disorienting. The most striking moment of character confusion comes during a scene in which two women play four characters engaged in a single conversation, rolling their chairs from one side of the stage to the other to show which they are at a given moment. Though the actors do a fair job of switching between personas, the time and effort needed to roll from one side to the other distracts from the dialogue, and the lack of costume changes makes it difficult to identify which character is present in each scene. A larger cast or crew could have made for smoother execution.
Les Dickert's lighting and Alex Neumann's sound design work together to create dreamlike dance sequences, while Alexandra Beller's choreography, combining modern and period styles, shows the characters' more abstract thought processes and draw parallels to contemporary types of social interaction.
Overall, though, Bedlam's production is a funny, relatable, poignant treat. While the rules and regulations of inheritance and courtship may seem antiquated, certain ideas and phenomena, such as gossip surrounding impending romance, remain relevant and are sure to resonate with a modern audience.