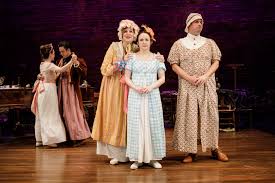 A Pride and Prejudice that incites the senses and decries stuffy sensibility? Bring it. Or rather, bring them. Presented by Hudson Valley Shakespeare Company and Primary Stages in a co-production at The Cherry Lane Theatre, Kate Hamill's take on the classic novel by Jane Austen has the convivial effect of hurling you head-first into the marital machinations of the entire Bennet family.
At the play's outset we find Mr. and Mrs. Bennet and their daughters: Jane, Lizzy, Mary and Lydia, swooning over Mr. Bingley, a newcomer in town. Bingley's a single wealthy man who provides the prospect of marriage for one of the four sisters. The girls attend a ball designed to introduce them to Bingley and it is here that Bingley falls in love with the eldest daughter, Jane (played gorgeously by Amelia Pedlow). The plot thickens as the Bennet sisters meet Bingley's friend, the extremely wealthy and aloof bachelor Mr. Darcy. During the fete Mr. Darcy (winningly played by the inimitable Jason O'Connell) names Lizzy as "... a desperate spinster," an unkind remark which Lizzy overhears. What deepens Lizzy's distaste for Mr. Darcy? A fib told by Mr. Wickham, a handsome suitor who attracts Lizzy and duplicitously regales her with a tale regarding Darcy's family disloyalty. Soon after this revelation and with a few more twists and turns of the plot, the game is on.
"The game" is proposed again and again by Mrs. Bennet, "Balls, balls, balls, I can never get enough!" she cries. That's a risqué euphemism and there are more than a few dotting this brazen take on Austen's classic. Hamill's retelling of Austen's novel points up a mother's dilemma: how does a parent with no means offer a chance for survival to her daughters? The answer in this production is a dizzying combination of sight gags and broadly comic characterizations. The drôle hysteria by Nance Williamson as Mrs. Bennet is spot on. Mrs. Bennet's daughters all have hysterics, but for vastly different reasons; not all of them pretty. The sisters are pretty, but not their reasons. (Well not Mary, she's not pretty. In fact, she's completely terrifying and played with downright genius by John Tufts.)
There's a parish priest, Mr. Collins, played with an oppressive nasal twang and obsequious air by the brilliant Mark Bedard. None of the girls like him (well, except Mary) and so he marries Lizzy's best friend, Charlotte Lucas (played with dignified vulnerability by Chris Thorn). It's humor with pathos (always my favorite brand of comedy) and it's non-stop right from the get go. Lizzy's youngest sister Lydia (played vivaciously by Kimberly Chatterjee) elopes with the perfidious Mr. Wickham, and eventually found married and ready to display her newly won status. However, Lydia has done so at her peril; it's a complicated moment and the company rises to the occasion.
Though Lizzy and Mr. Darcy quarrel (often likened to another great pair of dueling lovers, Beatrice and Benedick from Shakespeare's Much Ado About Nothing) there is a distinct plausibility in their repartee and eventual union. (There's a nod to Star Wars here; it's divine but I can't say more, I would ruin it for you.) Yes, Jane Austen's eristic tale has an incandescent champion in Kate Hamill who's a firebrand in the role of Lizzy Bennet. My favorite theatrical moment this year? "Be cool, be cool!" Lizzy admonishes as she's darting out into the theatre audience to hide from Mr. Collins and his adenoidal attentions. I haven't stopped laughing at her plight; it's a perfect distillation of Austen's valiant heroine. Excellent direction by Amanda Dehnert controls the chaos; everyone I know who has attended this bright bauble of a production has wanted to join the players and mount the stage. Yes, that's a euphemism folks, and it's all part of the game.