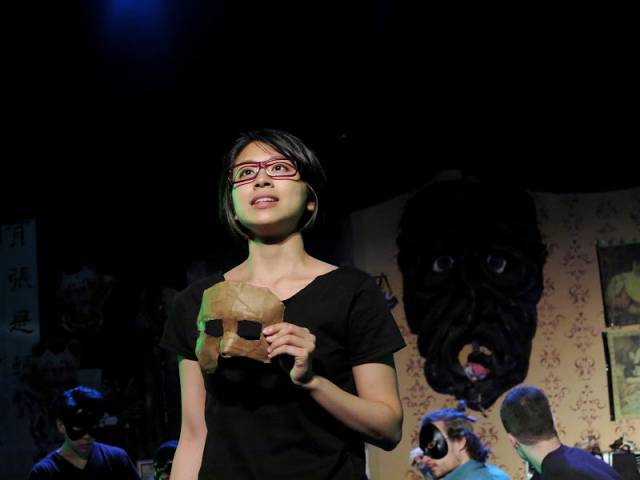 Every time we see a play, we become travelers. The destination possibilities are as endless as our imaginations. When Yangtze Repertory Theatre of America is at the helm of our voyage, our trip is sure to be enthralling, mystical and fun.
Though they have passionately spotlighted Chinese-only material since 1992 with over 113 events, the Yangtze Repertory Theatre of America does not solely reach out to an Asian-only audience or ensemble. This soulful company welcomes Westerners and Easterners both onstage and as spectators, cleverly bridging the cultures with comedy and witty pop-culture references.
Their current production, Behind the Mask, a Play, at Theatre for the New City through July 12, is a total joy to behold. The play is lyrically written by Fang BaiMing and Huang WeiRuo and intelligently directed/adapted by New York-based/Shanghai born director, Chongren Fan.  Blending ancient Chinese myth in its text with young actors of Western and Eastern descent onstage, the show is easily enjoyed whether one understands Mandarin or not.
Set in a theatre 'somewhere in China,' we meet a gangly troupe of actors rehearsing for a play. Led by their director (played with lovely honesty and simplicity by Shan Y. Chuang), the company of actors take us inside their own personal struggles, revealing what life is like for the artist inside China. Peppered into their personal stories are quite funny scenes of a very eerie and popular Chinese myth. The act of putting on the powerful tool of theatre -- the mask -- along with a haunting original score by XiRen Wang and a gorgeous lighting design by Yi-Chung Chen, signifies the transition between the two story lines.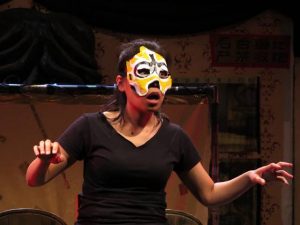 Director Chongren Fan has created a sweet and gripping piece of theatre with Behind the Mask, a Play. Fan's theatre expertise, being rich in both Western and Eastern training, is obvious. As a navigator of our journey, he made me feel like I had traveled to China, if only for one hour.
The young cast is full of heart and vigor onstage. They bumble around as a sort of amateurish ensemble as they play 'actors' but as actual actors they are anything but. Esther Chen (King Chu/Gan Jiang) uses physicality and seasoned comedic timing as the bored tyrant king. Francisco Heurgo, Chris Smith and Neil Redfield play the three Westerners who have joined the troupe. Each gives a fun and impressive performance - it's not every day you get to see Westerners speaking Mandarin onstage. 'Impressive' may be an understatement here.
Technical notes: 1. Supertitles placed to the left only cause the audience to choose between the actors and the stage action. I chose to focus on the action, missing what I know was beautiful writing. No small feat, but, ideally supertitles are placed just below the performers, center stage. 2. Set designer K.K. Wong is a highly celebrated artist. Instead of the very literal setting (for a very non-literal play) of a rehearsal room with a hodge-podge collection of Chinese cultural bits on a back wall, more ethereal, creative choices should be explored.