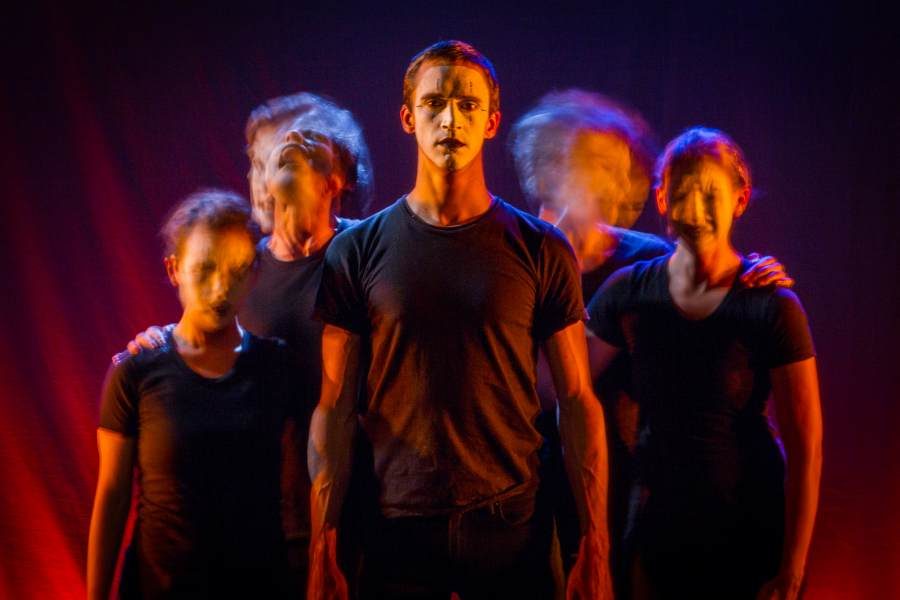 It's probably safe to say that mime theatre is an underappreciated art form. But if you want to see modern miming at its best, look no further than Broken Box Mime Theater. The company's most recent production, A BKBX Frankenstein, was an entertaining and engrossing program stitched together from various short pieces centered on technology, creation, and monsters. Dystopian, science fiction mime theatre? Sign me up.
At the heart of the program was the opening piece, about a scientist whose creation runs amok. This story returned midway through the show, then again at the end, in the two-part science fiction piece "Starship Excelsior," a sort of Star Trek/Frankenstein mashup that I found riveting. Another favorite was "M-Pop," a wildly entertaining piece in which one member of a boy band takes a stripping act too far. (Dark humor is always appreciated.) In the other pieces, a woman struggles to fit in at a convention, a child in a troubled home takes refuge in a zombie video game, corporate employees reckon with the effects of climate change in real time, and a group of workers blindly creates weaponry. The program had the feel of a collection of short stories or a series of Twilight Zone episodes (aided by the show's black and white aesthetic), except, of course, that it was entirely performed by mimes.
Dressed in dark nondescript clothes, each performer wore the trademark white mime makeup, which brought a sort of everyman quality to the characters. While each piece featured an instrumental soundtrack, miming is, of course, silent, which meant stories were conveyed primarily through movement and expression. But these aren't your grandmother's mimes, and nothing about this program was boring. While there were one or two moments when I was briefly confused as to what was going on, it was mostly crystal clear--and a pure delight to see how creative the cast got in telling these stories: using their hands as video frames, helmets, or even space ships; and their shifting bodies as planets, videos, or looping memories.
Blake Habermann, who played the Frankenstein's monster character, was especially mesmerizing as he moved about the stage. In the program's opener, he came to life with jerking, twitching movements that recalled stop motion animation or a flickering slide projector. Later, he became the center of a sort of robotic hive mind, and his movements took on a strangely organic yet robotic quality. It was a  reminder that, even if mime theatre is underappreciated, there's a lot more to it than simply exaggerated faces and invisible boxes, and it takes a talented performer to compellingly tell a story with no words in it.