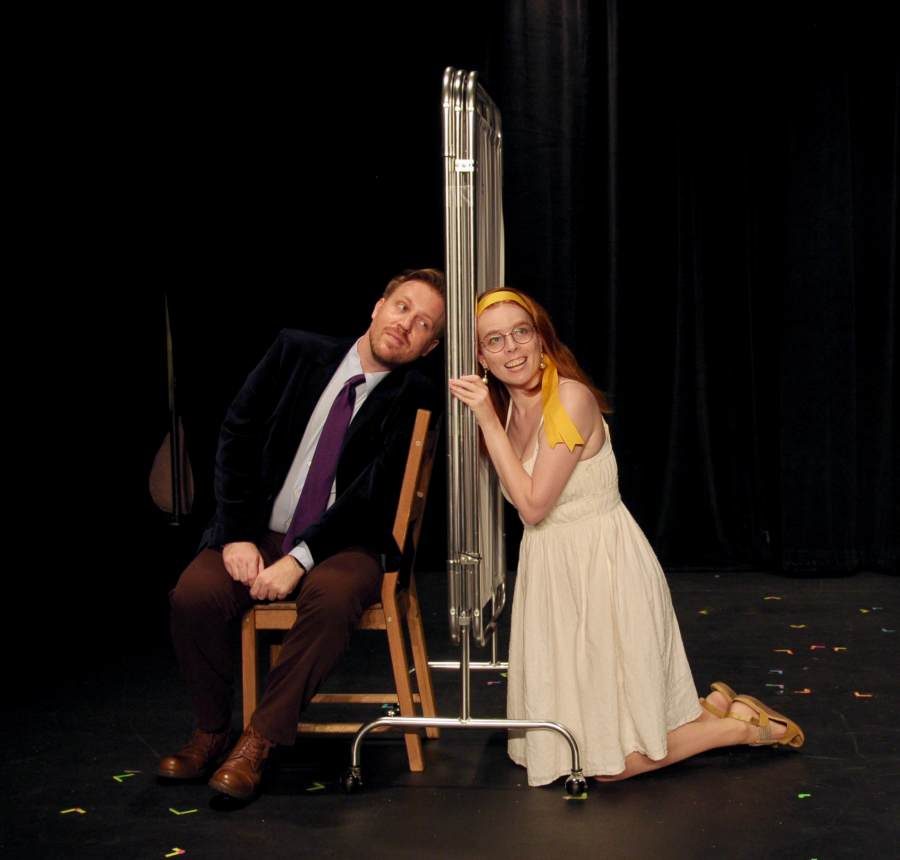 "There's no reality in which I don't fall in love with you." So says a nervous but excited bride on her wedding day, as she and her husband-to-be wait for their civil ceremony. A 10-minute one act, Iphis and Ianthe at the Courthouse is inspired by Ovid's tale of two women who fell in love, one of whom was eventually transformed by Isis into a man. Written by Aly Kantor, it's a funny, adorable little romance that's just one of the plays being presented as part of New Ambassadors Theatre Company's Blurring Boundaries festival. An annual event, this year's festival presents unconventional works centered around intersectionality and shifting boundaries, with two alternate programs performed in rep at Tada! Theater. Themes include gender, sexuality, romance, race, and politics. But if that list sounds heavy, never fear: with the exception of two more serious works, most of the plays are ultimately light-hearted and hilarious. In fact, I thoroughly enjoyed myself.
In Sons and Fathers, by Mark Hofmaier, a son is stunned when his long-time liberal father announces he's going to register with the Republican Party. What prompted this sudden change of heart? Getting mugged in the parking lot of the local Stop-N-Shop, apparently. The two proceed to debate the nature of politics, activisim, and truth. It's a tad thought-provoking, but mainly just very funny.
In Michael Narkunski's Prometheus Found, which was probably my favorite of the seven plays, a traveler to Greece petitions the ancient gods in their temple, only to get stuck with a titan instead: Prometheus, who brought fire to man and was subsequently punished by the gods. Prometheus (played by Todd Butera) is an irreverent British man in a toga--not exactly what Jacob, the aforenamed petitioner, expected, but it'll do. After laughing at Jacob's "Americanisms" (terms like "home-insecure" and "policing language"), making fun of his guidebook to the gods of ancient Greece ("Aeschylus is turning in his grave"), and scoffing at his disrespect ("Never mind I single-handedly saved mankind... and yet my birthday doesn't get adorned with reindeer and egg nog"), Prometheus finally shows Jacob a vision of the past and speaks to him about alchemy: the process of transforming things, or, if you will, blurring boundaries. From this brief and rather mangled speech, Jacob finds the clarity he needs to transform himself--just before his frustrated mother returns and chases Prometheus from the temple. The whole scene is skillfully pulled off and Butera is absolutely hysterical.
While these first three plays may have been the strongest of the bunch, the remaining four were also well-written, well-performed, and very entertaining. In a world of two- and three-hour spectacles, it can be very refreshing to see tightly written, daringly performed theatre that's not only original and entertaining, but brief. Clearly, the New Ambassadors Theatre Company has got a good thing going.