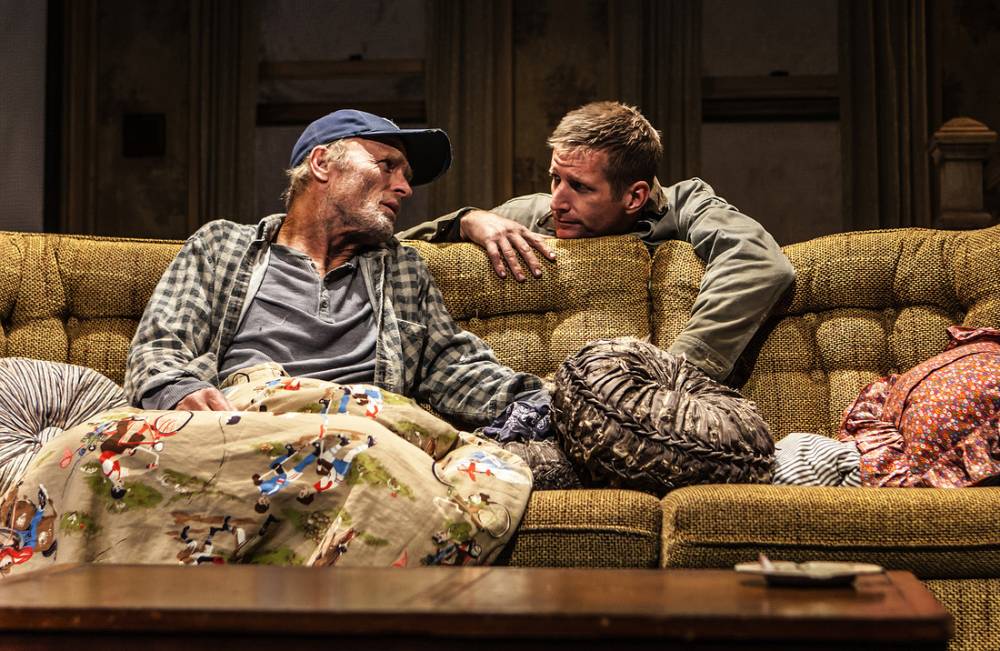 Buried Child is suffused with doom. From the creaking foundations of the old house in which it is set, to the emotionally and physically crippled members of the family, the play grips you not in loud, overwrought tones, but in an insidious, mischievous embrace. The challenge of evoking this dark muse has now been handed to the New Group at the Pershing Square Signature Center, where the play is being remounted for the second time since its 1978 debut. An A-list cast, under the direction of Scott Elliott, is now tasked with handling the layered, poetic text of Sam Shepard's Pulitzer Prize winning play that stands, rightly and unshakably, in the canon of American theater.
Before the play begins, the audience files in to find Ed Harris, in the role of the ornery, ineffectual patriarch, Dodge, sitting on a sofa in the living room of a once august house, now fallen into subtle disrepair. Harris is all but unrecognizable, gaunt under a Chicago Cubs baseball hat, wrapped in a ragged blanket, alternating between hacking coughs and drags from a cigarette, sneaking nips from a whiskey bottle he keeps tucked under the cushions.
The action of the play revolves, both literally and figuratively, around Dodge, consigned to the living room and adjoining screened front porch of the Midwestern home, in which three generations of a hard-luck farming family find themselves thrown together. The youngest member of the family, Vince, shows up unannounced with his girlfriend, Shelly, to visit grandpa Dodge and grandma Halie, only to find that not only is his father, Tilden, living at home, but not one of them recognizes him. As Vince tries to make sense of what has happened to his once happy home, a decades old secret is unearthed. In the New Group's production, the realism of Derek McLane's set - a staircase that leads to an unseen second level, banging doors, faded lampshades - mingles with Shepard's original text, in which lengthy monologues are restored (after being removed in the 1996 revival), intercutting the stark, darkly comic dialogue with stirring, surreal passages that blend mythology and poetry.
Ed Harris and his offstage wife, Amy Madigan, anchor the play in the roles of Dodge and Halie. Harris is astounding in his embodiment of the decaying man, who has been beaten down by his wife's holier-than-thou attitude mixed with perpetual infidelity, a line which Madigan straddles beautifully and infuriatingly, and his children, who have failed to make anything of themselves.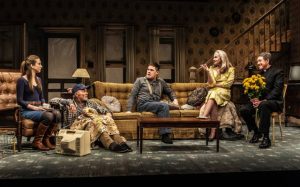 Paul Sparks is powerful as eldest son Tilden, a once promising football star who is emotionally stunted, crushed under the weight of the devastating secret he has been forced to keep for so long. He wanders like a ghost through the house, coming inside only to deliver a bounty he has miraculously unearthed from fields that have lain fallow for decades, but Sparks casts a chilling and tragic presence whenever he is on the stage. Rich Sommer is a bit clunky - again, both literally and figuratively - as the youngest son Bradley, whom Dodge won't claim as his own, and who was wounded in an accident, leaving him with a wooden leg he can barely walk on. But Sommer draws a skillful tension between the character's need to assert dominance over the family that has always picked on him, and an inescapable fragility.
For the two youngest members of the cast, Nat Wolff as Vince and Taissa Farmiga as his girlfriend Shelly, the text proved a bit unwieldy. Farmiga was a bit one-note in her portrayal of Shelly, a role that should function as an emotional touchstone for the audience, as we look to her - the only other outsider - to gauge how we should react to the family's inexplicable lunacy. Nat Wolff, who has now cemented his role as an on screen teen sensation after starring in not one, but two John Green film adaptations (2014's Fault In Our Stars and 2015's Paper Towns), couldn't shake off the kind of kind of smirking YA-novel athleticism he's known for in those roles, in order to truly embody the mix of confusion, rage, heartbreak, and ultimate resignation of Vince, who must come to carry on Dodge's futile dynasty.
Despite a bit of uneven casting, Buried Child still remains as stirring as ever, and unique in its capability to leave an audience, in darkness and dread, sitting for two hours within the hollowed out carcass of the American Dream.