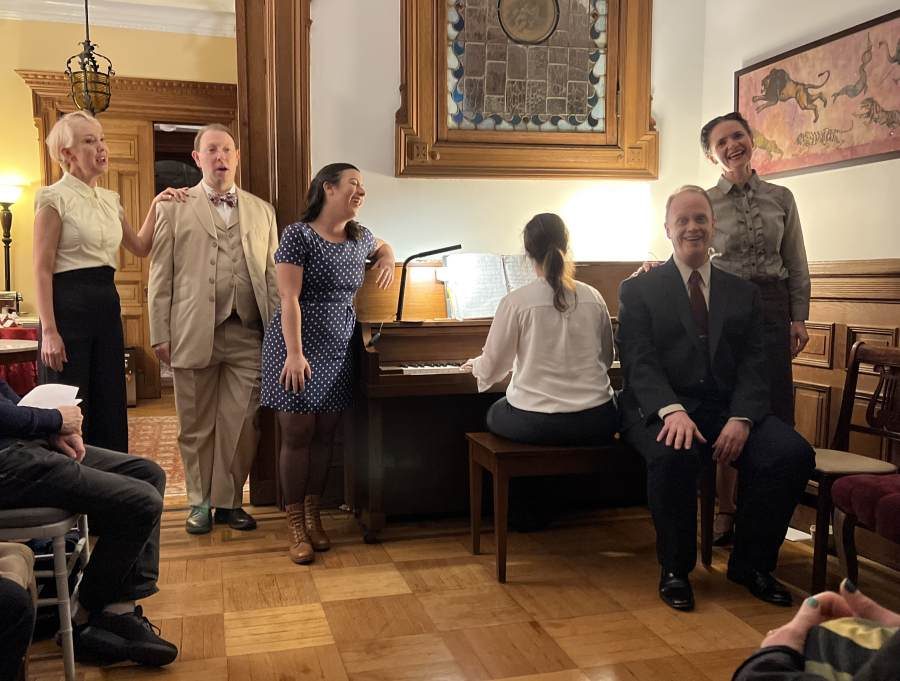 What kind of person can laugh amid the jaws of hell? One who knows his survival depends on it. In Cabaret in Captivity, we become those imprisoned in the Terezin Camp as, in commemoration—not celebration—of one year in residence, a group of performers from among our fellow inmates puts on a cabaret.
There's almost nothing fictional about this—these songs, poems, and sketches (collected in Lisa Peschel's anthology Performing Captivity, Performing Escape and elsewhere) were actually written and performed by the inmates in Terezin: a way station to the other concentration camps and a place where many of the inmates were artists. The brainchild of Edward Einhorn, who directs along with Jenny Lee Mitchell, Cabaret in Captivity recreates these cabarets in a series of performances produced by Untitled Theater Company No. 61 and New Yiddish Rep.
Some of the sketches are funny—a playful little song about a flea and a louse, another about the "gourmet" meals everyone enjoys in Terezin. Others are heartbreaking—a haunting lament for a lost child, an almost frantic movement of a violin sonata. One might expect them to be either all one thing or all the other: surely people living in such hellish circumstances would either want to wallow in grief or be distracted from that grief by lighthearted laughter. But that was never the Jewish way. Sorrow and laughter always intertwine; humor is drawn from suffering without dismissing the horror; and it's that paradoxical combination—that dark kind of light—that has the power to imbue a human being with the strength to live another day.
That the Terezin inmates understood this is clear in an upbeat number that urges people to hold on to their sense of humor, to stay cheerful and not let endless, repetitive suffering beat them down. How on earth could they achieve that and how could anyone even ask such a thing, I found myself wondering. The answer is right there in the lyric: "you'll stay alive longer." In the Terezin ghetto, art was survival.
And yet, the program note tells us that at least 33,000 inmates died in Terezin, and most of the others were deported to Auschwitz. At the end of the performance, we learn that all but two of the artists who contributed to the cabaret we've just finished watching perished in the camps.
I've rarely experienced anything as forceful, as chilling, and as understatedly powerful. The performers understand that there's no need to sensationalize or sentimentalize such material: it's incredibly hard-hitting simply by virtue of what it is. Nor is there any need to go to great lengths to recreate the environment: the performance I saw took place in a mostly bare upstairs room of a Chelsea townhouse (Torn Page), yet I felt transported to Terezin. And the feelings I experienced there were so potent, I couldn't shake them even after I left the venue.
"Where there's a will, there's a way, we will live to see that day, on the ruins of the ghetto we will laugh," run the closing lyrics of the cabaret's finale, a song known as "The Terezin March." That final word "laugh" is sung with defiance born of desperation. I knew most of them would not live to see that day, and those who did would not be laughing. And yet, art is survival, and—thanks to this brave and indispensable production—their material lives on. Perhaps they have had the last laugh after all.