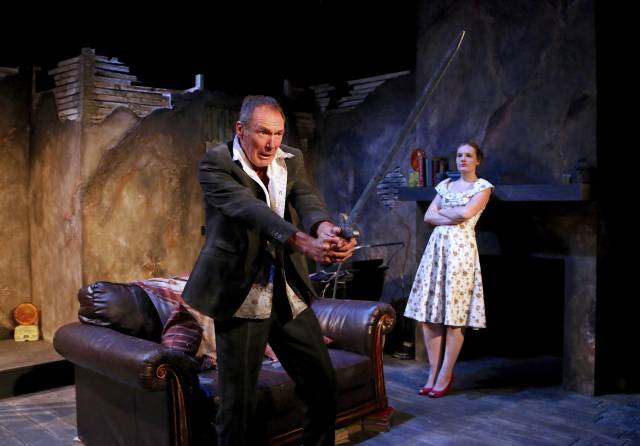 Origin's 1st Irish Festival is back. Despite the festival title's first word and subsequent number, this is in fact its ninth annual year of showcasing the work of Irish playwrights in New York City.   In the gathering is The Cell's production of Crackskull Row, Honor Molloy's swift, one-act tale of lingering souls, taboo passions and grisly deeds.
At the tail-end of the 20th century, Rasher Moorigan (Colin Lane) is homeward bound following a thirty-year stretch in the slammer. His mother Masher (Terry Donnelly), in the plaster-peeled stable of her run-down Dublin home, frets and fidgets amid failing health and mounting bills. Her daughter Dolly (Gina Costigan) attends to her but as Masher's son approaches, it is apparent that there has long been something amiss in their home and in the fireplace from where Dolly and Young Rasher (John Charles McLaughlin) make occasional appearances.
When the mid-sixties are hauled in from untethered memory, young Rasher's unsound bond to his mother serves as a pinch bar for his later transgressions. Dublin's blown up Nelson's Pillar, referenced in the play, can count itself lucky for its ability to turn a blind eye to Crackskull Row's unruly scrum of impropriety. There are ghosts running about the place, from the "black box of a room" and the empty fiddle case, bold shapes formed from the fragments of people, be they alive still or undeveloped.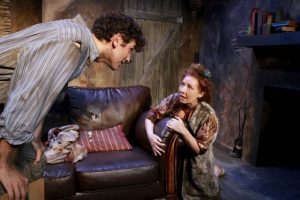 "How are ya, Ma?" "I'm alright if you like shite." – is an exchange that gives us the nub of a space and the swing within, while outside, "the road calls out, wide and free."
Molloy puts a spell on words and rearranges them according to the rasp of her own rhythm. They are lyrical and symmetrical and pauses are necessary to soak them in. The excellent cast place their bets on the melody and they are all the more tuneful for it. Director Kira Simring, also The Cell's artistic director, leads from the language and guides lust and menace in the actions and breathing space.
Costume designer Siena Zoë Allen's soap-shy raggedy layers and alluringly steadfast underwear emphasize the composition of Crackskull Row's bedeviled family. The broken window hole in Daniel Geggatt's bucolic, muck-soaked set design isn't big enough to let the plight of touched folk in close quarters such as these seep out any of its horror. But there are laughs in the rapport between these characters, damned though they are.