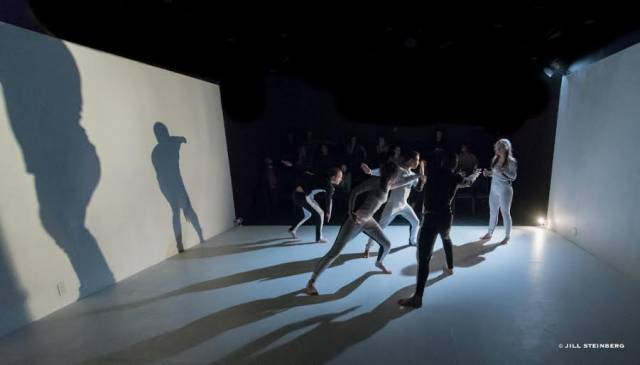 All That Dies and Rises is a mashup of movement and words sprawled over a blank white stage devised by physical theatre company Cloud of Fools and directed by James Rutherford of theatre company M-34. Taking excerpts from the works of famous writers including Gertrude Stein, Franz Kafka, Charles Bukowski and August Strindberg, the ensemble presents what could only be called vignettes of these texts set to an impressive and interesting physical vocabulary. The performers are all very cohesive and sync up well with one another. It is enjoyable to watch the different forms they come up with.
Having no particular story line, it is sometimes difficult to stay engaged in the performance. There are a few slow points when not much is happening. But then the performers begin something new and it is interesting again. There is some new dialogue or monologue. Some new shapes appear. There are evocative songs. Then it shifts and it's something completely different. It's easy to get lost in the movement and just pay attention to that. The texts tend to fade into the background.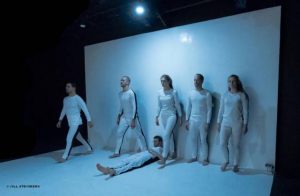 I was particularly intrigued by the set design (Kristen Robinson), which placed the stage in the middle of the room with the audience on either side. Offstage was thus the audience. The costumes (Olga Mill) were similarly unique: very simply they were white on the front half and black on the back half. The effect was somewhat hypnotizing.
Watching the skillful physical performers in All That Dies and Rises is like getting an education in movement. There are just so many ways to move and Cloud of Fools speaks a different language that is both refreshing and beautiful.