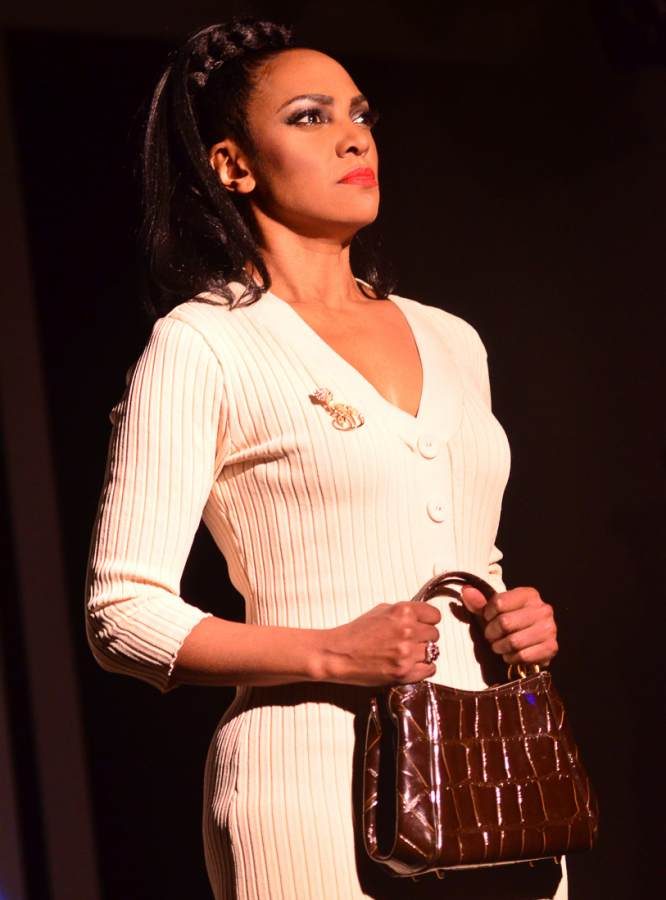 Eartha Kitt was described by Orson Welles as "the most exciting woman in the world." Yet for 10 years, she was blacklisted from work in the United States. Why? Because she spoke her mind in front of Lady Bird Johnson. At a White House women's luncheon to discuss rising crime rates in America, Eartha suggested that the rise in crime was partly due to The Vietnam War. This reportedly reduced Lady Bird to tears and subsequently got Eartha, an actress and entertainer, investigated by the CIA and blacklisted from showbiz.
In Down to Eartha, presented by MPTP Productions Intl and The Gene Frankel Theatre, Eartha revisits that fateful day at the White House, grounding it alongside her abusive childhood and afteryears of fame. Written and performed by Dierdra McDowell (Marishka S. Phillips directs), it's an entertaining and evocative look at white fragility and the consequences of speaking truth to power.
As Eartha Kitt, McDowell is nearly perfect. Sensual and suave, she enters in a glittering Middle-Eastern costume and, to a loud drumbeat, performs a rhythmic combination of song, dance, and spoken monologue. She then chats with us about her role as Cat Woman, her harsh childhood, and how she feels about what happened with Lady Bird (she doesn't regret a thing). In the next scene, which flashes back to the past, she receives an invitation to attend the White House luncheon, chooses her outfit with care, and prepares to meet the First Lady. (A Cat and a Lady Bird, what could go wrong?)
The luncheon itself turns out to be spectactulary boring, with the guests all oohing and aahing over the table decorations, then suggesting  better street lights or more flowers to solve rising crime rates. When Eartha finally gets a chance to speak, she issues a harsh wake-up call, and it's no wonder her words don't exactly go down easy, even if she's saying what needs to be said.
Subsequently, she's all but banished to her home, her movements tracked and her reputation busted. She spends some time bewailing her misfortune, only to come back stronger than ever in the final act: a song and dance number that, thanks to McDowell's magnetic charisma and a little audience participation, is priceless.
I'd be lying if I said I didn't thoroughly enjoy every moment of this show. It's short, breezy, and fun, while still retaining enough weight to feel like a bit of a wake-up call. On the other hand, while McDowell's Eartha is an intriguing character, sometimes her portrayal feels a little thin. This is probably more a product of the short run-time than anything else, but I felt we were being given a whirlwind look at Eartha's life, or more accurately, a few snapshots of her life, without ever really coming down to, well, Eartha. Still, flaws aside, Down to Eartha is an exciting night at the theatre, and her experience at the White House--told entertainingly if not in-depth--an incident worth remembering.