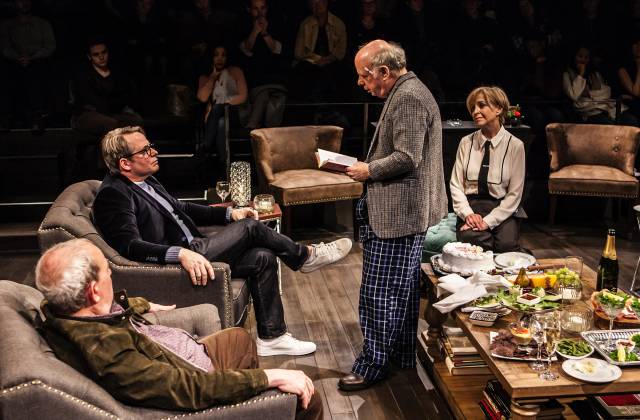 Wallace Shawn's Evening at the Talk House puts the audience onstage even before the lights change. Upon entering the Signature Theater space, actress Jill Eikenberry, holding aloft a tray of multicolored fluid in plastic cups, asked me if I wanted a drink. "What's in it?" "Sparkling water," she replied. Unscripted, I selected a bright green liquid and sat down.  Audience members filing into Talk House, directed by The New Group's founder and artistic director Scott Elliot, are encouraged to socialize onstage upon a comfortable lounge set (by scenic designer Derek McLane) with the in character cast prior to taking their seats. When the play begins, it is with a protracted monologue, delivered in such a strangely detached way by Matthew Broderick (as writer Robert), that one wonders if he should delay socializing for a night in.
The cast and backstage crew of Midnight in a Clearing with Moon and Stars, a play whose curtain fell on the wrong side of success, gather for its ten-year anniversary with its creator, Robert, at their old, snug, private members' haunt, the Talk House. This warm, sophisticated reunion delights Nellie the hostess (Jill Eikenberry), while server Jane (Annapurna Sriram) has returned to her old job at the club after a failed acting career. Weaving in and out of the shared memories and merriment, Dick (Wallace Shawn), a bruised, worse for wear thespian, lurks in his pajamas. We discover that his career once glittered and that his reputation, both professionally and personally, is now on a downward sinkhole spiral. "I was beaten rather recently by some friends," he tells Robert. It is this disquieting statement, in contrast to Robert's opening exposition monologue (containing one devilish take on the definition of theater: "a small group of humans looking at another small group of humans"), that sets the apocalyptic fireball rolling. The mood at the Talk House, at first tinctured with composer Ted's (John Epperson, the man behind superstar drag act Lypsinka) piano tinkling and lighthearted reminiscences, is in for a sharp key change.
Some of those gathered who have been privy to unemployment in the dark patches of the last decade discuss their roles within the covert calling of an increasingly dystopian world full of frequent elections and a kind of culling. The practice of "targeting", unveiled amidst the Talk House bitching and celebrating, is one that pays the rent at a lesser rate than it subtracts from benevolent camaraderie. Midnight's wardrobe supervisor Annette (Claudia Shear) explains it away as a process as simple and necessary as emptying the bowels. Showbiz agent Tom (Michael Tucker) and TV star Bill (Larry Pine) demonstrate their unease at the unfolding revelations, but it is Robert who listens to the proceedings with that same pencil-drawn detachment. Who knows, but for brief moments of mirth and lust, just what he is thinking; perhaps this is deliberate, or perhaps it is Wallace Shawn's wonderful peculiarities that are bound to distract from any surrounding subtleties born of his pen.
For all its cordiality and disharmony, Evening at the Talk House is nonetheless charming. It baffles as it gratifies. Here, show tunes and savagery are bedfellows. We know through snitching, list-making McCarthyism that not all creatives are tolerant, just as up-to-date news bulletins prophesize the sci-fi futility of old-school pulp fiction. Shawn's writing indicates that the ensemble aloofness portrayed by an impressive cast is just over our shoulder, should one care to take a casual glance. An evening at the Talk House may not be such a safe hideaway, but it sure does look comfortable.