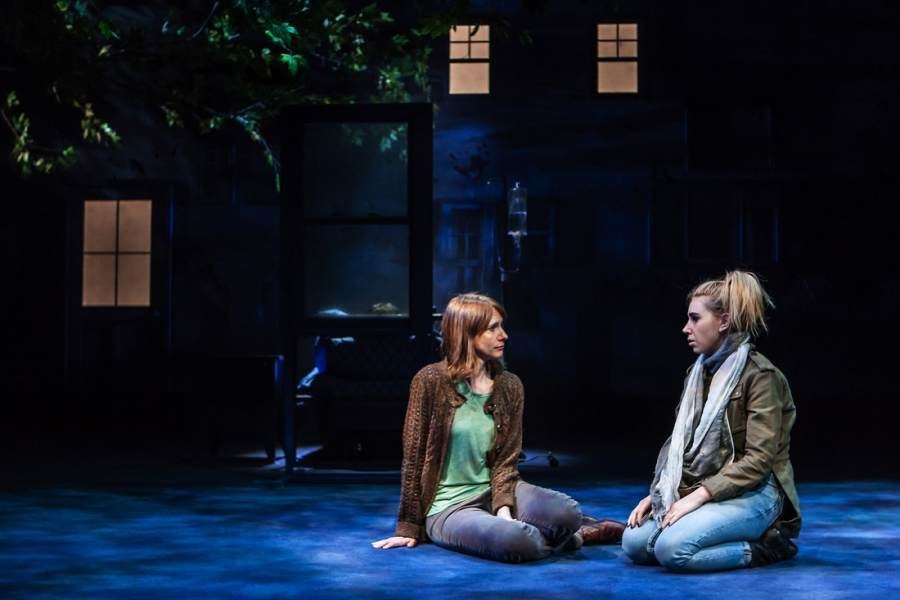 From drunken fools to mistaken identities, there's something Shakespearean about Hamish Linklater's new play, The Whirligig, presented by the New Group at the Pershing Square Signature Center.
In it, the past comes flooding back to a small town in Berkshire County when Kristina (Dolly Wells) moves back in with her ex-husband Michael (Norbert Leo Butz) to help him care for their estranged daughter Julie (Grace Van Patten). The 23-year-old is dying from an illness long undiagnosed due to years spent as a heroin addict. Confined to a hospital bed, she's been told by doctors that her case is hopeless and sent to her childhood home to live out the rest of her waning days.
As word spreads about Julie's condition, old friends and lovers make their way to her bedside as they struggle with the most Shakespearean dilemma of all: Are our lives pre-destined or do we control our own fate? We witness them struggle to confront Julie's death while she is still alive, facing the demons in their past and asking themselves what role they played in her death and what — if anything — they could have done differently.
As a whole, The Whirligig is a superabundant work: emotions are big; the narrative is knotted and complex; the set is complicated; and all the while, Duncan Sheik's original score provides a lush, folk-pop melancholy. Scenic designer Derek McLane's set features a slowly rotating stage on which three or more scenes are set-up at once. In this way, the play becomes, both literally and figuratively, the titular whirligig. Jumping back and forth in time over the better part of two decades, scenes nearly overlap, unfolding in tight sequence and the characters connect and disconnect, spinning with grief and nostalgia, each coping in his or her own way.
Linklater's dialogue is sharp and intelligent, and he finds a fine balance of comedy to balance the play's pervasive sense of tragedy and missed opportunity. The formidable ensemble cast carries it off remarkably well.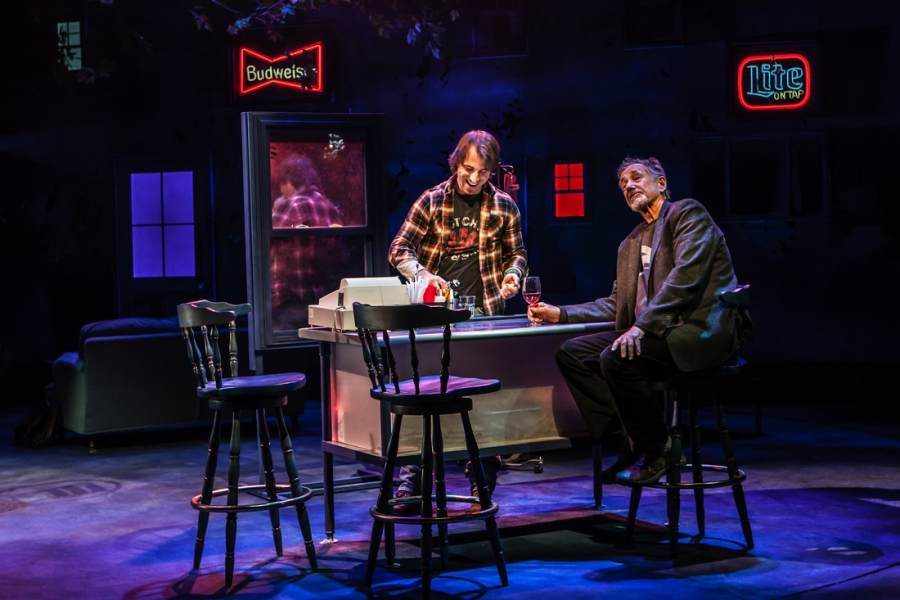 Kristina's battle with mental illness throughout Julie's childhood drove a wedge between them, and Dolly Wells is convincingly numb with grief, eager to seize the opportunity to reconnect. In contrast, as Michael, whose alcoholism in large part dissolved his marriage, Norbert Leo Butz convincingly portrays a man externalizing his grief — falling off the wagon, cracking jokes and lashing out at those around him, namely Greg (Alex Hurt), a now-sober barkeep whom he once coached in acting. Greg, whose father was abusive, is married to Trish, Julie's girlhood best friend, who we come to learn introduced her to hard drugs. But, as we learn, Trish's mom smoked pot — at least — around her as a kid; and the whirligig spins on.
Zosia Mamet's Trish isn't a far cry from her Girls character, Shoshanna, but that isn't a bad thing. Trish is a pot-smoking, self-conscious young woman, overwhelmed by her role as a mother twice over, hiding behind a veil of sarcasm, and Mamet tackles the role with vulnerability and charm.
Jon DeVries provides some memorable lines and much-needed farce as a cantankerous drunk and English teacher, who likes red wine and waxing poetic about Russian literature. Julie's doctor Patrick and his well-intentioned but well-off-course little brother Derrick (he's a Red Sox fanatic, appalled at any possible comparison to Derek Jeter), played with a tragic yet endearing quality by Jonny Orsini, add yet another knotted layer to the plot.
Though some threads remain tangled and big revelations towards the end lead to lopsided emotional reactions, director Scott Elliott choreographs an intricate deep-dive into a not-unfamiliar community, letting a mighty bunch of actors throw their weight into a heart-tugging exploration of the bonds formed, uniquely, by loss.