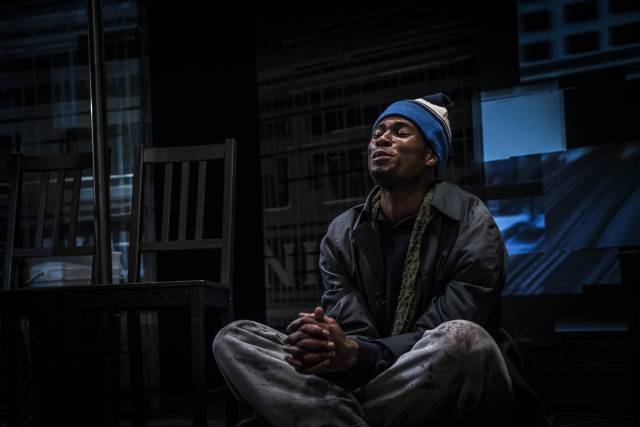 Playwright Howard L. Craft has perhaps done more with 90 minutes than some writers have done with entire trilogies. In Craft's Freight: The Five Incarnations of Abel Green, playing July 25th through August 9th at HERE Arts Center, the eponymous character travels on a train that starts in the early 1900s and ends in circa 2010.
Abel Green is an African-American man whom we watch live through five different lives at five different time periods in America: a minstrel who proudly performs in 'black face' in the 1900s; a scamming faith healer of the mid-1930s; an FBI informant ratting out The Black Panthers in the 1960s; a former star of blaxploitation films who is directly affected by the 1980s AIDS epidemic; and, finally, a man who chooses homelessness over American greed. During all these incarnations, Abel talks directly to us, often making us laugh, often giving us pause at his seeming isolation in a bittersweet world of pain.
The play as performed at HERE Arts Center is an expansion on an original short piece by Craft, which focused only on the minstrel character. This section of the play, extremely focused and clean in its writing, hooks the spectator right out the gate. Throughout the entire play, Craft has taken special care with weaving a storyline through an accurate account of historical events. Director Joseph Megel has pulled an enormously inspiring performance out of the brilliant actor, J. Alphonse Nicholson.  Megel has also created a few vividly memorable portrait moments that live like a painting in one's mind; for example, when Abel grips tightly to the train pole, kissing his gun.
The story and Abel's experience would resonate on a much deeper level if some of the text were replaced with more of these visually-powerful moments that are created using other theatrical conventions than the spoken word. The play is dialogue heavy and a bit thin when it comes to theatricality, save for the beautiful transitions.
Still, Daniel Ettinger's set along with Eamonn Farrell's video and sound are spot-on, sensible and always delicately framing its player. Kathy A. Perkin's lights are equally as understated and balancing, never being obtrusive or overly noticeable. J. Alphonse Nicholson is a heavy-weight, a true pro at his craft. And Howard L. Craft is to be applauded for what is already a great piece of writing and could be a masterful piece of theatre.