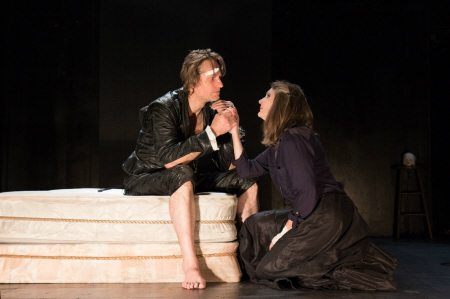 There are many reasons to check out Hamlet in Bed at the Rattlestick Playwrights Theater, not the least of which is its excellent title. Add to that the star power of Emmy Award-nominated Annette O'Toole and Drama Desk nominee Michael Laurence (who also wrote the play), the experienced hand of director Lisa Peterson, and Rattlestick's penchant for creating riveting theatre, and high expectations are inevitable.
With all this going for it, it's not difficult to accept the improbable premise. A 40-year-old actor, Michael (played by Laurence), obsessively searches for his birth mother, who abandoned him; he finds a diary by Anna (O'Toole), who portrayed Ophelia 40 years ago and gave up a child during the run, a child most likely fathered by the actor who played Hamlet. Michael contacts Anna and badgers her into playing Gertrude in a fake production in an attempt to get close to her; his girlfriend, Mary, takes on the role of Ophelia. As the play moves forward, the implausibility of the situations and scenes become more and more obvious, partly because the work never quite evolves beyond an Oedipal reading of Hamlet and how it applies to Michael's life.
The most successful moments of the play occur when humor undercuts the plot, pointing to self-awareness in the protagonist. Michael calls the whole a play "a Freudian slip"; he also recounts an instance of Mary chiding him by evoking the Greek myth that inspired years of pop psychoanalysis – "you want a mother, not a wife." We feel closer to Michael when he describes his weakness for 'showmances' and qualifies cheating as 'flirting.' When Michael isn't so completely aligned with Hamlet, he becomes real to us, evolved beyond the construct of 'life imitating art.' It doesn't hurt that Laurence has the ability to invite someone into his performance and make him or her stay, no matter how bumpy the ride.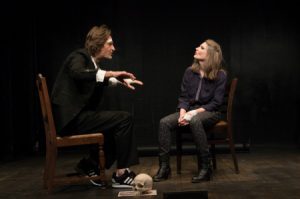 O'Toole's turn as a mother à la Gertrude is nothing short of extraordinary and she brings to the play the edge the title suggests. She's sexy and dangerous one minute and vulnerable and crazy the next – there's unpredictability to her performance that keeps the audience engaged, which is no easy feat given much of the play is long soliloquies spoken into microphones rather than dialogue. Why the soliloquies are so deliberately staged, I am still not sure. Other such instances of well-executed but bewildering stagecraft include loud gunshots that on two occasions caused me to almost jump out of my seat and an 'almost naked' scene featuring Laurence.
Peterson may have stretching to add elements to a play that was built on a shaky foundation. Her film noir style lends the work a seriousness that it doesn't quite earn. The projection design by Dave Tennent and the lighting design by Scott Zeilinski serve Peterson's vision well, creating shadows and fog, but at the end, I came out wishing that a play that held so much promise had been more than smoke and mirrors.