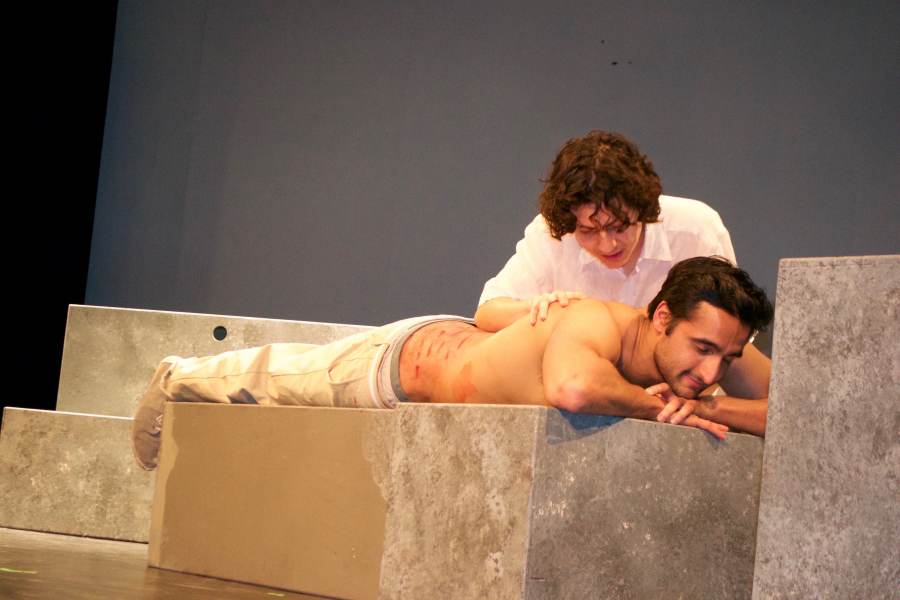 Haram! Iran! is an emotional roller coaster well worth the ride.
Based on a true story, the play by Jay Paul Deratany depicts the trial and conviction of two teenagers when they make a genuine connection with each other after being assigned as study partners in Iran.
This is a great production with an important, relevant story. It starts by briefly showing the educated lawyer Shirin (Sahar Bibiyan) in Mashad, Iran at the end of the 1979 revolution before cutting to 2005, when Mahmoud (Rahul Rai), Fareed (Kal Mansoor) and Ayaz (Roberto Tolentino) are all in high school.
Mahmoud is the charismatic school star who, with his friend Fareed, has the possibility of being scouted for football and going to Tehran. However, Mahmoud is at risk of not passing his exams and has been assigned a study partner in the decidedly uncool Ayaz.
The play compares and contrasts the upbringings and choices of Mahmoud, Ayaz, Fareed and, in an ingenious parallel, Holden Caulfield of JD Salinger's Catcher in the Rye. It is this book that Ayaz is reading in English (haram, or forbidden) and that he discusses with Mahmoud throughout their relationship.
Ayaz's English books and love of exploration is aided by his mother (Naama Potok), who had studied in Paris when she was younger. She welcomes Mahmoud to their home and he, with a dead mother and a father who never shows up unless to beat him, takes to the kindness in this household.
The twists and turns from this premise are harrowing, and there are moments of violence portrayed so realistically, they can be hard to watch. But none of it is gratuitous, and important in understanding just how much is at stake for the boys and, to a greater extent, all of Iran.
The acting and direction is superb. Director Rick Leidenfrost-Wilson and Assistant Director Amir Darvish worked out how these talented actors can bring forth this story believably with a minimal set that makes excellent use of the space. Simple blocks become furniture for an office, courtroom, living room, bedroom and jail within a minute, and the actors create the rest.
Rounding out the cast is Russell Jordan as Hami/the Mullah, Thamer Jendoubi as Reza Zadeh/Guard and Colin Mulligan as Sattar, Fareed's brutal father.
The costumes and lighting/sound are well-done, depicting Iranians realistically without resorting to stereotypes.