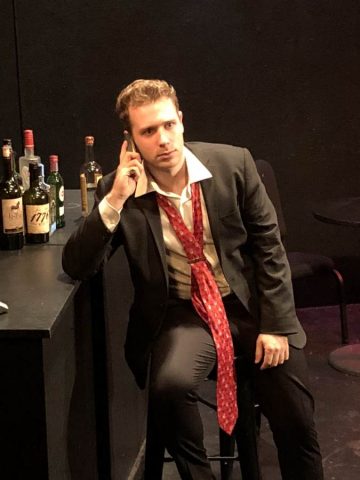 Directed by Tony White, Nailed, the latest work by Chuck Orsland, takes audiences back to the New York of the 1990s, exploring how things went down in the club world in the days before the Internet.
Danny Fortunato (Jason Utnick), a young club owner, works all hours to establish himself as he strives to open a new jazz club downtown. With his whip-smart manager, Nikki (Sarah Wilhelm), he is closer than ever to achieving his dream -- if only the community board, an NYPD detective named Nelson Del Valle (Danny Echevarria), and his own hustler of a handyman, Vinny (Angelo Angrisani), don't stop him first. Add into it Chloe Skye (Pamela Joy), a new coat check girl with a crush on the boss, and you have the perfect storm of a workplace family headed for a fall.
The character of Nikki, as portrayed by Sarah Wilhelm, is well-written and welcome for women everywhere. Nikki does not apologize for being intelligent and hard-working, nor should she. In a world where silly and fluffy is prized, she is together, sardonic and fun. Wilhelm's portrayal does her character justice.
While all of the actors are great, the camaraderie and energy between the male characters is especially noteworthy, given that they are all actually pitted against each other in the plot. The writing maintains the realism that male friendships have many different layers to them. Nelson has his eye on Danny's nightclub for potential drug activity, but he reads Les Misérables at Danny's behest and jovially discusses it with him later. Vinny is a hustler who will get Danny in trouble in a heartbeat, but is still trying to get him to stop working all the time and have a good time with a hooker -- or, as he calls them, "college girls who moonlight"!
The scenes between Danny and Nelson are stellar, showing a great ease and hilarity between the two even as they know they cannot divulge too much to each other without someone losing their job. Equally fantastic is Danny's interactions with Vinny. The two very different relationships show a lot of love while being annoyed, much like real life bromances. Echevarria as Del Valle is fluid and charming and, despite his youth, completely believable as a detective with enough experience to do his research thoroughly when he has a suspect in his sights.
The lynchpin of both these onstage relationships is Utnick's stellar acting. As the put-upon Danny, he is present in every moment with every coworker, just as a good business owner would be in real life. His sarcasm with Vinny in one scene is so genuine, you think a smackdown is about to take place.
As Vinny, Angrisani has all the gravitas and humor of a dark and nefarious Ed O'Neill as he charms his way out of a lot (but not all) of messes. Pamela Joy as Chloe has all the wide-eyed excitement of a teenager --- um, 21-year-old --- getting to work in a nightclub, even as her crush lectures her not to glamorize it.
When it comes to great independent theatre that transports you to another time and place, Nailed nails it.