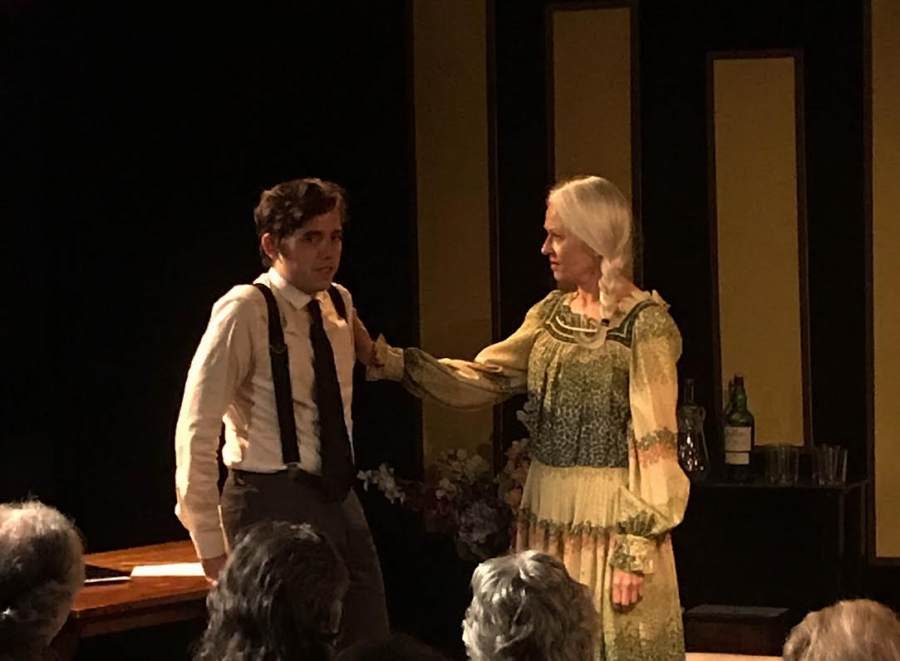 Blood Boundary, a play set in 1920s Oklahoma right before the 1921 Tulsa Race Riot, depicts a family with Cherokee roots but different skin tones, and what that means to themselves and each other, and their safety, as they move around an ever-unsafe world.
This piece by Cherokee playwright Vicky Lynn Mooney begins with young James Broughton (James Denzer) returning to Tulsa to see his family before heading to Europe to study medicine. There, the soft-spoken, educated James encounters his loud and boisterous cousin Virgil (Neil Brown), who makes fun of James' use of long words when short ones would do (and he makes a good point about that, too). The two talk about their plans for the future, and we learn of Virgil's camping trip with a bunch of his guy friends, which he thinks James would not enjoy. This seemingly small detail will come to dominate all of the characters' lives.
James also meets a previously unknown uncle named Billy Vann (played by director Tony White), who is Black and Cherokee, whose loving daughter Tassie (Pamela Joy), passes for White. They have come to visit Great-Aunt Jane (a calming presence played by Joan D. Saunders) and work together to turn the family home into a "hospitality house" where all races are welcome. However, the racial tensions swirling about town make Billy realize he needs a gun, even when Tassie begs him not to.
Into all of this comes the sassy Fain Cuddahy (Jill Cook), looking to meet her grandson Virgil. She is a woman of means and Virgil means to take her up on that. Away they go to buy a Ford Model A in the era before you needed a driver's license or car insurance, as evidenced by Virgil's driving, the recklessness of which clearly riles all the others.
The set makes great use of a simple black box theatre by hanging yellow panels to evoke the kind of wallpaper one would find in a 1920s-era hotel. This also provides a nice backdrop to artwork so the audience can see it clearly, as there is controversy over the hanging of Tassie's portrait of W.E.B. DuBois.
The attention to detail is excellent, from the costumes to the hand-painted sign for the hospitality house. The sound and lighting is well-done, particularly when it comes to Virgil's driving.
The historical aspect is also painstaking in detail and for good reason: the Tulsa Race Riot (renamed in 2012 as the Greenwood Massacre) is absent from almost all US history textbooks, and was only included in Tulsa public school curricula in 2012. Fewer than 40 survivors remain of this one-day massacre that killed 300 and left more than 8000 homeless. This piece ensures this story will not be lost, and the characters' grief over the riot emphasizes that we ought to be similarly grieved that we are only starting to remember it.