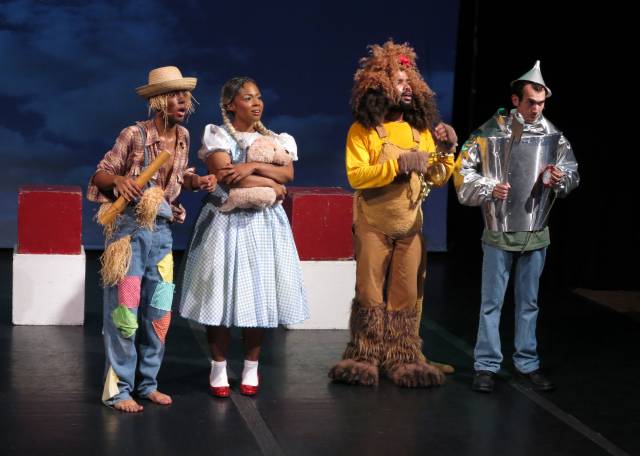 If you don't have a child, find one. And if that fails, go to Harlem Repertory Theatre's The Wizard of Oz anyway. No one will judge you. This stupendous stage production based on MGM's classic motion picture is a glorious delight. The story moves along at a good pace, wrapping it up in all just over an hour.
This production follows John Kane's adaptation for the Royal Shakespeare Company, which is based on the book by L. Frank Baum, with songs by lyricist E.Y. ("Yip") Harburg and composer Harold Arlen. However, it has been fine-tuned to align with E.Y. "Yip" Harburg's original vision through dramaturgical work by Deena R. Harburg, encompassing Yip's vision of a multicultural universe with a multi-racial cast of Latino, Black, and Asian actors. This aspect is coupled with strong direction by Keith Lee Grant, who allows his actors to interpret their characters as having more choices and power than they thought they had, to actualize their dreams, and to seize their own destinies.
Dorothy is played by Taylor-Rey Rivera, who introduces jazz colorations to her solos with a soulful mezzo voice that is completely enthralling. Rivera conveyed relatable youth while also expressing a sweet genuineness to Dorothy that befitted the story's theme. Barbyly Noel was particularly powerful in her roles as Aunt Em and later as Glinda the Good Witch, giving a feeling of truth and history to these women. Derrick Montalvo, playing farmhand Hunk and then the Scarecrow, was certainly firing on all cylinders throughout the entire show, quickly gaining favor with the audience and proving his multi-faceted wares were on equal par with any major Broadway player. Dexter Thomas-Payne portrayed farmhand Zeke and the Cowardly Lion with lovable cuddliness that made me want to brush his fur and take him home. Another stand out was AJ Acevedo in his dual roles of Professor Marvel and the Wizard of Oz. And Paula Galloway made us love to hate her Myra Gulch and Wicked Witch of the West, with children clambering to be photographed with her after the show.
We were also treated to a live jazz trio who provided a little pre-show entertainment, and who were then used during the show. Dan Aran, Martha Kato and Yoshi Waki did a magnificent job in terms of timing, tempo and volume.
Enough cannot be said about the incredible cast, all of whom possess high level skills in acting, dancing, and singing. Their energy levels were extraordinary, not just in the physical sense, but in what they gave out to their audience. One couldn't help but feel happy, hopeful and just downright thoroughly elated after seeing this show.