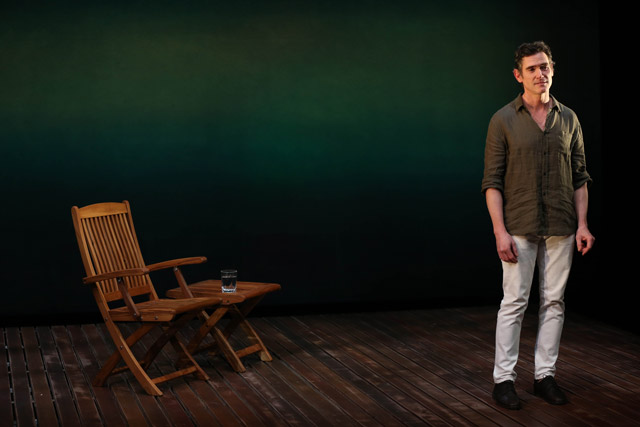 An Edward Hopper painting I couldn't quite place stuck in my mind when I watched David Cale's new, one-man play, Harry Clarke — the first show of The Vineyard Theatre's 35th Anniversary Season. I was thinking, an exhaustive Google search turned up on my commute home, of People In the Sun, a later-in-life work by the famous American painter.
Now, it's not quite a match. In the painting, men and women sit in deck chairs on a white terrace, staring out into an impressive vista. In Harry Clarke, a dark wooden deck, adorned with a matching chair and small table, serves as the stage. But it disappears into the same, vast sky, touched with dabs of color, beautiful and imposing.
And it is this same, enigmatic American heartland that birthed Harry Clarke. Harry Clarke, who was once Philip Brugglestein, a middle-class kid from South Bend, Indiana, with an alcoholic, bullying father and a passive mother, yearning for something more exciting. A kid who's sure, "I could be myself if I had an English accent."
At 18, when his father dies in a freak accident, Philip sells his childhood home and heads straight for New York City, where he walks the streets and indulges his hobbies of reading crime thrillers and watching film noir. He's a loner and a voyeur, still dissatisfied with the life he's been dealt. So he — in flashes at first, then in darker, all-consuming ways — becomes Harry Clarke, a brash Londoner who "doesn't give a shit." And is dear friends with Sade.
Or so the story goes, if anything Harry tells us is to be believed. And Harry is easy to believe. He's everything that timid, lonely Philip is not, and he radiates a charm and confidence that sinks its teeth into the Schmidts — in particular Mark, an extravagantly wealthy, if existentially troubled, New Yorker fresh off his first failed marriage. As Philip falls in deeper with Mark, the line between reality and fantasy, lies and truth becomes increasingly blurry. Harry becomes bolder; he consumes.
Billy Crudup is nothing short of ravishing in the titular role, embodying a host of characters as he recounts a tale of seduction and deceit. There's a fluidity to his acting that is both unsettling and engrossing, as he transforms from an imposing midwesterner to an artsy young woman — and many characters in between — in the blink of an eye. Director Leigh Silverman moves Crudup around the stage in a dance that, when paired with the lighting design of Alan C. Edwards and sound design of Bart Fasbender, becomes remarkable in its specificity.
Like Edward Hopper, Harry Clarke evokes a world that is known to us and completely foreign. We are outside observers, but we are also complicit, peering into lives that fascinate and titillate. Cale's (though we must call it Philip's, and Harry's, and Billy's as well) story is a quintessentially American one. A story of the lengths we go to escape ourselves and transcend our origins.
After watching Harry Clarke, prepare to carry a bit of Harry with you, under your skin, an experience which may knock your moral center slightly off-kilter. After all, he has a point, does he not, when he tells us — "It's your life, the least you should be able to do is choose your own name."