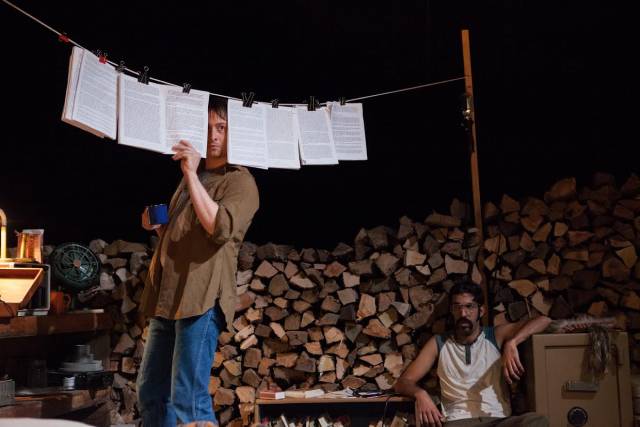 For a long time, I've been obsessed with J.D. Salinger. In high school, Catcher in the Rye was one of my favorite novels, one that encapsulated the alienation that is so common in high school. Later in life, I read all of Salinger's work, his daughter's controversial memoir and a documentary on the reclusive author. For someone like me, the exploration of the myth and the man in Holden by George & Co, playing at and co-presented by the New Ohio Theatre, is compelling.
Conceived and written thoughtfully, the 90-minute play by Anisa George in collaboration with her talented acting ensemble is set in a wooded cabin, very much like the one J.D. Salinger infamously retreated to. Along with Salinger (Bill George) are the ghosts of Mark David Chapman (Jaime Maseda), who assassinated John Lennon, John Hinckley Jr. (Scott Sheppard), who almost assassinated Ronald Reagan and Zev. It isn't clear whether these ghosts are creations of Salinger's imagination, but throughout the play, they are tasked with observing, commenting and facilitating Salinger's work as a writer. The play unfolds as the ghosts engage in discussions of fiction and truth, dharma and maya (concepts in the Hindu text Bhagavad Gita), and the act of writing. The discussion soon devolves into one of male violence as an inevitable end to fiction, truth, religion and even art and enters the climax when it is finally revealed that Zev is our modern day killer – one who dreams of killing by numbers, not by cause. Zev is the one we know, but we've never understood, and Anisa George makes a chilling statement about the country that gave birth to J.D. Salinger, Ronald Reagan and Dylann Roof. They have everything to do with each other. They have nothing to do with each other.
The set, brilliantly designed by Nick Benacerraf, is complemented by Seth Resier's lighting design, which echoes the caverns of a cabin in the woods, creating an unsettling atmosphere. The acting company lives in that atmosphere. Sheppard is the most memorable, imbuing Hinckley, a prototype of alienation and instability, with vulnerability, rendering the killer human, in some moments even likable. On the rare occasion, the production loses its precise grounding. The sound design is distracting, the show's only technical flaw, and the long and opaque discussion on the Gita stalls the pace.
Make no mistake about it, this is a polished work, one undoubtedly other critics will deem "relevant." But my friend who accompanied me acknowledged the most uncomfortable truth about the show to me  – "there's been generations of writers that have written about white, male violence. The hero, the antihero," he said. It is a familiar story to us, part of the document of American life, documented and seen so often, and yet so rarely truly confronted.