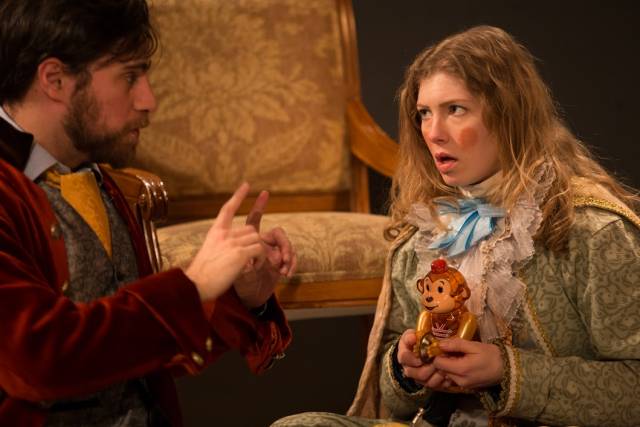 The Improbable Fall, Rise & Fall of John Law: A New Play About Money, is a long title indeed, but then a shorter one wouldn't do the real John Law's improbable life justice. At over two hours long, it is but part one, as in the fall and rise. The life of John Law (1671-1729) is too far-fetched for fiction and perhaps too outrageous for a somber treatment. In this Dreamscape Theatre production, written by Matt Herzfeld and directed by Brad Raimondo, Law and his era are depicted with light-hearted aplomb.
Scotsman John Law was the man responsible for digging - at least initially - France out of a Louis XIV shaped hole. The Sun King's 72 year reign of exorbitant spending and warmongering had left his nation in terrible debt. Following the king's death, regent Philippe d'Orléans allowed gambler, killer, debonair rake and fiscal genius John Law to take his biggest ever gamble with the French economy. Introducing paper money alongside France's first central bank, Law, the delegated Controller General of Finances, transferred the shares of the nation into the Mississippi Company, a bubble that would burst with cataclysmic force into the greed and riotous anger of the masses for whom his investment scheme had failed.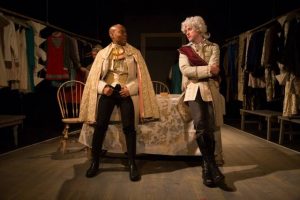 But before the fall, there was of course the rise and preceding fall -- many in fact.  At the start of the play, Herbert the hunchback (Fernando Gonzalez) sets the tone by confiding in us that "The tongues of Frenchmen are very vile." In Scotland, John Law (Greg Carere) and his mother Jean (Sara Thigpen) squabble over his misuse of the family's dwindling estate. From here he journeys to London where his roguish ways drop him in further trouble with his landlady Mrs. Bumcrick (Mackenzie Knapp) and Groom Porter Thomas Neale (Daryl Lathon). A cunning gamester, trickster and seducer, Law partakes in a duel with deadly consequences that lands him with the death penalty courtesy of the notorious hanging judge Salathiel Lovell (Stephen James Anthony). Law escapes to the Netherlands and then France, where a dying Louis XIV (Aurea Tomeski) appears to be reveling in his final throes. After his passing, petulant child Louis XV (Rosie Sowa) hasn't the patience for Law's proposed paper money scheme. However, the king's elders disagree.
With the exception of Carere, who plays the title role with affable charisma and a decent attempt at a wisely subtle Scottish accent, the rest of the ensemble switch roles, accents and genders with heady enthusiasm, a collective skill for comedy and carefully placed pathos. Costume designer Caitlin Cisek's wardrobe, an alluringly offbeat mix of modern and contemporary composition, are speedily selected by the cast from rails that border Joshua Rose's resourceful set. Despite the play's length, the pace runs around itself in a dizzying farce that borrows from sexually precocious Restoration Comedy and TV's Monty Python and Blackadder. This industrious project works but for slackening stamina towards the end, but it is more than enough to warrant enthusiasm for both parts of the play. Part two, due later this year, ought to be epic.