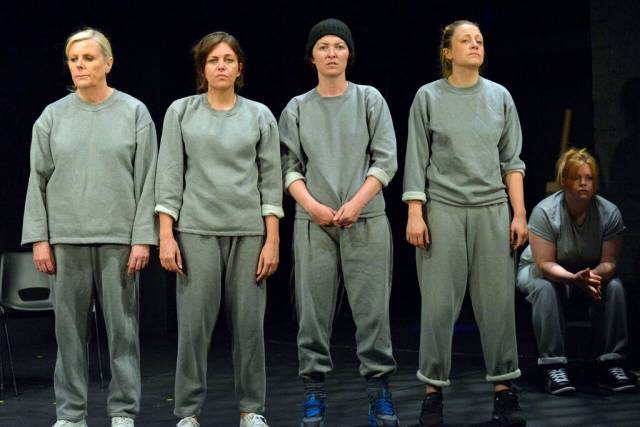 Upon entering Lower Manhattan's 4th Street Theatre, the lobby walls catch the eye with stark play/prison related images. Photographic stills set the tone for the looming performance of Key Change, but it is the the written comments from incarcerated men in English prisons, for whom the play toured, that leave a larger impression. Culpability, shame and astonishment are the dominating emotions and admissions that form a husk on those walls, a realization from those inmates that have seen the play, of the shared responsibility behind the criminality of their significant female others, past and present.
Key Change is the winner of the 2015 Carol Tambor Best of Edinburgh Award, a theater prize awarded to an annual selection from the Edinburgh Festival that facilitates a month long run at an Off-Broadway theater. Open Clasp Theatre Company, based in the North East of England, aims to tell the real life stories of disenfranchised women and girls. In this instance, the story of a group of incarcerated women, their time in prison, the crimes that put them there and their prospects and goals, were formulated by the female prisoners of Her Majesty's Prison Low Newton, with writer Catrina McHugh and director Laura Lindow.
Lorraine (Victoria Copeland), Kelly (Christina Berriman Dawson), Lucy (Cheryl Dixon), Kim (Judi Earl) and Angie (Jessica Johnson) are in full character as the audience file in, chatting, fidgeting and slouching the practiced physicality of locked-up impatience. This, together with a deliberately stark set whose most significant prop is the use of tape to measure out the divisions and perimeters of prison life, set the daily grind of doing time. We see their rituals, friendships and fights mingled with rough beginnings, familial loss, drug addictions and destructive, often violent relationships. The descent of these women into criminality is predictable and sad.
Here, there is an emphasis on the accountability of those one chooses to share one's life with. Here, there are concrete reasons but no excuses.
All of the performances are rough, bloody and believable. In particular, Johnson as Angie portrays a convincing aggression that burns through the pain and anger in her gaze. Within the cast, amid poetic form, physical theater, considerable comedy and the rasp of straight talking, real tears are shed. A statement of "It's my last time" by a repeat offender is as funny as it is tragic. The notion of a happy ending sends itself up, but crucially, it is not without hope. Throughout, Key Change is a well-crafted, sensitively directed and impressively performed piece of theater.