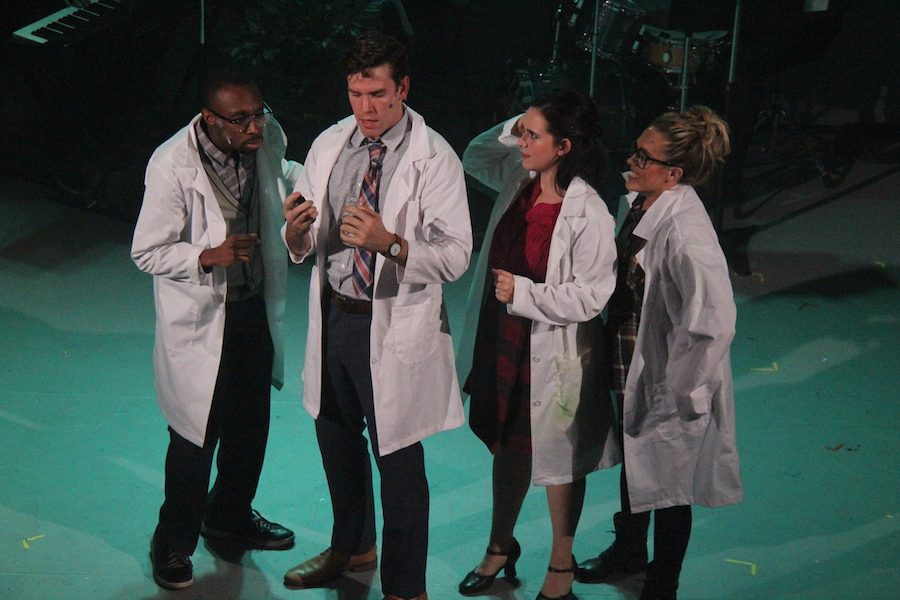 Watching Kragtar: An American Monster Musical gives you the feeling that you are watching a show that is about to enjoy all of the success of Rent. Witty, sharp, and relevant, with a Broadway-caliber cast and crew, this original musical by Sam French and Kyle Wilson, as directed by Benjamin Viertel, has all the potential to be a new cultural icon.
Kragtar is a monster of Godzilla proportions, as predicted by an ancient prophecy. A decade prior, two gay scientists, Harry (Will Branner) and Harvey (Harron Atkins), had researched and analyzed Kragtar and how to stop him/her, but were dismissed by all to whom they presented their findings. Dejected, they went their separate ways. In California, Harry has become a research professor who also stars in a reality show. Meanwhile, in Michigan, Harvey has embraced family values and a wife, Beatrice aka "Beard" (the spectacular Annie Yokom), with whom he co-teaches a Sunday school class of creepy children (Jimmy Nicholas, Jackson Perrin, Zanny Laird, and Mary Nepi, all in just one of the many roles they all skillfully and hilariously portray).
With Kragtar's sudden reappearance in a Baltimore Hobby Lobby, Harry and his trusty teaching assistant Trisch (Bailey Purvis) fly across the country to locate Harvey so they can finish what they started and save the world. But, not without Beard, if she has anything to say about it! And Beard always has something to say about it.
It is up to them to face down an inept Congress (played by ensemble members Nicholas, Perrin, Laird and Nepi), defeat Kragtar, and rediscover their true selves along the way. Except someone else has a true self even more monstrous than Kragtar, with an even bigger bone to pick with America.
This show starts with a high-energy musical number, complete with live music from talented musicians, David Carl (also the music director), Jeff Biegel, Jarrett Walser and Blair Milne, all of whom seem to be having a great time performing. The cast retains this momentum throughout the entire production.
The original songs, with orchestrations by Joe Mendick and Eric Forte Leach, are catchy and clever. I particularly enjoyed the Intermission Song, where the cast moves the play forward by singing about all the happenings that took place in the play while the audience was, as they so eloquently state, "taking a shit." (As we all know, that is what intermission is for. It is kind of refreshing to hear someone admit it, through song and dance, no less.) The choreography by Alexis Floyd, Mary Nepi, Jimmy Nicholas and director Benjamin Viertel is intricate and fun.
Everything is tied together very well via the lights by David Sexton, sound design by Jessica McIlquham, a plethora of costumes by Kelsey Sasportas and some ingenious scenic design by Rodrigo Escalante.
It is an excellent production that impressively took a major risk and reaped the rewards.