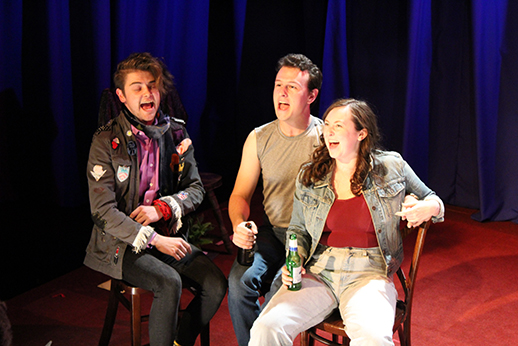 Seamlessly directed by Catherine Andre, the Center at West Park and Pickle Dog Productions' presentation of George Farquhar's 1706 play The Recruiting Officer is entertaining, replete with great staging, acting, and singing.
The play centers around the social and sexual misadventures of two officers, the womanizing Plume (Tony Macht) and the cowardly, ironically-named Brazen (Douglas Pardella), in the English town of Shrewsbury, as they seek to recruit six soldiers to the army. (Shrewsbury is in fact the town where the playwright was stationed during his own military service.)
While the production uses the play's original language, the mannerisms and costumes are modernized (they are basically nondescript outfits seen on anyone shopping in a suburban mall, though Patrick Swailes Caldwell as Kite does sport an impressive depiction of a kite on his denim jacket.)
The entire cast is well-versed and talented in their multiple roles (Macht, Pardella, Ian Edlund, Jenna Wyman, Kendall Cafaro, Nathalie Ellis-Einhorn and Caldwell who, as Plume's Sergeant Kite, uses his skills as a magician to give the character an interesting twist). All of the cast are great singers, and the show makes good use of their combined skill. Caldwell's ability to hold a note is astounding and Macht's impersonation of Elvis Presley during one song is particularly delightful. The cast also provides an a cappella soundtrack to one sword fight, and it is amazing to witness.
Other unique points of the show include inviting members of the audience to dance with the cast during a romantic scene, in which all gamely participated. It was a nice and rarely-seen moment in theatre, brought in early in the show. The interaction was a clever way to set the tone of this play as it went on.
Although the stage is small, the direction of the play makes sure none of it is wasted. The blocking of all of the action is such that everyone is clearly seen. There is seating on either side of the stage, where actors sit and hold up placards as sight gags accompanying the action on center stage. It is also a safe place for actors to sit during the multiple fight scenes. The forethought and economy of movement makes for a show that engages its audience while providing striking feats of theatre. Any fan of Farquhar's work would do well to see this show.