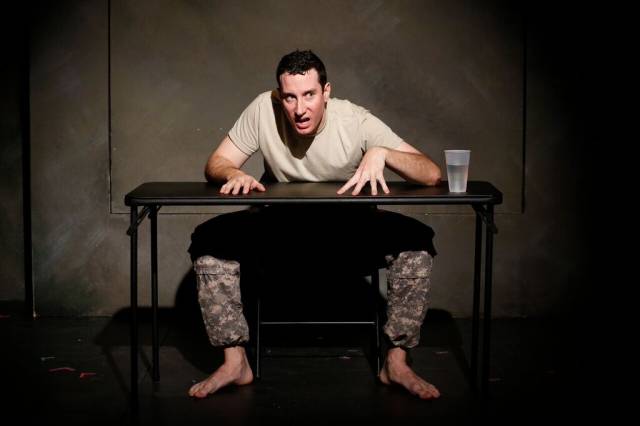 For any up-and-coming playwright, the LaBute New Theater Festival, presented by St. Louis Actors' Studio at 59E59 Theaters, is a big deal. Neil Labute, as prolific as he is prosperous in multiple writing genres as well as directing, is the kind of success story that any burgeoning talent would welcome a leg up from. Submissions of unproduced one-act plays from the tail end of 2015 make 2016 a critical year for the half dozen selected playwrights. The six plays, directed by Milton R. Zoth and John Pierson, revolve around the enduring themes of love, sex, death, and a blood-soaked patch of ultra-violence.
Stand Up For Oneself, written by Lexi Wolfe, takes place at a party in London, where 42-year-old Lucas (Mark Ryan Anderson), sitting alone with his cane, is teased and second-guessed by the 26-year-old Lila (Alicia Smith). He is remote and somber while she is brash, tipsy and flirtatious. An introduction in reverse segues into preconceived notions and sexual impetus. Amusing and eloquent in parts, it nevertheless suffers in others from a flat formula and sentimentality.
In Present Tense, written by Nancy Bell and Peter Grandbois, Martin (Justin Ivan Brown) and Debra (Jenny Smith) rise and deflate from a mutual sexual desire that is thwarted by the fact that they have never actually met. The emails and texts of their long-distance affair, delivered in breathy, in-the-moment declarations, whilst writhing against laptop screens, reveal in an often clever and well-structured way the frustrations of sexual fantasy and unhappy, loveless marriages.
From G. D. Kimble comes the most ambitious play in the ensemble. Two Irishmen Are Digging A Ditch, in two associated parts, weaves a deliberately long-winded and pivotal Irishman joke through sectarian violence, reprisal and a cold, hard look at a soiled place in an ever-watchful community. In part one, Doyle's (Anderson) accent, which covers the breadth of an unknown continent, willfully distracts us with nudity and nerve. Part two's Hagerty (Brown) and Evans (Neil Magnuson) have an amiable banter that at its core is as deadly as the better parts of Kimble's dialogue.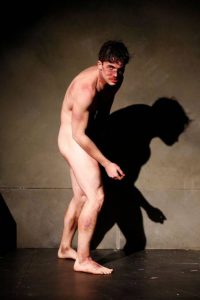 The Comeback Special, written by JJ Strong, provides welcome light relief. On a tour of Graceland, Bonnie (Alicia Smith) and Jesse (Michael Hogan) sneak away into Elvis' bedroom, only to find they are not alone. The King is on the en-suite throne and it's no Elvis impersonator. Elvis attempts to engage the young couple into assisting him with a more fitting death than the one that has left him in limbo. Magnuson gleefully plays him at his craziest - "I once shot the head off a pistachio and fed it to Linda Lovelace" - while Smith and Hogan pull off a convincing bickering based in trivia and superficiality. The play's jumpsuited absurdity is successfully unabashed.
John Doble's farcical and frisky Coffee House, Greenwich Village sees hopeful romantic Jack (Brown) on an uncomfortable date with the aloof, condescending Pamela (Jenny Smith), after responding to her "Vibrant woman seeks soulmate" personal ad. An antagonistic, tattooed waiter (Anderson) enters and exits and with each loop, assists the turn of reverie into brutal reality.
In the final one-act play, Kandahar, written by the man himself, Neil LaBute, a soldier (Hogan), having been stationed in Afghanistan, confesses that he likes women but that they have "strange powers". Strange enough, in conjunction with the mounting anxiety of military conflict, the "assholes in D Company" and spousal jealousy, for him to have done something very, very bad. He wants to tell us all about it and begod he will.
The problem with Kandahar is that it is exquisitely written (and superbly acted by Hogan), thus highlighting where the preceding one-act plays fall short. LaBute's chilling and masterful final segment hinders the overall effect by overshadowing the very material that the festival is showcasing, as if to say, just prior to the curtain call, "This is how it's done."