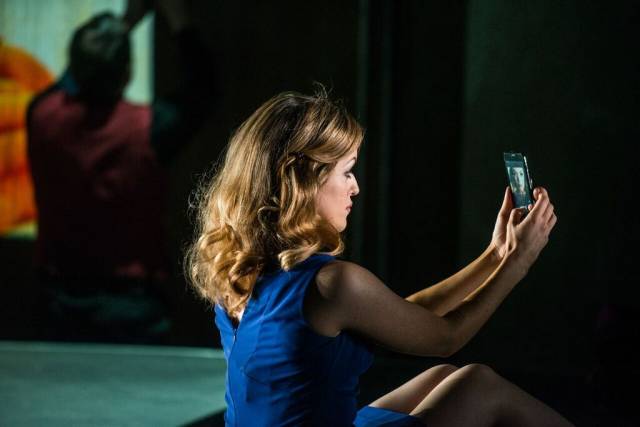 Three ordinary people, a husband, a wife and a woman, meet at a shabby hotel by the sea with only a 4th floor, only one room on that floor and only one employee, a porter.  But the action of The Last Hotel, a dark and devastating new opera by composer Donnacha Dennehy and writer/director Enda Walsh and part of the 2016 Prototype Festival, is anything but ordinary.  An English couple, Husband, a gas engineer played with brutish intensity by baritone Robin Adams, and Wife, a forlorn woman desperate for emotional connection, soul-wrenchingly sung by soprano Katherine Manley, have crossed over on the ferry to Ireland.  They connect up with the beautiful and successful Woman, played by Claudia Boyle, a stunning coloratura soprano who brings an existential desolation to Woman's perfectly cultivated outward image.  The Husband and Wife are being paid to assist in the Woman's suicide, which includes a rehearsal.  Beginning the opera by silently scrubbing a blood stain off the floor is the fourth cast member, a slightly surreal, totally mute porter who occasionally breaks out in bizarre dance moves and nimbly scrambles up walls with plates of food.  Mikel Murfi creates this chilling and occasionally comic character with fascinating physical agility and sparks of a Shakespearean clown.
Mr. Walsh, Tony-winner for the Broadway musical Once, understands the terror that lurks beneath the banal.  In The Last Hotel, conversations about buffets and ferries and an information card read aloud in the hotel room, reveal emptiness and the cravings keeping that void at bay.  Husband wants to conquer, and will use the money earned from the assisted suicide to build and expand; Wife craves connection, to be kissed and loved; and Woman craves an end to her internal isolation.   Against this trivial backdrop, Mr. Walsh injects violently energetic karaoke and a heart-stopping suicide rehearsal. The audience is never allowed to sit back; this could be our despair, too.
Employing Steve Reich-inspired musical patterns, played at times by the violins and flute with unceasing tension and incorporating soaring vocal leaps for both sopranos, Mr. Dennehy's score is both complex and transparent.  There are beautiful lyrical melodies that organically mesh with the thoughts of the Wife and the Woman, particularly the Wife's aria as she takes a walk through the hotel grounds, wondering how she got to this place in her life and reminding herself to breathe.  In direct contrast, Mr. Dennehy uses jagged rhythms and thumping percussion to interrupt or provide layering underneath the fierce repeating patterns, as if giving voice to the characters' unconscious; relentless tortuous thoughts pounding at a cellular level.
Using a slightly raked, elevated stage with a loft for the orchestra and side areas littered with debris -- used plastic cups, broken coat racks, clothes hangers, and other things you might find in an abandoned hotel's storage room -- set designer Jamie Vartan succeeds in creating a Stanley Kubrick-meets-Samuel Beckett landscape.  And his creation of a mediocre karaoke room is perfection.
A small excellent ensemble of strings, brass, winds, percussion and accordion, brilliantly conducted at this performance by André de Ridder, are the musical tapestry for some provocative and eerie storytelling.