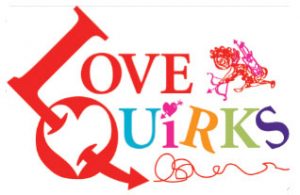 There is no more universal theme for a musical than the trials and tribulations of love and Love Quirks, a new musical (Music/Lyrics: Seth Bisen-Hersh, Book: Mark Childers) gives that universality a delightfully funny, often touching run for its money as it rolls out the tumultuous lives and couplings of four twenty-something's sharing a three bedroom Manhattan apartment.
Under the skilled leadership of director, Brian Childers (Fabulous Fanny: The Songs and Stories of Fanny Brice) the exceptionally talented cast brings a level of depth, honesty and ease of dramatic connectivity to the material. Within moments the audience is transported; losing themselves in the story and forgetting they are seated in the tiniest of black box theaters. This is further facilitated by the extraordinarily clever and perfectly minimal scenic design of Technical Director, Ernie Fimbres.
I admit that on the way to the theater I wondered, could I, a woman well out of her twenty-something's, possibly relate to this story but, from the opening moments I knew I was in good hands. Book writer, Mark Childers, connects immediately and easily to the universal panoply of emotional life that relationships evoke. And he does a wonderful job of elevating the story above clichéd generational references while maintaining a youthful sensibility. Mr. Bisen-Hersh's songs are funny, touching and come alive in the hands (voices) of four exceptional actors; Theresa Hui (Lili), a powerhouse of emotion with a voice that blows the roof off the house, Robert McCaffrey (Chris), a man whose charm and sensitivity make you fall in love with him from the moment he steps onto the stage, Lauren Testerman (Steph), whose engaging energy gives depth and true appeal to the blonde ingénue stereotype and Brian Shaw (Ryan), whose comic timing makes his every moment on stage hilariously captivating.
Love Quirks plays a limited run, September 11 – September 28, at Theater 54 (244 West 54th Street, 12th Floor). For tickets and more information go to www.lovequirks.com