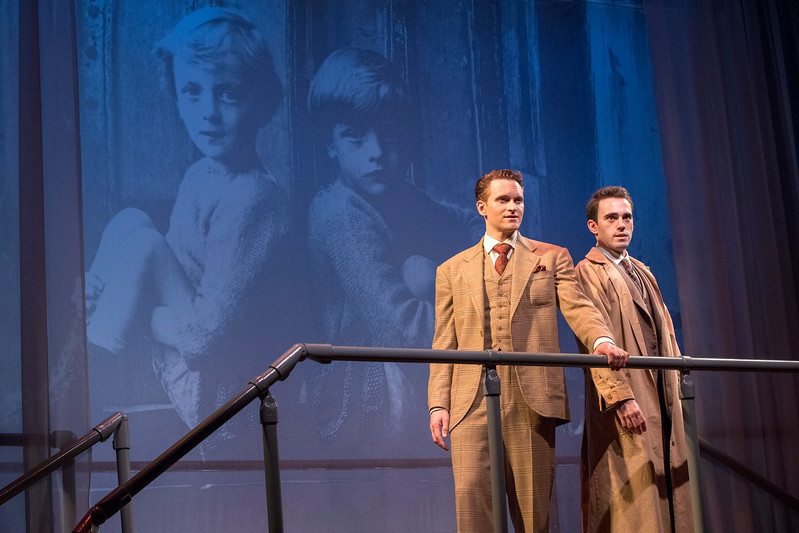 According to program notes for Mint Theater Company's new production of A.A. Milne's 1922 play The Lucky One, the British playwright (and, of course, creator of the "Pooh" books) had a distant relationship with his oldest brother Barry and an "equally intense sibling rivalry" with middle brother Ken. Precocious "Alan Alexander" was clearly the golden child of the family, destined for great things.
The Lucky One (directed here by Jesse Marchese) is about a pair of brothers in a fraught relationship. Sir James Farringdon (Wynn Harmon) and Lady Farringdon (Deanne Lorette) have two sons. The younger, Gerald (Robert David Grant), is the star child: talented, self-assured, clever, ambitious. The elder, Bob (Ari Brand), is a sour, resentful underachiever, inevitably (and witheringly) referred to as "poor old Bob." When we first meet the characters at Sir James's country house, Gerald is engaged to marry the sweet and comely Pamela Carey (Paton Ashbrook) and has a fine position in Britain's foreign office. Bob, on the other hand, works unhappily at a business concern in London where, we learn, he is being investigated for corruption and may face a jail sentence. Gerald takes a blithe and seemingly uncaring attitude toward his brother's predicament. He's willing to assist Bob in his crisis—but on his own terms.
In the course of the play, monumental things happen to both brothers, yet The Lucky One feels somehow oddly devoid of involving dramatic content. And while what transpires within the romantic triangle involving Gerald, Bob, and Pamela may be surprising, it's frankly a bit difficult to sympathize with any of them, or with anyone else in this play, other than the wise, intermittently good-hearted, and marvelously sardonic great-aunt Tabitha (aka Aunt Harriet), played ably and memorably by Cynthia Harris.
Milne appears to have been interested in looking more deeply at the self-centered and cavalier behavior of Gerald—which is glaringly evident to the audience and almost entirely unacknowledged by other characters (save Tabitha/Harriet). The playwright seems set on justifying the shabby treatment of the black sheep by the favorite son. But Grant's preening, ever-grimacing portrayal makes it hard to appreciate Gerald's point of view. And Brand makes the dour, grudge-holding Bob equally unlikable. Ashbrook does provide a sensitive take on Pamela, yet it's difficult to understand her shifting allegiance between the two brothers or, for that matter, what she sees in either of them.
Things aren't helped by a needless comic subplot involving a romance between two of Gerald's friends, Thomas (Andrew Fallaize) and Letty (Mia Hutchinson-Shaw). Their scenes tend to be overplayed, with Fallaize, in particular, pushing the goofy aspects of his character beyond the limit.
Vicki R. Davis's set, in which entrances are made from above via staircase, is puzzling, as is a prolonged and tedious scene shift during which much ado is made of removing peonies and installing roses.
Over the years, the Mint has specialized in unearthing and bringing to life "worthy but neglected" plays from the past couple of centuries. (In 2004, they resurrected two other Milne titles). Of all the off-Broadway theaters in New York City, it is perhaps my favorite. But winning streaks seldom if ever go unbroken. The Mint's choices have customarily been fortunate, but with The Lucky One the company is decidedly not so lucky.