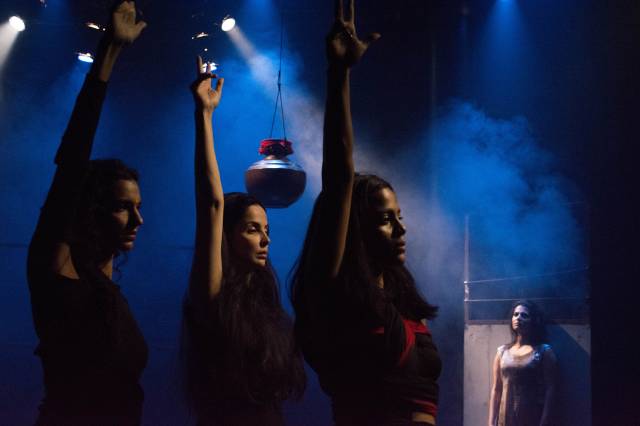 The effect of witnessing Yael Farber's Nirbhaya unfold can only be marginally described or captured. I am not yet critic enough to dare to criticize it, to look at it with the cutting lens of a careful eye. The title, meaning 'fearless,' is also the name given to the Delhi rape victim Jyoti Singh Pandey, who was brutalized on a bus by a gang of men in 2012 – an act depicted in the play with symbolic terror and described as "metal against flesh." After the incident drew international attention, initiating producer Poorna Jagannathan reached out to Farber to create a meaningful call to action for change.
Interspersing real stories (performed by actors who experienced them) with the harrowing events of the 2012 Delhi rape, Nirbhaya, performed at the Lynn Redgrave Theatre, is a house or horrors, every corridor and every wall lined with raw and vivid stories that add up to elegiac consequence.
The performances include accounts of Jagannathan's rape she suffered as a nine-year old, Priyanka Bose's multiple sexual assaults as a child, Sneha Jawale's attempted dowry murder by fire, Rukhsar Kabir's physical, sexual and mental abuse by her in-laws, and Pamela Sinha's brutal assault as a young woman and student. The list has a compounding tragic effect that might be overwhelming, if it weren't for the even keel stage craft conceptualized by Farber.
The set by Oroon Das depicting the rusted iron interior of a bus (bringing to mind 'metal against flesh') and the lighting by Paul Lim which pierces through smoky Delhi fog construct a specific place through precise but sparse details. The choreography, partly inspired by Indian rituals and partly by the chaos of Delhi, connects the disparate narratives, meshing symbols and images for additional affect. Every deliberate detail is painstakingly crafted and as the audience, we are implicated, implored to stay and share. It is a work that dares to do more than most critics will do in a lifetime. It dares to tear open the eyes of indifference.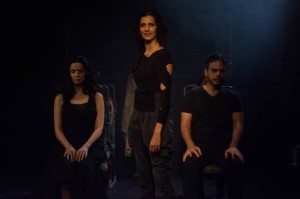 Even Delhi is in sharper focus. Lines like "God lives in the wires" and descriptions of the summer heat, India Gate, and that dreadful bus make the complex city come alive beyond the stage. There's a lot of Hindi in the play and the language develops into a character, harsh in its curses and yielding in its romance. Even the sentiment expressed in the Hindi line "dilli abhi door hai," (Delhi is still far) is a knotty one, somber and hopeful.
And then there's the music, which acts as more than just a through line. With renditions of ghazals, old Hindi movie songs, and lullabies by Japjit Kaur (who also plays the character of Nirbhaya – the Delhi rape victim) lacing each story and connecting every narrative thread, the work tugs, goads, and surges through like dazzling light, even blinding an impassive critic.
Nirbhaya is a poignant song, perfect in its poetry.