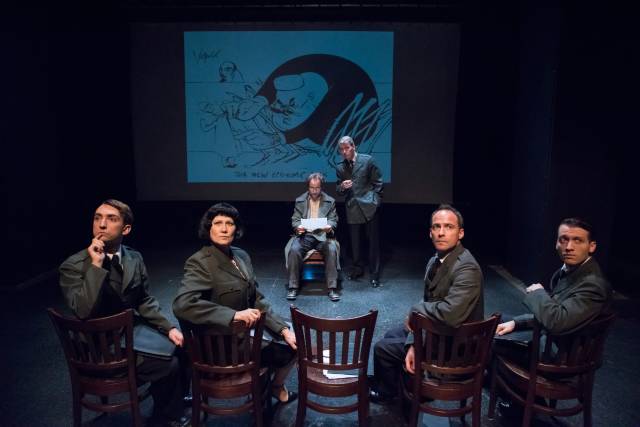 In its 30th anniversary season, PTP/NYC's (Potomac Theater Project) directors and co-artistic directors Richard Romagnoli and Jim Petosa have revived two 1981 plays from the company's infancy, Howard Barker's No End of Blame: Scenes of Overcoming, and C.P. Taylor's Good. Both plays are British, a fact that is conspicuous in the vernacular, despite the changing times, accents and locations of each plot line.
In No End of Blame, directed by Romagnoli, political cartoonist Bela is played with affecting assurance by Alex Draper. We first meet him at the tail-end of WWI, fatigued and feral from the trenches and restrained by his friend Grigor (David Barlow) amidst his efforts to rape a war-ravaged, half-naked girl. In his defense he explains, "Either it is incumbent on me not to rape women at all, or I should rape women under all circumstances. But that should equally apply to killing shouldn't it?"
Bela, as is the deliberate staple of many of Barker's plays, is morally ambiguous, likeable and unlikeable in varying measures and ego-driven yet pragmatic when it comes to his work being restricted or shifted under various regime's attempts to pawn his skills as they see fit, the Austro-Hungarian Empire, the Soviet Union, WWII-set Britain and even rock 'n' roll 1960s/70s London.
Throughout the play, the backdrop of drawings is from playwright Howard Barker's own hand, while the cartoons come from the iconic and recognizable flair of Gerald Scarfe, famous for, amongst other achievements, his work with Pink Floyd on The Wall album as well as the film adaptation.
Bela's assessment of his work throughout his increasingly world-weary definitions are when he and Blame are the their most riveting. When he states, "I believe the cartoon to be the lowest form of art. I also believe it to be the most important form of art", alongside, "The cartoon changes the world. The painting changes the artist", the truth of his artistic conviction reveals not only the truth of art in media, but more of the man and the conflict he will be forever up against while colluding with power, simply by being present. However, the unavoidable world-weary reaction is to hear the same point reiterated amidst a list of economic and military powers, where artistic freedom versus state can never be.
To add to which, Bela is somehow easier to invest in and comprehend when speaking with a Hungarian accent - during scenes juxtaposed with comparative foreigners. In most of Act I, American accents are used in and amongst Bela's people and friends, but motives and tone are less perceptible.
The cast is excellent, especially with such challenging text. Other than the leads, Jonathan Tindle in multiple rolls is superb.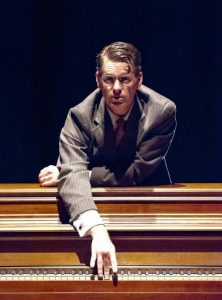 In Good, written by radical Scottish playwright C. P. Taylor who died of pneumonia in the same year that the play debuted, director Petosa places the seductive dreaminess of romance, desire and self-satisfied ambition under the grip of a nightmare that sheds none of its savagery with the passing of time.
As with Hannah Arendt's findings at the Eichmann trial (about which she is quoted in PTP/NYC's program) and the infamous Milgram Experiment, being "good" is measured only by conveniently modified conscience and the company one keeps.
At the start, a single piano note gives way to whimsical choreography and the song "I'm Always Chasing Rainbows". The music that Frankfurt literature professor John Halder, played with clever subtlety by Michael Kaye, loves with such vigor provides a soft-focus fantasy world that in turn, allows self-deception. John, the writer of a pro-euthanasia novel, inspired by his senile mother and favored by Goebbels, rises from his humble, idealistic, academic status during the rise of Third Reich through WWII. His sick mother (Judith Chaffee), crestfallen wife Helen (Valerie Leonard) and Jewish friend Maurice (Tim Spears) anxiously monitor him before being abandoned by his transformation into an SS Officer with a hand in the Final Solution.
John's career-rise and morality-fall via what Maurice calls his "Nazi school of psychiatry" are convincing. Good's staging places characters in the shadows who observe John's not-so-good choices. They react as if to a terrible rumor and then respond in the crossing of scenes.
Both plays are elevated by a group of actors who are evidently committed to the work and to collaboration. Out of the two plays, Good is the dominant force, but both are persuasive and worryingly topical.